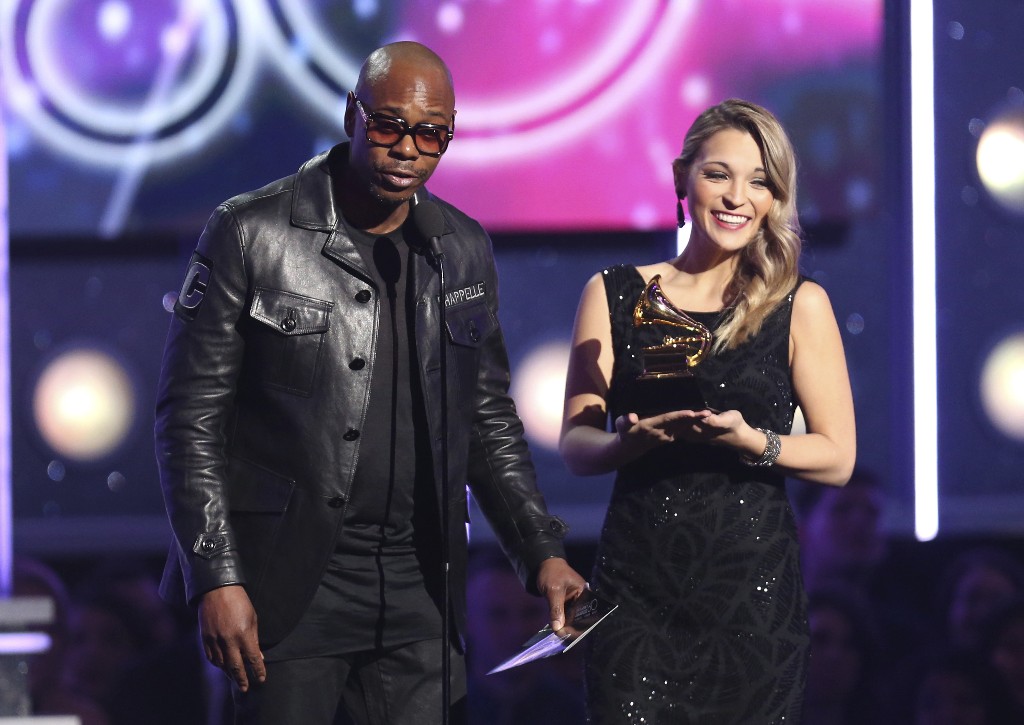 The Latest on the 60th annual Grammy Awards being presented Sunday night in New York.
Pink stood alone on the Grammy stage wearing jeans and a T-shirt to sing her new song "Wild Hearts Can't Be Broken."
It was a subdued performance from the entertainer who has performed on previous Grammy telecasts while swinging from the ceiling.
The three-time Grammy winner was a nominee Sunday for pop solo performance for "What About Us," but the prize went to Ed Sheeran for "Shape of You."
Kendrick Lamar is the winner of the Grammy Award for best rap album.
Lamar won for his album "DAMN."
It's been a big night for Lamar, who won five Grammy Awards, including three during a pre-telecast ceremony.
Lamar also opened the show with a blistering performance of several of his songs from the album.
Writer-director-actor Donald Glover has performed at the Grammy Awards as his musical alter-ego, Childish Gambino.
Wearing a white suit and backed by a four-piece band, Glover as Gambino sang "Terrified" from his album "Awaken My Love." Childish Gambino was nominated for five Grammys Sunday, including album of the year.
Glover/Gambino won a Grammy during the pre-telecast ceremony. Glover also won two Emmy awards last year, for acting and directing his TV series "Atlanta." His Grammy win Sunday brings him halfway to EGOT status — the title given to those who've won an Emmy, Grammy, Oscar and Tony award.
Luis Fonsi and Daddy Yankee are performing their hit "Despacito" at the Grammy Awards. The song has become one of the biggest global hits of all time, and its video is the world's most popular, with five billion views.
"Despacito" is up for three Grammys Sunday, including song of the year and record of the year. The performance brought the crowd to its feet, with some audience members filming the act on their cell phones and singing along.
Host James Corden joked that he had never heard the song before and Fonsi and Daddy Yankee should get it on the radio.
Gary Clark Jr. and Jon Batiste are performing a tribute to Chuck Berry and Fats Domino on the Grammy Awards.
Batiste sat at the piano and kicked things off on vocals with Domino's "Ain't That a Shame." Clark followed on the guitar with Berry's "Maybelline."
Clark thanked the two late entertainers "for all the music that you made possible."
Batiste and Clark then presented the pop solo award to Ed Sheeran for "Shape of You."
Sheeran did not attend Sunday's ceremony.
Alessia Cara is the winner of the Grammy Award for best new artist, and though she says she's dreamed of the honor for her whole life, she doesn't have a speech planned.
Cara nervously accepted the award Sunday evening and urged people to "support real music and real artists."
Cara said at the beginning of her speech: "I've been like pretend winning Grammys since I was kid like in the shower, so you'd think I have the speech thing down but I absolutely don't."
She held up the award before leaving the stage and said, "My mind is blown."
Kendrick Lamar is the winner of the Grammy Award for best rap/sung performance.
Lamar, who opened the Grammy Awards with a blistering performance, won for his song "Loyalty," which also features Rihanna.
Lamar accepted the award from John Legend and Tony Bennett. He said upon receiving the award, "This is love."
Rihanna thanked Lamar for giving her the opportunity to work on the song.
It is the fourth Grammy Award that Lamar won on Sunday.
Kendrick Lamar has opened the 60th Grammy Awards with a performance of "XXX" from his album "DAMN." An image of an American flag flickered behind him and an army of dancers accompanied him onstage.
Host James Corden said on the red carpet before the show that viewers could expect "the most unique and bold opening you could ever imagine."
U2's Bono and The Edge joined Lamar on stage before the rapper transitioned into "DNA."
A dramatic sequence followed, with Lamar's dancers dressed in red, each figuratively shot down by the rapper.
Lamar also won three Grammy Awards before Sunday's ceremony began, bringing his lifetime total to 10.
Lamar has delivered stellar performances on the Grammy stage before. He stunned in 2016 with a medley from his celebrated album "To Pimp a Butterfly." The rapper performed "The Blacker the Berry" as he led what looked like a chain gang, his band members performing from jail cells. He finished with the rallying "Alright," standing in front of a map of Africa emblazoned with the word "Compton."
Lamar also shared the Grammy stage with Imagine Dragons in 2014.
Tony Bennett has won 18 Grammy Awards in his career, but his son isn't so far behind.
Dae Bennett won his eighth Grammy at Sunday's ceremony, for producing "Tony Bennett Celebrates 90," the companion album to his father's NBC special celebrating Bennett's birthday. Dae has shared in seven previous Grammy wins for his father, but the nomination Sunday — for best traditional pop album — was solely in his name.
In the Grammy Awards pre-show, Dae accepted the award with his now 91-year-old father at his side.
The elder Bennett says he's thrilled to see his son won. He said the honor made it "a beautiful night."
Backstage, the Bennetts said they have always been a family affair.
Tony Bennett also shooed away any talk of retirement. He says he's "just starting out."
He adds, "I'm going to keep going until I cut out."
— Jake Coyle (@jakecoyleAP) backstage at the Grammy Awards.
Khalid doesn't really care if he leaves the Grammy with a statuette. No, really.
The 19-year-old hip-hop sensation says he's pleased with being nomination. He says the fact that he's up for five Grammys on Sunday "is ridiculous on its own."
Khalid is enjoying life with his debut album "American Dream" — with the hit "Young Dumb & Broke" — and being featured on Logic's song of the year nominee, "1-800-273-8255." Khalid is also a best new artist nominee.
He says he's living out his destiny — he wanted to be at the Grammys.
Khalid was also happy that hip-hop and rap dominated the nominations.
He wore a white rose the lapel of his white suit jacket. He says, "Standing for equality is the way to go. I love everybody."
— John Carucci (@jacarucci) and Mark Kennedy (@KennedyTwits) on the Grammys red carpet.
The former '90s star turned children's music maker Lisa Loeb was among those who sported a white rose in solidarity with the #MeToo movement at the Grammy Awards. But she also had one defense of the music industry.
Loeb says she's aware that some are saying the music industry took too long to catch up to the #MeToo and Time's Up movements, but she says that's because there are so fewer music awards shows this time of year. She says, "In the music industry, we're in recording studios. We're holed up in rooms writing songs and we're on the road and we're on stage. We're all over the place, like stars. We aren't together a lot."
She says a lot of artists try to spread their messages through their music and performances.
Loeb, who had the 1994 hit "Stay (I Missed You)" won Sunday best children's album for "Feel What U Feel."
— Jake Coyle (@jakecoyleAP) backstage at the Grammy Awards.
Chuck Berry's son heartily endorsed the guitarist Gary Clark Jr. honoring his late father at the Grammys.
Clark along with musician Jon Batiste will pay tribute to the late rock pioneers Berry and Fats Domino.
Charles Berry Jr. says Clark is outstanding. He says, "I'm sure he's going to knock it out of the park. No question"
The elder Berry's last record included "Wonderful Woman" with help from his son, his grandson, Charles III, and Clark. Berry died in March at 90.
Clark says Berry's influence looms large in his career, from the guitars he plays to the style he employs. He says, "I don't think there's a guitarist on the planet who hasn't stolen or interpreted something from Chuck Berry."
— John Carucci (@jacarucci) and Mark Kennedy (@KennedyTwits) on the Grammys red carpet.
If the phone rings during the Grammys, Lady Antebellum might have welcomed some more ladies.
Dave Haywood and bandmate Charles Kelley are at Sunday's Grammys without their third member, Hillary Scott, who stayed home as she awaits the birth of twin girls. The guys wore white roses in her honor.
Haywood says, "Our leading lady is not here." He says they have always considered Scott an amazing and strong woman, and they wanted to support her.
Kelley says "If the phone rings and we have to leave the show, you know what it's about."
He says Scott is due any day now, and they are excited to meet her daughters.
Lady Antebellum has won five Grammys and this year is up for two: Best country group or duo performance for "You Look Good" and best country album for "Heart Break."
— John Carucci (@jacarucci) and Mark Kennedy (@KennedyTwits) on the Grammys red carpet.
"La La Land" is still winning awards.
The film won twice at Sunday's Grammy Awards, which, like the Oscars, honored the song craft behind Damien Chazelle's blockbuster musical. Thankfully for "La La Land," there were no envelope flubs nearly a year after the Academy Awards.
Composer Justin Hurwitz won for best composition soundtrack and best score soundtrack for visual media. He shared the former with Marius de Vries.
Hurwitz won two Oscars last February for the "La La Land" score and the song "City of Stars." The Grammys run on a different calendar than the Oscars, drawing from October 2016 to September 2017 releases.
Backstage at the Grammys, Hurwitz was asked about those infamous final moments at the Oscars. He says "It was a blur. I've watched it on YouTube a few times."
— Jake Coyle (@jakecoyleAP) backstage at the Grammy Awards.
Jay-Z's producer says he doesn't want to enflame tensions between Donald Trump and Jay-Z.
No. I.D., who produced Jay-Z's Grammy-nominated "4:44," says he hopes the rap legend and Trump are able to talk about their differences after Jay-Z criticized the president and Trump fired back.
The producer says the back-and-forth is "a conversation that needs to occur."
Trump tweeted Sunday that he wanted Jay-Z to know at "because of my policies," unemployment among black Americans is at the "LOWEST RATE EVER RECORDED!" That appeared to be in response to a CNN interview in which the rapper said the president's vulgar comments about African countries and Haiti were "disappointing" and "hurtful."
Guitarist Robert Randolph just learned about the president's tweet Sunday afternoon but wasn't sure calling out Jay-Z or his wife, Beyonce, was the wisest decision. He jokes, "Now it's a rap battle!"
— John Carucci (@jacarucci) and Mark Kennedy (@KennedyTwits) on the Grammys red carpet.
The late engineer Tom Coyne has won a posthumous Grammy Award for his work on Bruno Mars' "24K Magic."
It's the seventh Grammy for Coyne, who died in April from cancer. Coyne, the master engineer on the album, shared in the award for best engineered album, non-classical, with engineers Serban Ghenea, John Hanes and Charles Moniz.
Coyne worked on hit recordings for Adele, Beyonce, Metallica and Taylor Swift in his decades-long career. He won last year for Adele's Record of the Year winner "Hello." Coyne earned 37 nominations in total before his death.
Ghenea and Hanes, who accepted the Grammy, dedicate the award to Coyne.
"I know this would have been really special for him," Ghenea said backstage. "He's won many Grammys before but never the best engineered album. This would have meant a lot to him."
— Jake Coyle (@jakecoyleAP) backstage at the Grammy Awards.
Carrie Fisher has won a posthumous Grammy Award for her "The Princess Diarist."
Fisher died in December 2016 at age 60. The Grammy is awarded for her audio recording of her memoir based on diaries she kept around the time she starred in the first "Star Wars" film in 1977.
The announcement was greeted with loud cheers in the theater where dozens of early Grammy Awards are being announced Sunday.
Tom Petty is on the minds of many entering the Grammy Awards.
Singer-songwriter Lisa Loeb calls Petty's music "the soundtrack of my life." She says she was at his final concert at the Hollywood Bowl in late September.
Petty died in October at age 66 from an accidental drug overdose. She called his final performance an amazing concert, and says he is such a loss.
Petty is one of several high-profile artists who died over the past year, including Chris Cornell, Gregg Allman, Chester Bennington and, most recently, Dolores O'Riordan of The Cranberries.
Songwriter Diane Warren called the loss of Petty a shame, adding "There are so many great artists who didn't have to go."
Country superstar Reba McEntire called Petty a great mentor, a cool dude and a sweet person. She says what she loved about Petty was that "he knew what he wanted and he wasn't going to take any route left or right."
— John Carucci (@jacarucci) and Mark Kennedy (@KennedyTwits) on the Grammys red carpet.
The 60th annual Grammy Awards are underway with the first awards being handed out in the dance and electronic music categories.
LCD Soundsystem won the first awarded handed out Sunday during the Grammys pre-telecast ceremony that hands out dozens of honors in various genres.
The festivities are being led by musician Paul Shaffer, who laid out the ground rules: including telling winners to stand up and announce themselves when they win.
LCD Soundsystem won for best dance recording for its song "Tonight."
No one from band was on hand to accept the honor, which led Shaffer to call over a young woman who was on stage to assist winners and by calling her "darling" and handing her the Grammy.
Shaffer told the woman, "When I say darling, I mean it with the utmost, #MeToo kind of respect."
The sea of black at the Golden Globes has given way to a small forest of flowers at the Grammys.
Plenty of musicians and artists took to the red carpet Sunday sporting white roses to show their solidarity with the Time's Up organization, which hopes to support women with legal and financial help who raise sexual misconduct complaints.
Allen Hughes is the director of the "The Defiant Ones" and wore two small roses on his lapel. He says he believes every voice should be heard and that's why he wore the roses. Plus, he says, "I'm a feminist."
Most stars wore black and a Time's Up pin in support of the movement at the Golden Globes earlier this month. Fewer wore roses at the Grammys, but some were just being rock stars.
Songwriter Diane Warren skipped the rose but wore two white gloves — one with the word "girl" and one with "power." She's a nominee for the 15th time.
She says, "I didn't want to wear the rose. I'm a rebel."
— John Carucci (@jacarucci) and Mark Kennedy (@KennedyTwits) on the Grammys red carpet.
Though Adele's win for album of the year at last year's Grammys wasn't a complete surprise, it marked another loss for Beyonce in the show's major category.
The Recording Academy was heavily criticized for not rewarding "Lemonade," an album that moved the needle and dominated pop culture in different ways than Adele's colossal sales.
Critics felt the Academy failed to recognize the artistic elements of an R&B-based album, in the same ways they have passed over albums by Kanye West, Eminem and Mariah Carey for projects by rock, country and jazz artists.
But Sunday's Grammys are almost guaranteeing this year is different. Most of the album, song and record of the year nominees are rap, R&B and Latino artists, including Jay-Z, Kendrick Lamar, Bruno Mars, Luis Fonsi and Childish Gambino.