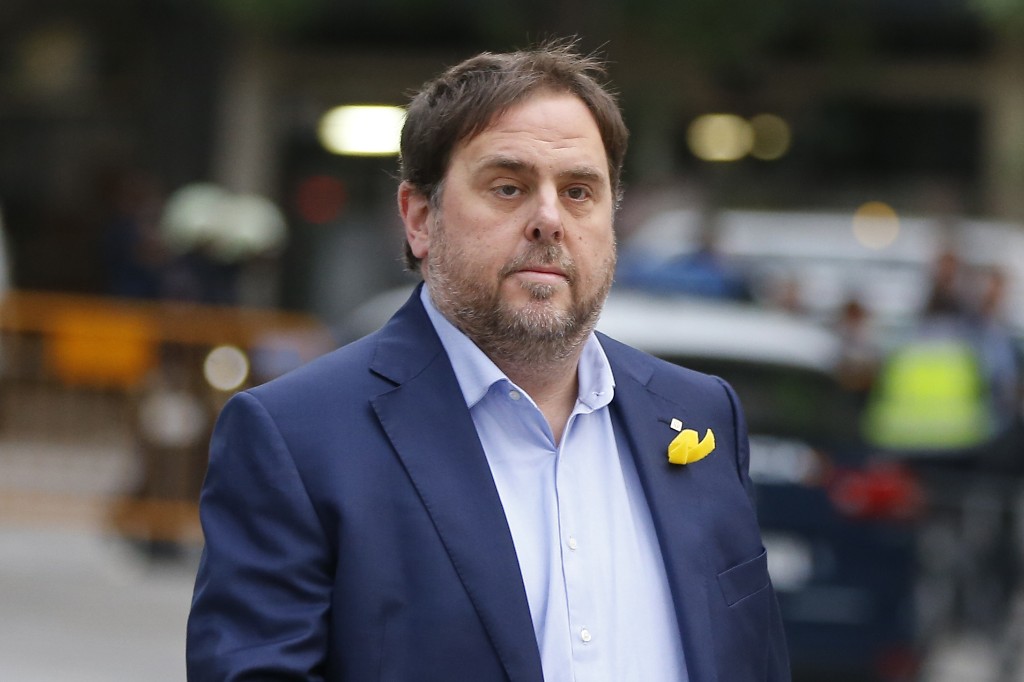 Spain's Supreme Court judges ruled Friday to keep Catalonia's ousted vice president in jail while he is being investigated for rebellion and other charges stemming from the restive region's drive for independence from Spain.
The judges said there was a risk that Oriol Junqueras might again commit crimes, as there was no sign that he intended to change his ways.
Junqueras was one of several members of Catalonia's pro-secession regional cabinet who were fired and jailed on provisional charges following a declaration of independence on Oct. 27. Other members of the Catalonia government, including ex-leader Carles Puigdemont, are fugitives in Brussels.
Junqueras had hoped to be released to take part in Catalonia's new parliament following a December election imposed by Spain in which secessionist parties won the most seats.
The ruling Friday raises the question of what Puigdemont and the other four elected Catalan lawmakers on the run will do now.
The pro-secession parties won 70 out of the regional parliament's 135 seats but with eight candidates either on the run or in jail in Spain, the parties risk not being able to form a government.
Puigdemont demands that he be re-elected president but he is likely to be arrested and jailed if he returns to Spain.
Those in jail or on the run have the option of ceding their seats to others in their parties to ensure they keep a majority when parliament restarts on Jan. 17.
With a population of 7.5 million, Catalonia generates a fifth of Spain's 1.1 trillion-euro ($1.3 trillion) economy. Opinion polls show that a majority of Catalans want the right to decide the region's future but that they are evenly divided over whether to split from Spain.
Catalonia's troubles came to a head Oct. 1 when the then-Catalan government ran an independence referendum that was ruled illegal. The parliament subsequently declared independence and Spain responded by sacking the regional government and calling the election.
In their ruling, the judges said, Junqueras as vice president "took part in the unilateral declaration of independence, going against Constitutional court resolutions, rising up against the Spanish state, against the Constitution, against Catalonia's own charter and against other legal orders."
It described his behavior as an "illegal and very serious act."
In his appeal Thursday, Junqueras said he was a man of peace and would abide by Spanish laws and not act unilaterally over the Catalan issue if released. His lawyer has said he will seek to have him transferred to a prison in Catalonia.