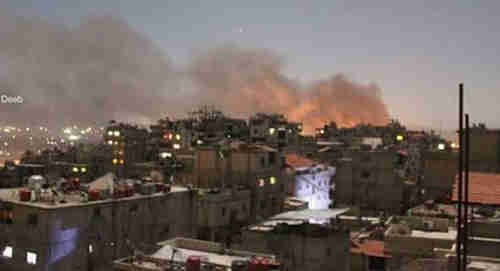 Syrian military sites came under three Israeli missile attacks near the capital Damascus on Tuesday, according to the Syrian military. 
Israeli warplanes fired missiles at the outposts in al-Qatefa area in Damascus countryside at 2.40 a.m. (0040GMT) from inside Lebanese airspace, the Syrian army said in a statement cited by the official SANA news agency. 
The statement said that Syrian air defenses hit an Israeli jet during the attack and shot down two missiles fired from inside the occupied Golan Heights. 
SANA said four missiles were also fired from Tiberias and one of them was shot down by Syrian air defenses. 
The official agency said the Israeli attacks had caused material damage. 
There was no comment from Israel on the claim. 
Since the outbreak of the Syria conflict in 2011, Israel has occasionally struck positions inside its war-ravaged neighbor, especially after mortar shells — allegedly fired from Syrian territory — fell inside the Israeli-occupied Golan Heights.