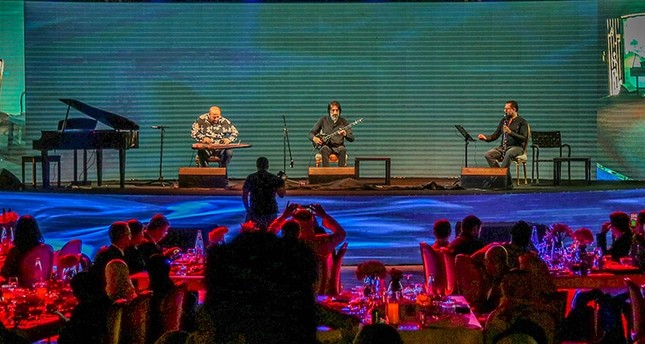 Taksim Trio is the first Turkish band to perform in gulf state since 1983
Taksim Trio, a popular Turkish instrumental group, performed on stage in the Saudi city of Jeddah on Thursday.
Featuring three of Turkey's most in-demand master instrumentalists, Taksim Trio is made up of Husnu Senlendirici on the clarinet, Ismail Tuncbilek on the baglama, and Aytac Dogan on the kanun.
What made this three-hour, open-air concert significant was that the last time a Turkish band had performed in Saudi Arabia was back in 1983.
The recently-established General Authority for Entertainment arranged the concert at the King Abdullah Economic City, an event that came after a break of 35 years.
Husnu Senlendirici, one of the band members, told Anadolu Agency: "We are coming to Saudi Arabia for the first time. This is the first concert in Saudi Arabia after long years.
"The audience is great. Apparently, listeners knew the songs, they sang along with us.
"Almost a thousand people listened to us until the end. It is not easy to get people to stay in place with instrumental music until a concert is over. We enjoyed being here and the people were happy to listen," Senlendirici said.
King Abdullah Economic City, established in 2010 with $100 billion worth of resources, has been built on a 173-square kilometer (67-square mile) site on the Red Sea coast.