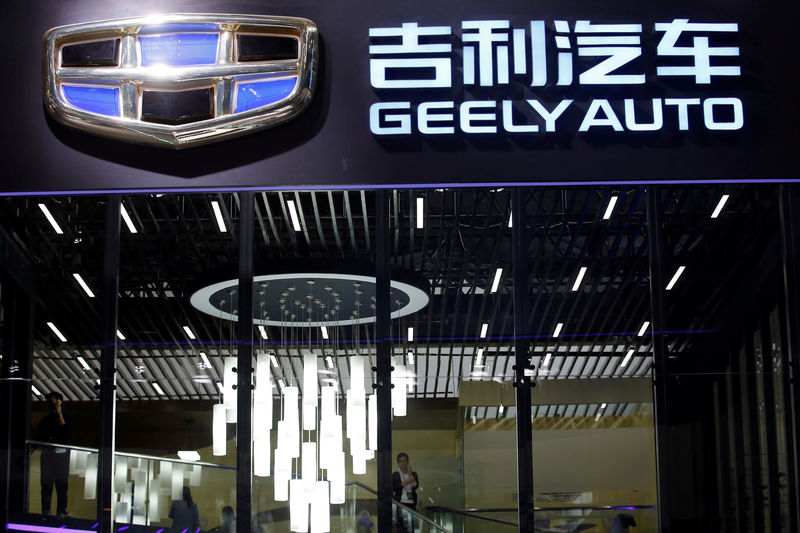 Geely Automobile Holdings Ltd's (0175.HK) shares jumped on Monday after its chairman Li Shufu revealed he had built a $9 billion stake in Daimler AG (DAIGn.DE), gaining leverage as he tries to convince the German carmaker to cooperate on technology.
The 9.7 percent holding makes Li Daimler's biggest shareholder and gives him a leg up to the negotiating table after the Mercedes-Benz owner knocked back a request from Geely late last year to issue new shares so it could buy a stake.
Li, 54, is expected to meet Daimler executives in Stuttgart on Monday and hopes to meet top German officials in Berlin.
But even so, gaining access to Daimler's technologies in areas such as autonomous driving and electric vehicles is not expected to be an easy task, particularly as Daimler already has a thriving joint venture partnership in China with BAIC Motor Corporation (1958.HK).
"It's one thing to be an investor, a significant investor, but it's another to be an alliance partner," said James Chao, Asia-Pacific chief of consultancy IHS Markit Automotive.
"I think this is the start of a process of negotiations to get something hammered out… Whether or not it will work, we'll see."
Geely Auto's stock surged 7 percent on Monday, giving it a market value of some $29 billion, as investors cheered the Geely group's efforts to forge an alliance with Daimler. Shares in Daimler edged 0.6 percent lower in early trade.
Li, who founded Zhejiang Geely Holding Group – the parent firm of the group – in 1986, said on Saturday that alliances were necessary to respond to the challenge from "invaders" in the global auto market, a reference to firms such as Tesla (TSLA.O), Google (GOOGL.O) and Uber.
Chinese carmakers are under particular pressure to jump several leaps forward in technology with Beijing bringing in new quotas from next year for the world's largest auto market that will require firms to hit strict targets for electric vehicle and hybrid electric plug-in vehicle sales.
Geely Auto said in a filing on Monday it was not directly involved in the purchase of the shareholding but did not rule out exploring cooperation opportunities with Daimler in the future.
Germany has said there is no need to take action on the stake owned by Li and Daimler has said it is pleased that it could win another long-term oriented shareholder with Li.
The German automaker, however, also underlined its partnership with BAIC on the weekend, announcing an investment of almost $2 billion in a China plant to build premium Mercedes-Benz cars including electric vehicles..
Chao added the purchase of the Daimler stake – amid a broader crackdown by China on outbound deals – seemed to have gone relatively smoothly and was likely helped by the fact that it fitted with Beijing's strategic goals to bolster China's tech capabilities, especially in the automotive market.
Geely has been the most eager of China's automakers to build a major presence globally.
"I think we'll see a lot more on the global stage (from Geely) outside of China," added Chao. "Clearly they have ambitions that are much greater than what they've done so far."
Zhejiang Geely Holding owns Volvo Cars, LEVC, the maker of London's black cabs, and last year took a majority stake in sports car maker Lotus, a 49.9 percent stake in Malaysian automaker Proton, a $3.3 billion stake in Volvo Trucks and control of flying car start-up Terrafugia.