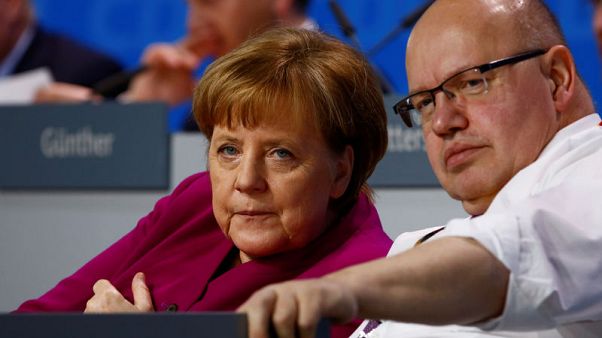 Germany will stick to the stern fiscal orthodoxy it pursued under long-serving conservative finance minister Wolfgang Schaeuble even if the key post is ceded to a Social Democrat in the next government, acting finance chief Peter Altmaier said.
Over his eight years in office, Schaeuble became famous in Europe and the world for his focus on budgetary discipline at home and in the euro zone, resisting calls for cost-free write-offs in the heavily indebted euro zone periphery.
Although something of a hate figure in southern Europe, especially Greece, where unemployment remains high, he is popular at home for bequeathing Germany a fast-growing economy with little inflation and record low unemployment.
"We will make sure that the successful work of Wolfgang Schaeuble is carried forward," said Altmaier, a close Merkel ally slated to become economy minister if a new conservative-SPD "grand coalition" takes office.
Both camps lost ground to a surging far right in September's national election. The SPD, reluctant to repeat the bruising experience, insisted on taking the top finance job — prompting rumblings of discontent in Merkel's camp.
"We will stick to a budget with no new debt. We won't raise any taxes," said Altmaier. "And on a European level we will be responsible with German interests," Altmaier said in the interview with the Funke media group.
Even if an SPD finance minister were minded to pursue a less sober fiscal policy, he would be bound by collective government responsibility, he added.
Schaeuble stepped down as finance minister after the election to become president of the Bundestag, Germany's parliament, which, with the entry of the far-right Alternative for Germany (AfD) party, is at its most fragmented in decades.
The SPD's membership is currently voting on whether to endorse the party leadership's decision to govern with Merkel for another four years. The results of the postal ballot are expected this weekend.