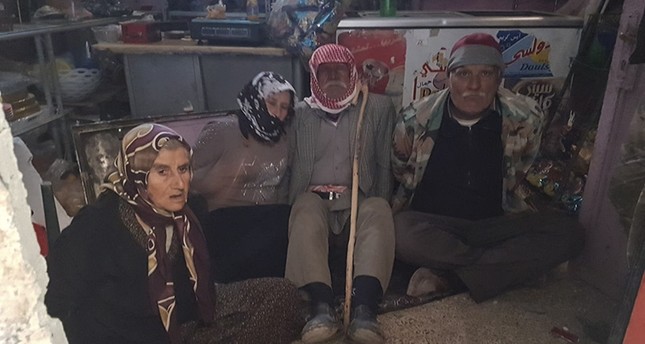 Proof emerges that YPG/PKK terrorists use civilians as human shields in Syria's Afrin.
 Proof has emerged when four elder villagers were found in a barn with hands tied and surrounded with mines and improvised explosives in Syria's northwestern Afrin that the YPG/PKK terrorist organization has kidnapped civilians at gunpoint and used them as human shields.
According to military sources, the Turkish Armed Forces and Free Syrian Army (FSA) were clearing terrorists from the village of Maskah in Racu, as part of Operation Olive Branch in Syria's Afrin region.
During the operation, four civilians in their 80s and 90s were discovered in a barn. The barn's door was booby-trapped with hand grenades, and their hands had been bound and mines and improvised explosives were placed around them by the YPG/PKK terrorists.
The Mine and Improvised Explosives Detection and Disposal Team (METI) disposed of the mines and improvised explosives. 
The civilians were then safely evacuated from the area and sent to a border police station. 
Other houses in the village were meticulously searched as part of the operation. 
A total of 12 explosive devices were found in the village and destroyed in a controlled environment. 
Photos of the incident show that the terrorist organization was using civilians as human shields and that they wanted to harm Turkish forces that would come to help.
Turkish and FSA forces had cleared the village from YPG/PKK-Daesh terrorists during the day.
Turkey on Jan. 20 launched Operation Olive Branch to remove YPG/PKK and Daesh terrorists from Afrin.
According to the Turkish General Staff, the operation aims to establish security and stability along Turkey's borders and the region as well as protect Syrians from terrorist cruelty and oppression.
The operation is being carried out under the framework of Turkey's rights based on international law, UN Security Council resolutions, its self-defense rights under the UN Charter and respect for Syria's territorial integrity, it said.
Afrin has been a major hideout for the PYD/PKK since July 2012, when the Bashar al-Assad regime in Syria left the city to the terror group without a fight