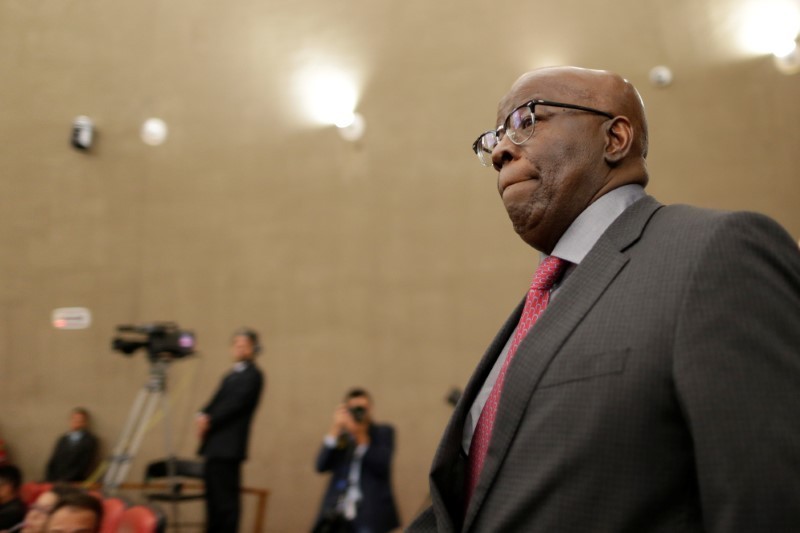 The first black member of Brazil's Supreme Court, former Chief Justice Joaquim Barbosa, is expected to join the Brazilian Socialist Party (PSB) and could become its presidential candidate in this year's elections, a party leader told Reuters.
PSB leader Carlos Siqueira said that Barbosa should join the party by next Friday's deadline for party affiliation, and many members would like to nominate him for president in the October election.
Barbosa, 63, the son of a bricklayer, became a popular figure in 2012 for heading the highest-profile political corruption trial at the time, which led to the imprisonment of three top aides to former leftist president Luiz Inacio Lula da Silva.
A spokesman for Barbosa said talks with PSB leadership over coffee at a bakery on Thursday morning had "advanced well" but that the former justice had not taken a final decision yet.
Barbosa has never run for public office, but since he retired from the top court in 2014 his name has regularly appeared in presidential opinion polls, often within the margin of error of more established potential candidates such as Sao Paulo Governor Geraldo Alckmin.
With Brazil's political establishment rocked by political corruption scandals, voters are seeking alternative candidates like Barbosa who are honest and trustworthy, Siqueira said.
"I think this is the right moment for his candidacy. It would fit the desire for an outsider who proposes a new way of doing politics," Siqueira said in a telephone interview.
"If the party picks him, Barbosa stands a good chance of reaching the runoff and vying for the presidency. He could win," Siqueira said.