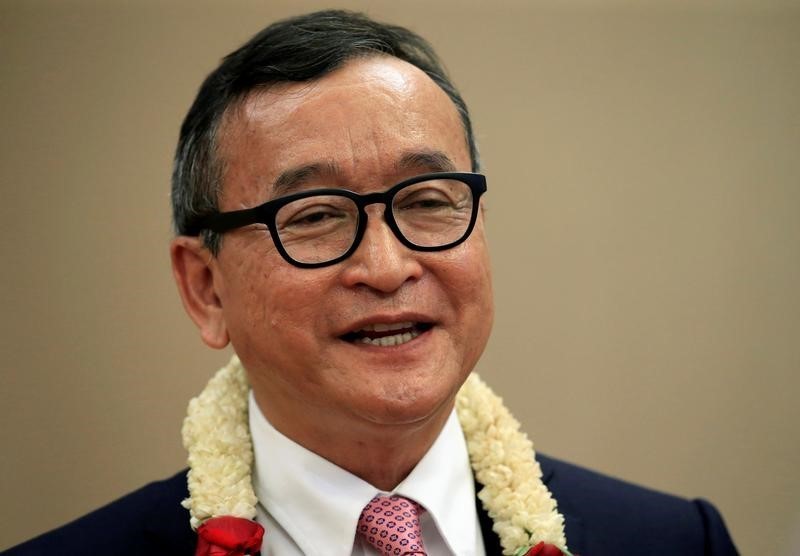 Cambodia's former opposition leader Sam Rainsy said on Sunday he was open to talks with Prime Minister Hun Sen, who has held power since 1985, to end a crisis caused by the dissolution of the main opposition party ahead of elections in July.
The Cambodia National Rescue Party (CNRP) was dissolved by the Supreme Court last November at the request of Hun Sen's government who said they had been plotting to take power with the help of the United States. The CNRP denies the allegation.
The dissolution followed the arrest of party leader Kem Sokha who was also accused of plotting to take power with U.S. help. That charged was mounted because of the threat the CNRP posed at the elections set for July 29, he said.
Sam Rainsy resigned as president of the CNRP in 2017 but remains one of the government's most visible critics.
He had previously served as finance minister in an ill-fated coalition set up when Hun Sen refused to give up power after losing a U.N.-organized election in 1993.
He has lived in France since 2015 to avoid a series of convictions he says are politically motivated.
"I am always open to meeting with Hun Sen's government in order to find a peaceful solution to this unprecedented crisis, a solution that would be acceptable to both sides with international guarantees," Sam Rainsy said in a tweet on Sunday.
They were his first comments on the matter since the opposition was banned.
Hun Sen has been criticized by Western countries over the CNRP's dissolution and the arrest of Kem Sokha ahead of the July 29 general election.
A crackdown by Hun Sen's government and its allies has included non-governmental organizations, opposition lawmakers and some independent media.
Hun Sen, who will visit Australia in mid-March for a regional meeting, said on Friday he is open to holding talks to end the crisis but would not negotiate a change to criminal convictions brought against opposition figures.
A spokesman for Hun Sen's Cambodian People's Party said on Sunday that Sam Rainsy was not serious about holding talks.
"He has no way out," Sok Eysan told Reuters.
"The culture of dialogue is dead and he has to face prison for crimes he's has committed."