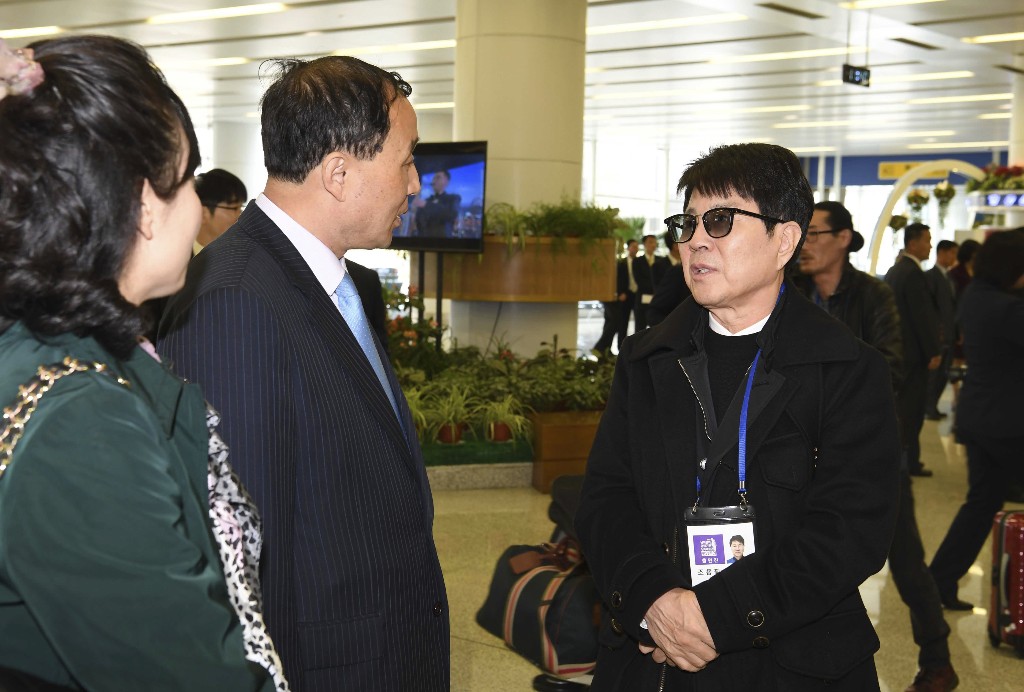 From aging crooners to bubbly K-Pop starlets, some of South Korea's biggest pop stars flew to North Korea on Saturday for rare performances that highlight the sudden thaw in inter-Korean ties after years of tensions over the North's nuclear ambitions.
The concerts in Pyongyang on Sunday and Tuesday come ahead of a historic summit between North Korean leader Kim Jong Un and South Korean President Moon Jae-in at a border village on April 27. The meeting, which will precede a planned summit between Kim and President Donald Trump in May, could prove to be significant in the global diplomatic push to resolve the standoff over the North's nuclear weapons and missiles program.
The 120-member group that flew to Pyongyang also included government officials, reporters and a taekwondo demonstration team that will perform in Pyongyang on Sunday and Monday. Another team of 70 South Korean technicians went to Pyongyang on Thursday to set up equipment.
A look at the singers who made the trip and a certain horse-dancing specialist who didn't:
North Korea during stormier times had described the South's society and culture as a "corrupt bourgeois lifestyle." Still, the Pyongyang concerts wouldn't be the first time southern pop singers have performed across the border.
It's the second trip for the iconic Cho Yong-pil, perhaps South Korea's most influential musician of the past 50 years. He staged a solo concert in Pyongyang in 2005 during a previous era of rapprochement between the rivals.
"It will be comfortable performing in the North as it is to perform in the South," the 68-year-old singer said in a news conference at South Korea's Gimpo Airport on Saturday. "There's no reason for me or other singers to be nervous. We all finished rehearsing and will have a fun and comfortable time showing our music."
Seoul hasn't officially announced the titles of the songs by the South Korean artists. Cho's "Dear Friend," a ballad about a long-lost friend that reportedly drew an enthusiastic response from the Pyongyang crowd 13 years ago, will almost certainly be one of them.
It would be the third North Korean performances for each female balladeers Choi Jin-hee and Lee Sun-hee, who are relatively well-known in the North.
The 61-year-old Choi will likely sing her biggest hit, "Maze of Love," which is rumored to have been a favorite of former North Korean leader Kim Jong Il, the late father of current leader Kim. Lee, who at 53 still might have the best pipes in the business, may sing "To J," which was one of several South Korean songs North Korean musicians performed during the Pyeongchang Winter Olympics.
"I hope we can create a stage where we can make an emotional connection and convey the warm feelings between the South and North," Choi said at the airport.
It won't be all slow ballads in Pyongyang. It'll be interesting to see how the North Koreans reacts to girl band Red Velvet, currently one of the most popular acts in the highly-competitive K-Pop scene.
The genre, which has a huge following across Asia, has been defined by synthesized music, powerful visuals and dance moves and teasing sexuality. South Korea's military in recent years has used K-pop for psychological warfare, blaring it from loudspeakers along the heavily-armored border between the rivals.
"Happiness! Hello, it's Red Velvet!" band member Seulgi cheerfully shouted at the airport. "We're the 'maknae' (youngest of the group), so we will make sure to deliver our bright energy to the North," said the 24-year-old.
K-Pop groups have performed before in North Korea. The now-disbanded Sechs Kies and Fin.K.L sang and danced in Pyongyang in 1999, as did boy band Shinhwa in 2003. Some of the artists later said the reaction from the audience was awkward and quiet.
Red Velvet may find a better reception more than a decade later as cultural tastes change, even in isolated North Korea. The North's most popular music act is Kim Jong Un's hand-picked Moranbong girl band, whose members often perform suggestive shimmies in short skirts with electric guitars.
Park Hyeong-il, an official at South Korea's Unification Ministry, said North Korean officials didn't show any discomfort about Red Velvet and also didn't take issue with the "red" in the band's name.
Red Velvet is originally a five-member band, but only four made the trip to Pyongyang — 22-year-old Joy stayed in South Korea to film a soap opera.
NO 'GANGNAM STYLE' PLEASE
Despite constant questioning from reporters, South Korean officials aren't offering a clear explanation on why PSY, the singer of "Gangnam Style," was left out of the concert lineup.
South Korea's culture ministry spokesman Hwang Seong-un said without specifying that the YouTube rapper had been initially considered for the Pyongyang events before being excluded. He said he couldn't confirm a media report that North Korean officials had rejected PSY.
"What I can say is that we explored ways to include him, but it didn't work out," Hwang said. "We hope there will be better opportunities for him in the future."
It's possible that officials from either the North or South concluded that PSY's bizarre humor and highly sexualized music would be too provocative for the North Korean public.
It's not that North Korea had entirely ignored the global Gangnam Style craze. In September 2012, the North posted a video on its Uriminzokkiri website of a horse-dancing PSY character that had a photo of conservative South Korean presidential candidate Park Geun-hye's face transposed on it. The lyrics had the character satirically defending Park's late father, staunch anti-communist dictator Park Chung-hee.
Park went on to win the presidential race, only to be ousted from office and jailed over a corruption scandal in March last year.
The South Korean singers will perform at the 1,500-seat East Pyongyang Grand Theater on Sunday and then take part in a joint concert with North Korean artists on Tuesday at the 12,000-seat Ryugyong Jong Ju Yong Gymnasium.
It's unclear whether North Korean leader Kim will show up in any of these performances. His presence would be seen in the South as a proper response to Moon's attending the North Korean performances in February. But Kim also was accused by Seoul in previous years for harshly punishing, and even executing, North Korean officials and people who were caught privately consuming South Korean popular culture.
South Korea's spy agency in 2014 told lawmakers that North Korea used firing squads to execute 10 officials that year for taking bribes or watching South Korean television dramas.