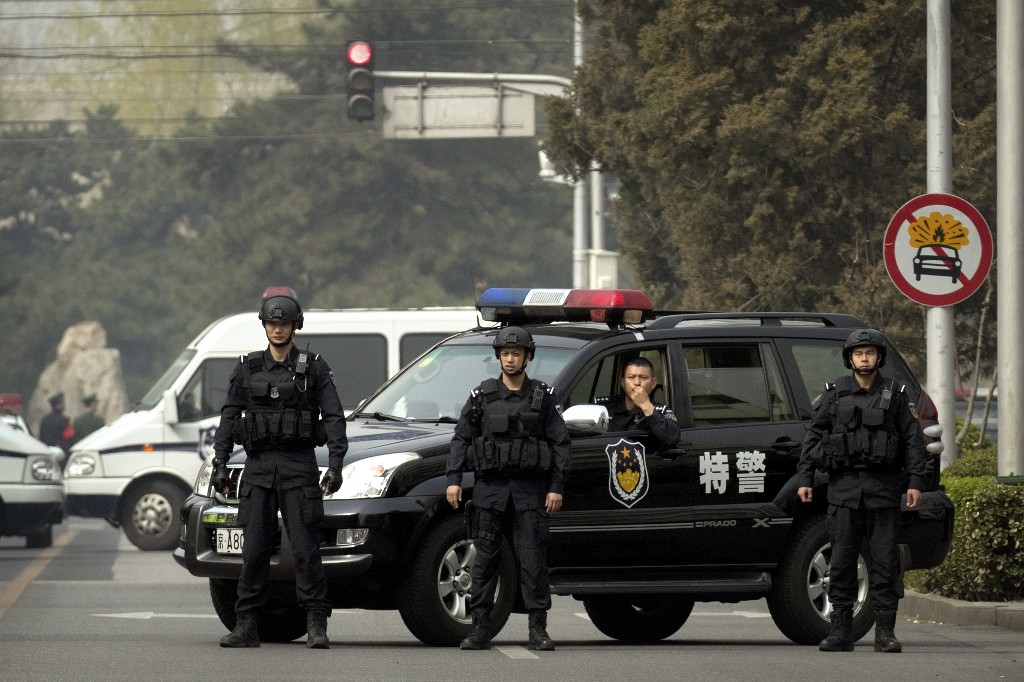 A Japanese news agency says a train believed to be used by high-level North Korean officials has left the Beijing station.
Kyodo News reported Tuesday afternoon the train had departed. The agency did not say how it knew that.
The train's arrival Monday had sparked speculation that North Korean leader Kim Jong Un was visiting China.
A foreign guesthouse in Beijing had heavy security overnight and escorted vehicle convoys were seen near the guesthouse. A limousine was then seen entering the train station Tuesday afternoon.
A vehicle convoy has been seen entering the Beijing train station under heavy security amid speculation of a high-level North Korean visit.
The convoy of about a dozen cars led by a motorcycle escort traveled Tuesday afternoon in the direction of the Beijing Railway Station. A black limousine about 10 minutes later entered the train station under a heavy security presence. The station itself was closed to the public in an unusual security measure.
The activity followed the arrival Monday of a train resembling one used by North Korea's previous leader, and a foreign guesthouse in Beijing had a heavy security presence overnight. Some media have speculated that North Korean leader Kim Jong Un was making a surprise visit to China.
A convoy of official Chinese cars has been seen leaving the Beijing guesthouse amid speculation that North Korean leader Kim Jong Un is making his first visit to China as the North's leader.
City police and the paramilitary People's Armed Police stood guard Tuesday in the area and unidentified men in plainclothes attempted to prevent photographers from taking pictures.
Cars in the convoy were identified by yellow stickers but carried no diplomatic license plates. The guesthouse had been the favored residence of Kim Jong Un's father, North Korea's former leader Kim Jong Il, during his visits to Beijing.
The younger Kim had long been expected to make a visit to the capital of his country's most important ally and chief economic partner.
South Korea says it's closely monitoring the arrival of a train in Beijing that looks like one used by North Korea's previous leader. Seoul doesn't know who's on the train, but some media speculate that North Korean leader Kim Jong Un has made a surprise visit to China.
South Korea's presidential office said Tuesday that it cannot immediately confirm reports that the train carried Kim on what would be his first overseas trip since taking power in 2011. The office says it also cannot confirm a report that the train carried Kim's sister.
Some see a recent diplomatic push by Kim Jong Un as an attempt to improve the country's economy. He has planned meetings with South Korean President Moon Jae-in and President Donald Trump.
Japanese media reports say a special North Korean train has arrived in Beijing under unusually heavy security, suggesting a senior delegation might have been aboard.
A spokeswoman for the Chinese Foreign Ministry said Monday she was not aware of the situation and had no further comment. North Korea's state-run media had no reports of a delegation traveling to China.
Japanese television network NTV and public broadcaster NHK reported the arrival of the train and said the heavy security in the city suggested a senior official was aboard.
The reports sparked speculation that leader Kim Jong Un might have been on the train. Kim is expected to have a summit meeting with South Korean President Moon Jae-in in late April and with U.S. President Donald Trump by May.