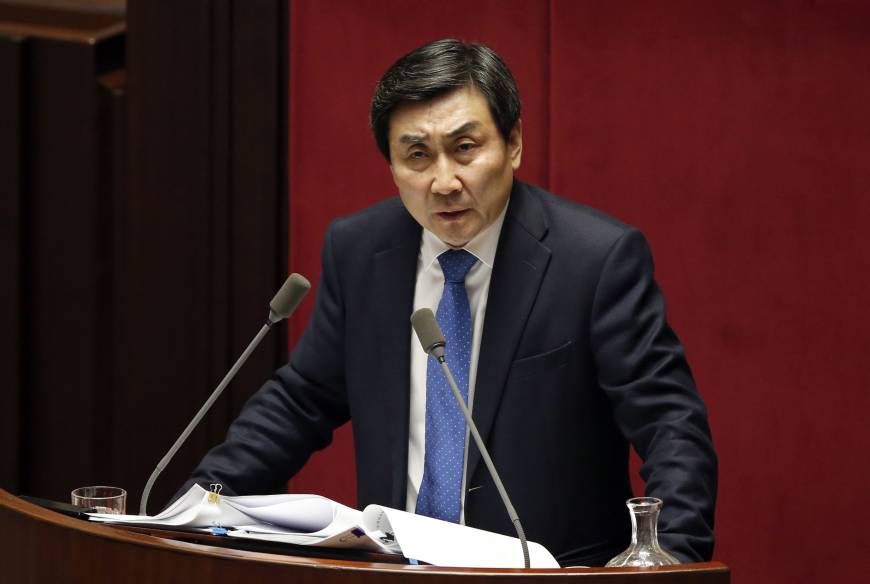 A South Korean lawmaker submitted his resignation to the National Assembly on Monday and abandoned ambitions to become Seoul's mayor, becoming the latest casualty in a spate of embarrassing allegations against members of the ruling party.
A senior official in President Moon Jae-in's Democratic Party told Reuters on Friday that the party would adopt "zero tolerance" over sexual abuse, and would vet the candidates it fields in looming regional polls more rigorously.
Discussion of sexual misconduct has long been taboo in South Korea but in recent months the #MeToo movement has snowballed, with allegations made against a number of high-profile figures across various fields, from the entertainment industry to the religious community and literary world.
Just a week after a rising star, regarded as a potential future president, quit after being accused of sexual assault by a former aide in a dramatic television interview, the Democratic Party suffered more damaging allegations against senior members.
On Monday, lawmaker Min Byung-doo submitted his resignation to the National Assembly, after a woman accused him of sexual harassment at a karaoke room.
Min said he could not recall the incident but he nevertheless intended to resign from his parliamentary post and withdraw from the primary to be the party's mayoral candidate in the upcoming regional polls.
Min could not be reached for comment, but an aide who answered the phone at his office confirmed his resignation.
Min's resignation letter has been submitted to the National Assembly, which will decide whether or not to accept his offer, the aide, who declined to be identified, said.
Another candidate in the party's mayoral primary, former lawmaker Chung Bong-ju, has also been accused of sexual harassment, but he told journalists in the National Assembly on Monday that he was innocent and would continue with his election bid.
The controversies come after the Democratic Party was rocked by sexual assault allegations against An Hee-jung, a high-profile provincial governor who was seen as a potential contender in the next presidential election.
An resigned from his position and said he was leaving politics after a former aide accused him of sexual assault in a dramatic television interview earlier this month. An has said he would fully cooperate with a criminal investigation.
In a poll released on Sunday by South Korea's JoongAng Sunday magazine, nearly 73 percent of respondents said An's sexual abuse scandal would affect the local elections in June.
"We are going to strengthen the party's vetting processes for potential candidates starting with the upcoming regional elections in June," Nam In-soon, who chairs a Democratic Party committee established to prevent sex abuse, told Reuters.
"We will enforce a zero tolerance policy for all kinds of sexual violence and domestic abuse."