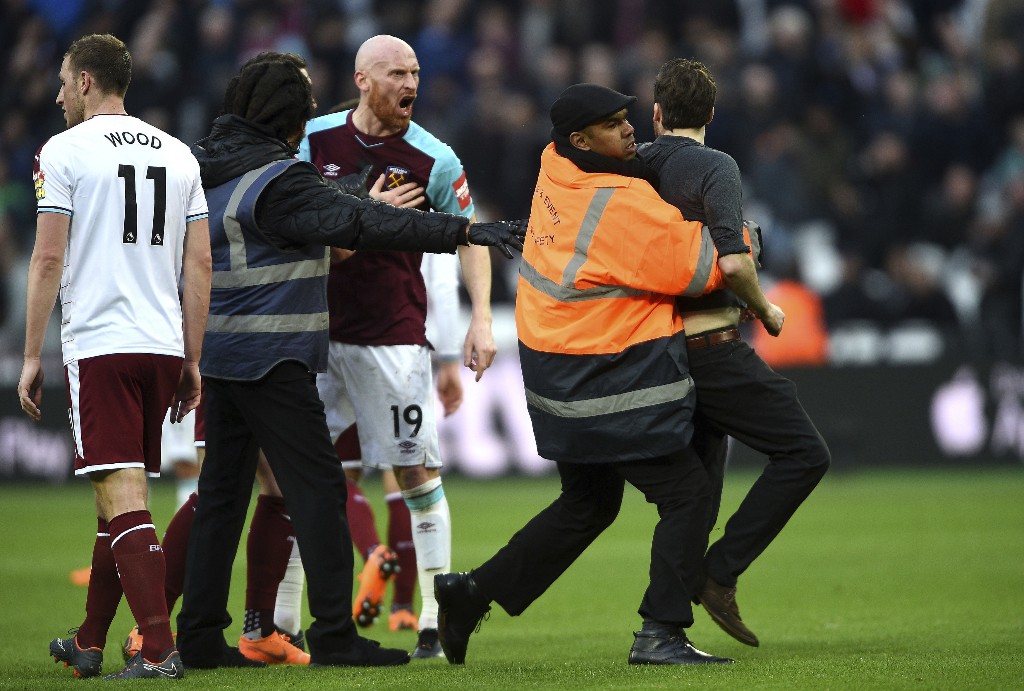 West Ham captain Mark Noble pushed a pitch invader to the ground as frustrations boiled over during a 3-0 loss to Burnley on Saturday, leading to an emergency meeting being called by the club with the Olympic Stadium operators.
West Ham said it was "committed to taking decisive and appropriate action" after launching a "full and thorough investigation" into the disorder.
Moments after Ashley Barnes gave Burnley the lead in the Premier League match, a man ran onto the pitch from the home end. With no stewards on hand to remove the fan, an enraged Noble grabbed him and threw him to the floor.
Two more fans then encroached on the pitch and were led away by West Ham defender James Collins.
After Chris Wood put Burnley 2-0 up, another fan picked up the corner flag, marched to the center circle and planted it in the ground. West Ham fans also gathered below the directors' box chanting "Sack (fire) the board."
The atmosphere grew increasingly toxic, with West Ham three points above the relegation zone.
The team left its Upton Park home of 112 years to move to the Olympic Stadium in 2016 and there was crowd disorder in the opening weeks.
Whereas Upton Park provided a formidable atmosphere, fans are separated from the pitch by the running track in their expansive, largely taxpayer-funded new home. It is only being rented from the company in charge of securing the legacy of venues from the 2012 Olympics.
The holding name "London Stadium" highlights the failure to secure the naming rights envisaged — a pursuit that could be even harder after the latest turmoil.
"An emergency meeting has been called with all London Stadium stakeholders," West Ham said.