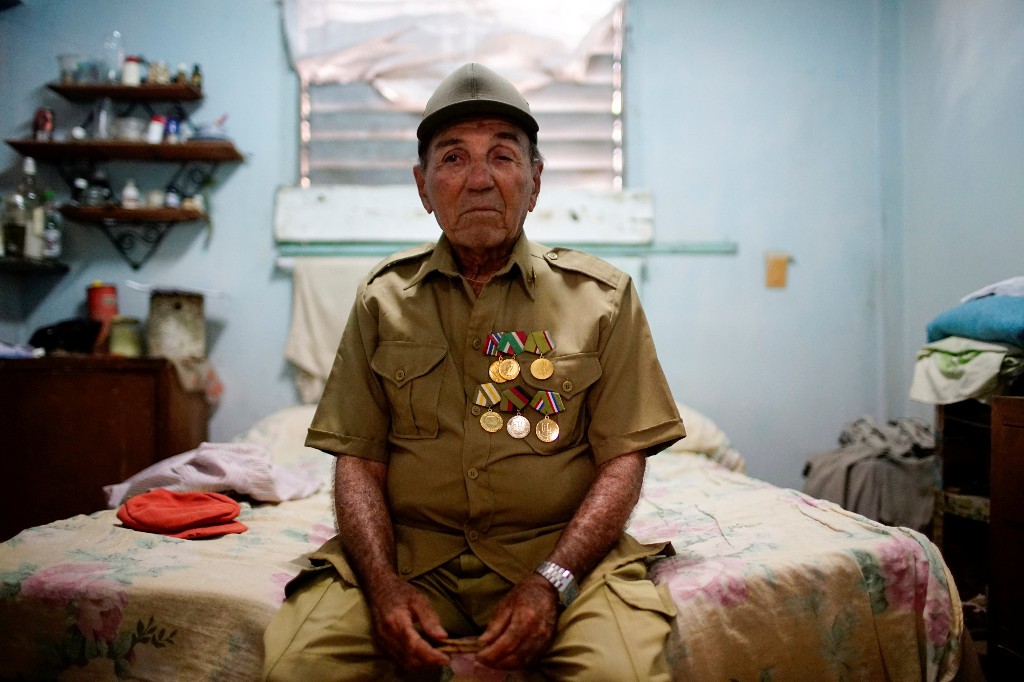 The long awaited generational shift in Cuban politics is about to happen: none of the leaders of the Communist-ruled island's next government are likely to be elderly former fighters from the 1959 leftist revolution.
Even so, veteran former rebels who took part in Fidel Castro's uprising say they will help keep the flame alive among ordinary Cubans: teaching the achievements of the revolution such as free education and healthcare to younger generations who are often more preoccupied with its shortcomings, like the ailing centralized economy.
Raul Castro, who was at his brother Fidel's side heading the guerrilla force that overthrew U.S.-backed dictator Fulgencio Batista, will step down as president next Thursday aged 86.
His protege Miguel Diaz-Canel, 57, born the year after the revolution, is expected to succeed him.
Raul Castro has indicated the two ex-rebel vice presidents, José Ramón Machado Ventura, 87, and Ramiro Valdés, 85, might leave at the same time as him, although all three will retain key positions in the Communist Party. Fidel Castro, who formally stepped down as president in 2008, died in November 2016.
"I say every day: 'we have to continue this and look after it,'" said former rebel Nelson Alvarez, 85, who lives in El Cobre, a town in the foothills of the Sierra Maestra mountains that were the rebels' stronghold.
Like many former rebels, his revolutionary loyalty stems from memories of grinding childhood poverty and lack of opportunity. He said he dropped out of school aged around 13 to work in construction and help feed his family. A sister of his died aged 18 because there was no doctor in their rural town to attend her, he said.
All four of his children studied at university, Alvarez said. The revolution also brought running water, electricity, medical services, and brick and mortar homes to El Cobre, he said.
"There's no going back," Alvarez said, displaying the revolutionary medals he keeps in an old cigar case, as a cockerel prowled the house crowing loudly.
His grandson, 32-year-old Bilmar, who lives with his family one floor above, was less enthusiastic. He said he had to quit his state job as a waiter due to the $10 monthly salary and was now self-employed, pedaling meat from a streetcart.
The state ration book no longer covered peoples' needs and wages were insufficient for the high prices of goods. Meanwhile El Cobre had few facilities, with sketchy internet at the local Wi-Fi hotspot and no football field, he said.
But he conceded that his generation had not fought to change society. "We were born with all this as it is," said Bilmar, who had an image of the U.S. Statue of Liberty tattooed on his shoulder.
NEXT GENERATION 'WELL PREPARED'
Some of the former rebels interviewed by Reuters blamed Cold War foe the United States for the country's current woes. While relations have eased under a 2014 detente reached by Raul Castro and former U.S. President Barack Obama, a decades-old economic embargo on the island remains in place, which the Cuban government has long blamed for the island's economic troubles.
"The situation is not the one we dreamt of for the people," said Juana Ramirez, 81, who was wed by Fidel Castro to her rebel fighter boyfriend in the Sierra Maestra and now lives in Havana.
"But they did not let us do thing like we wanted," she said, overlooking the state controls that have hampered growth.
Others, like Marta Anido, 86, who used to bring supplies to a rebel base near the central city of Santa Clara, praised other achievements they attributed to the revolution, like greater freedoms for women.
"There were women who lived next door to me who wouldn't go out on the street alone or to a shop because it was seen badly," said Anido, for decades vice president of the Santa Clara Arts Association. "But since the revolution, wow!" she said, adding that in Santa Clara, the directors of the symphony and newspaper were women.
All the ex-rebels interviewed said they were confident the next generation of political leaders was better prepared, with its Communist education, than they had been to lead the country.
"We were peasants who grew up in terrible misery, we didn't know anything," said Julio Lopez, 77, who says he was a barefoot, illiterate adolescent when he joined the rebel force in the Sierra Maestra. Ernesto "Che" Guevara taught him to write.
"Today this generation is well prepared … they can do it better than us."
Lopez now lives in one-bedroom house in Santa Clara, the city that is home to Che Guevara's mausoleum, on a narrow road opposite the headquarters of the province's Communist Youth League, which was once run by Diaz-Canel.
The likely future president would often stop by for a coffee in Lopez's living room, which is adorned with photos of him as an adolescent rebel in military fatigues.
"We would spend an hour or two together," said Lopez, "and I would tell him the history of the Sierra Maestra and how we waged war."