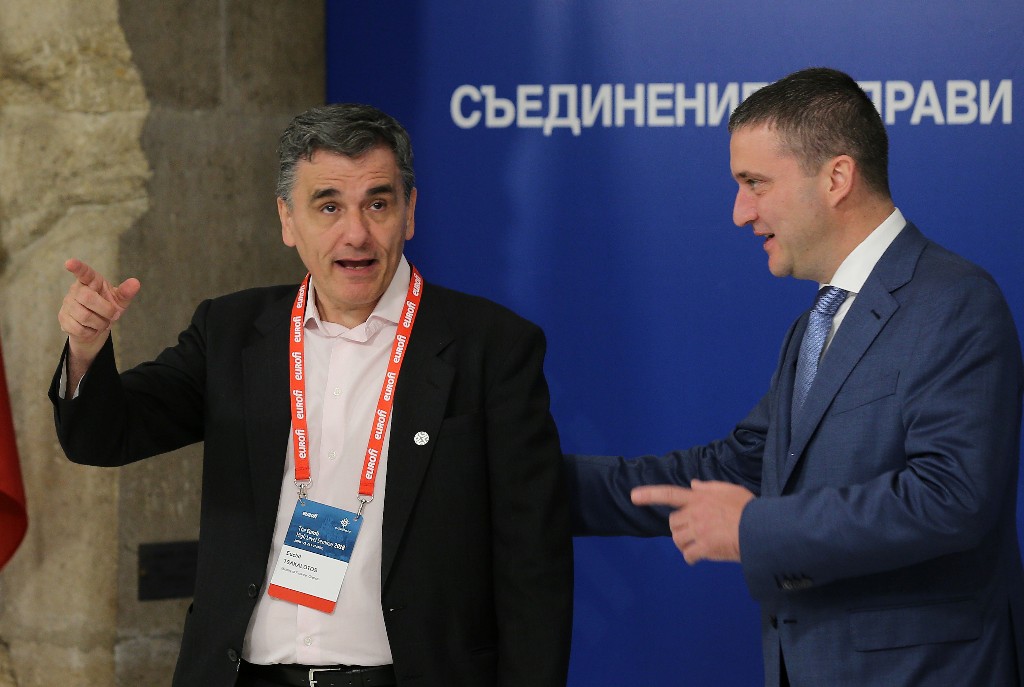 Euro zone finance ministers started discussions on Friday on Greece's exit from eight years of international bailouts, focusing on how Athens plans to boost economic growth and complete the remaining reforms agreed with its creditors.
"We will focus on the conclusion of the (bailout) program. We see good signs from Greece, definitely on the fiscal front," the chairman of euro zone finance ministers Mario Centeno told reporters on entering the meeting.
Greece is to return to market financing on Aug. 20 after more than eight years of living on cheap euro zone loans it got in return for painful reforms, after investors refused to lend to it in 2010 because of its ballooning deficit and debt.
Once the bailout ends, Greece will be free to set its own economic policy – a political turning point for the country that has long been forced to implement highly unpopular reforms suggested by the euro zone and the International Monetary Fund.
Before it gets there, it needs to implement the final 88 changes to its economy – the last batch of reforms agreed with euro zone creditors. Some of them, like the liberalization of the energy market, or privatization, are difficult.
"We are still waiting for some more decisions and some more actions from Greece, but we are confident that we will find an agreement … in June," French Finance Minister Bruno Le Maire told reporters before the meeting.
Without those "prior actions," Greece will not get a large cash send-off from the euro zone in August to keep it liquid in case of difficulties, nor can it hope for debt relief from euro zone governments, now Athens' biggest creditor.
Finance ministers from the 19 countries sharing the euro will discuss on Friday the progress of Athens in implementing the reforms and the link between further debt relief for Greece and economic growth in the country and sound fiscal policies.
While, under pressure from creditors, Greece has turned its 15 percent of GDP budget deficit in 2009 into a budget surplus of 0.8 percent last year, many officials are worried that as time passes, Greek politicians will be under pressure to loosen budget strings again.
They therefore seek ways to make it worth Greece's while to be fiscally prudent as long as possible.
"We must reflect on the design of a proper post-program surveillance which … shows that reforms are on track, that reforms are long-lasting, but that does not look and must not look as a forced program," European Commissioner for Economic and Financial Affairs Pierre Moscovici said.
To reassure the euro zone that reforms will not be reversed, Greek Finance Minister Euclid Tsakalotos is to present a strategy for boosting economic growth in the coming years.
"This is very, very important … it is key that the ownership of the program remains with the Greek authorities," Centeno said.
To keep a degree of control over Athens' policies, some euro zone countries would like Greece to ask for a precautionary credit line from the euro zone bailout fund, which would entail conditions on Athens. But that is exactly why the left-wing government of Alexis Tsipras does not want it.
Euro zone officials therefore seek to link some of what they consider sound policy goals – like a primary surplus of 3.5 percent of gross domestic product until 2022 – to the debt relief deal.
The euro zone offer is likely to include some debt relief up front and some spread over time.
Since Greece will not have used all the money earmarked for it in the latest bailout, possibly up to 27 billion euros, that could be used by the euro zone to replace much more expensive IMF loans to Greece with its own, cheaper credit.
There is no discussion of a reduction of the nominal value of the debt, but Greece might get back the profits made by euro zone central banks on their portfolios of Greek bonds and see maturities and grace periods on euro zone loans extended.
"That framework (on debt relief) has to be clear, comprehensive and credible for the markets. I am confident that we will be able to find an agreement on that in the coming weeks," Le Maire said.