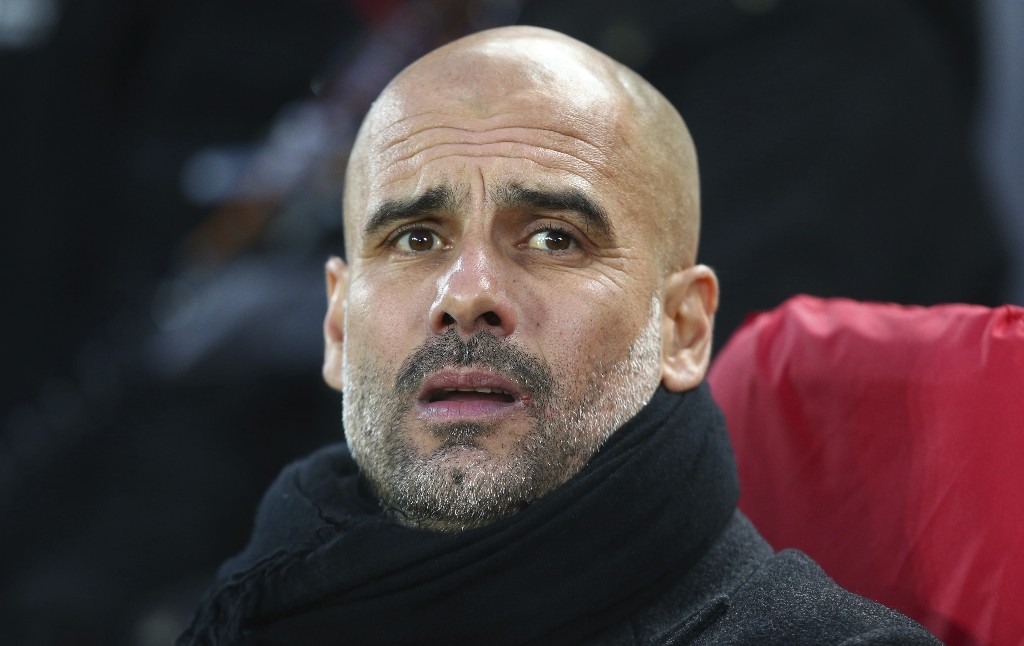 Pep Guardiola was ridiculed when he backed Barcelona to mount a historic comeback from 4-0 down against Paris Saint-Germain in the Champions League last season.
Back then, the former Barcelona player and coach warned that Spanish team "will be back and prove you wrong."
He was right about that, Barcelona won the second leg 6-1. But with a similar deficit facing Manchester City, Guardiola didn't sound quite as convinced.
"In this room, I think there is nobody, except the guy talking to you, who believes we can go through," the Spaniard said after City's 3-0 loss at Liverpool in the first leg of the Champions League quarterfinals. "There are 90 minutes more. We are going to try."
His statement lacked conviction. Just like City's play at Anfield on Wednesday when Guardiola's tactics were pulled apart, not for the first time at this level in recent years.
Guardiola's decision to change his approach and play an extra central midfielder, Ilkay Gundogan, instead of winger Raheem Sterling was based on his belief that it would allow City to take charge of midfield.
"We wanted more passes, more control," Guardiola said.
By the time Gundogan traipsed off after 57 minutes — the game having virtually passed him by — to be replaced by Sterling, City was losing 3-0 and its players were struggling to clear their minds after Liverpool's devastating first-half display.
Liverpool had taken advantage of City's lack of width on the right as left back Andrew Robertson repeatedly burst forward in support of Sadio Mane, leaving City right back Kyle Walker exposed. City's central-midfield four seemed unsure about their exact roles, the diagonal switch to left winger Leroy Sane became a default ploy because of a lack of options on the other flank, and lone striker Gabriel Jesus was left too isolated.
It revived memories of Guardiola's time at Bayern Munich, when he changed his formation to 4-2-4 for the second leg of the semifinals against Real Madrid. Madrid, 1-0 ahead from the first leg, won the return match 4-0 in one of the most humiliating nights of Guardiola's career.
Unless City pulls off a Barcelona-style recovery, it will be seven years since Guardiola last won the Champions League — when Barcelona won for the second time with that enchanting 3-1 victory over Manchester United at Wembley Stadium.
A semifinal loss with Barcelona in 2012 was followed by three straight exits at the last four with Bayern. City under Guardiola was eliminated by Monaco in the last 16 last year, and now faces going out in the quarterfinals.
It seems ungrateful to criticize Guardiola and his approach, given his City team could clinch the Premier League in record time this weekend after playing some of the best soccer ever seen in the English game.
But in the Champions League, he has been found wanting, either through his overthinking (which was the case against Liverpool) or an unwillingness to change his attack-at-all-costs style (like against Monaco last season).
He acknowledged before Wednesday's game that City's style plays right into the hands of Liverpool, but said he would not budge in his beliefs. What followed was a kind of fudged change, bolstering his central midfield but leaving another area of the field undermanned.
He picked the same midfield against Arsenal in the English League Cup final and City was somewhat fortunate to go into halftime leading 1-0 before running out an easy 3-0 winner.
Guardiola won't make the same mistake in the second leg against Liverpool. He has no option but to go on all-out attack, returning to the way City usually plays.
The fact that City plays Manchester United in a potentially title-clinching derby match on Saturday makes things even more complicated for Guardiola. He will cling to the fact that City already has beaten Liverpool 5-0 at home in the league this season, and that City has scored at least three goals in 23 of its 49 games this season.
Liverpool also has a big game over the weekend, a Merseyside derby against Everton, and there are doubts about the fitness of forward Mohamed Salah.
"I am too long in the business," Liverpool manager Juergen Klopp said, when asked if the quarterfinal match was virtually over. "No one was in the dressing room dancing around and celebrating after the halftime result. This leg is about 180 minutes."
Klopp has now won seven of his 13 career meetings against Guardiola, and appears to have his number.
It's time for Guardiola to strike back.