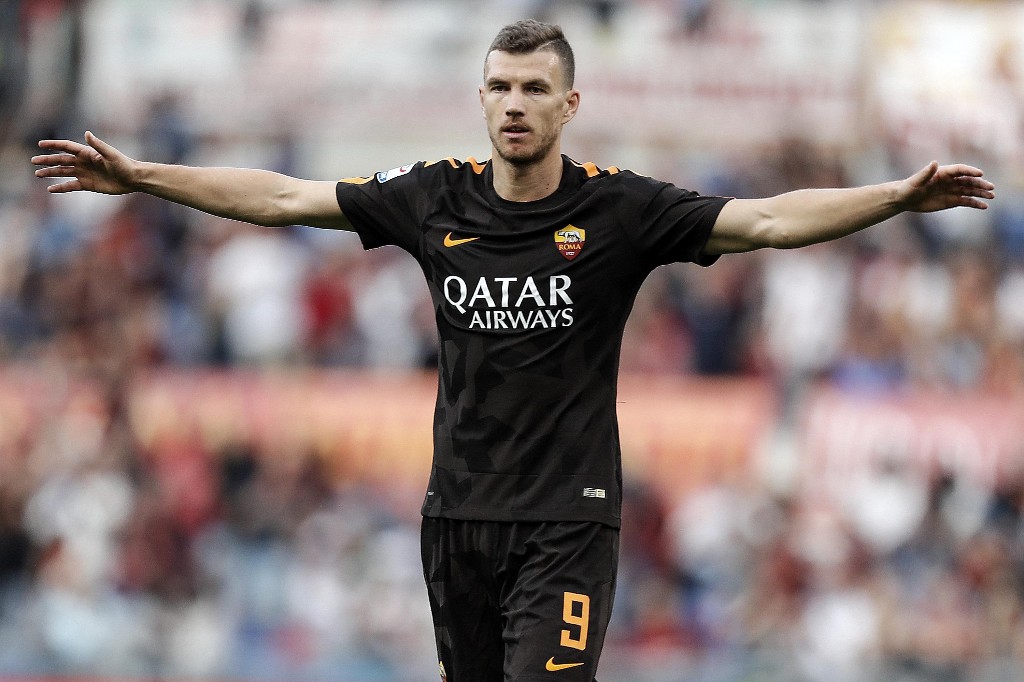 Roma already erased a three-goal deficit once in this season's Champions League.
The Giallorossi believe they can do it again against Liverpool on Wednesday.
"We've already shown we're capable of coming back and we should have the belief that we can do it again," Roma coach Eusebio Di Francesco said.
Liverpool won the first leg 5-2, so Roma needs a repeat of its 3-0 second-leg victory over Barcelona in the quarterfinals to reach next month's final in Kiev.
A 4-1 win — Roma's result against Chievo Verona on Saturday — would also suffice.
"I believe. That's my slogan and that's what I want to transmit to my players," Di Francesco added.
However, Roma will have to find a way to stop its former striker, Mohamed Salah, who scored the opening two goals of the first leg.
Security will also be a concern following clashes at the first leg that left a Liverpool fan in critical condition.
Italian state police said "special attention" will be paid to the arrival and movements of 5,000 Liverpool supporters in the capital.
Wednesday's game is a rematch of the 1984 European Cup final that Liverpool won in a penalty shootout in Roma's stadium.
In the other semifinal, Real Madrid will look to protect a 2-1 lead against Bayern Munich on Tuesday as it seeks a third consecutive title.
Liverpool should have its devastating front three intact for the second leg, with coach Juergen Klopp saying Sadio Mane will be fit after a minor thigh injury.
Mane, who missed the 0-0 draw with Stoke in the Premier League on Saturday, will link up again with Salah and Roberto Firmino — reuniting the players who scored all of Liverpool's goals in the first leg. They have scored 28 goals between them in this season's Champions League, more than any other team in the competition.
Klopp does have issues in midfield, though, with Alex Oxlade-Chamberlain out for the rest of the season after sustaining a serious knee problem in the first leg to join fellow midfielders Adam Lallana and Emre Can on the injury list. Jordan Henderson, James Milner and Georginio Wijnaldum are Klopp's only fit senior midfielders.
Liverpool, a five-time European champion, has proved to be the master of the counterattack domestically and in the Champions League this season, so is the last team that Roma will want to be gung-ho against. The Reds did, though, squander a three-goal cushion against Sevilla in the group stage to draw 3-3.
Madrid may not be as depleted as expected for the return match against Bayern.
Right back Dani Carvajal is still set to miss Tuesday's match because of a muscle problem, but Francisco "Isco" Alarcon appears to have recovered from the shoulder injury that everyone expected to keep him from playing at Santiago Bernabeu Stadium.
Isco, a key piece in Zinedine Zidane's midfield, had to be replaced at halftime in the first leg in Germany because of a sprained left shoulder. He practiced with the rest of the squad for the first time since the injury on Sunday.
If Isco can't play, Zidane will likely start with Marco Asensio, who came off the bench to score the winner on Wednesday.
Another player who may be available for Zidane on Tuesday is defender Nacho Fernandez, who had been out for a while because of a muscle injury but also practiced with the squad on Sunday.
Zidane rested Cristiano Ronaldo and most of the regular starters in the team's 2-1 win against Leganes in the Spanish league on Saturday. Casemiro was the only player who started in the first leg against Bayern and also on Saturday.
"They'll come here with nothing to lose," Zidane said of Bayern. "We'll have to put in a huge performance."
Bayern is taking heart from the number of chances it created in the first leg and from its 2-1 lead in Madrid last year before Zinedine Zidane's side ultimately won their quarterfinal in extra time.
"I think they were floundering for every cross and for every long ball, so we know what we have to do," Bayern striker Sandro Wagner said.
Thomas Mueller, one of a host of players including Franck Ribery, James Rodriguez and Robert Lewandowski left out of Bayern's 4-1 win over Eintracht Frankfurt on Saturday, says the side is traveling with confidence to Madrid.
"We all know that we need a top performance on Tuesday. We all know as well, however, that there's everything to play for," Mueller said.
Arjen Robben, Jerome Boateng and Javi Martinez all missed the Frankfurt game through injury. Robben reportedly is still out and won't make the trip, while Bayern hopes David Alaba can make his comeback from a back injury.
Bayern, which faces Frankfurt again in the German Cup final on May 19, needs to beat Madrid to keep alive its hopes of a treble after clinching the Bundesliga with five rounds to spare.
"We swore that we'd throw everything into the return game," Wagner said. "I'm looking forward to it. I'd play it right now if I could."