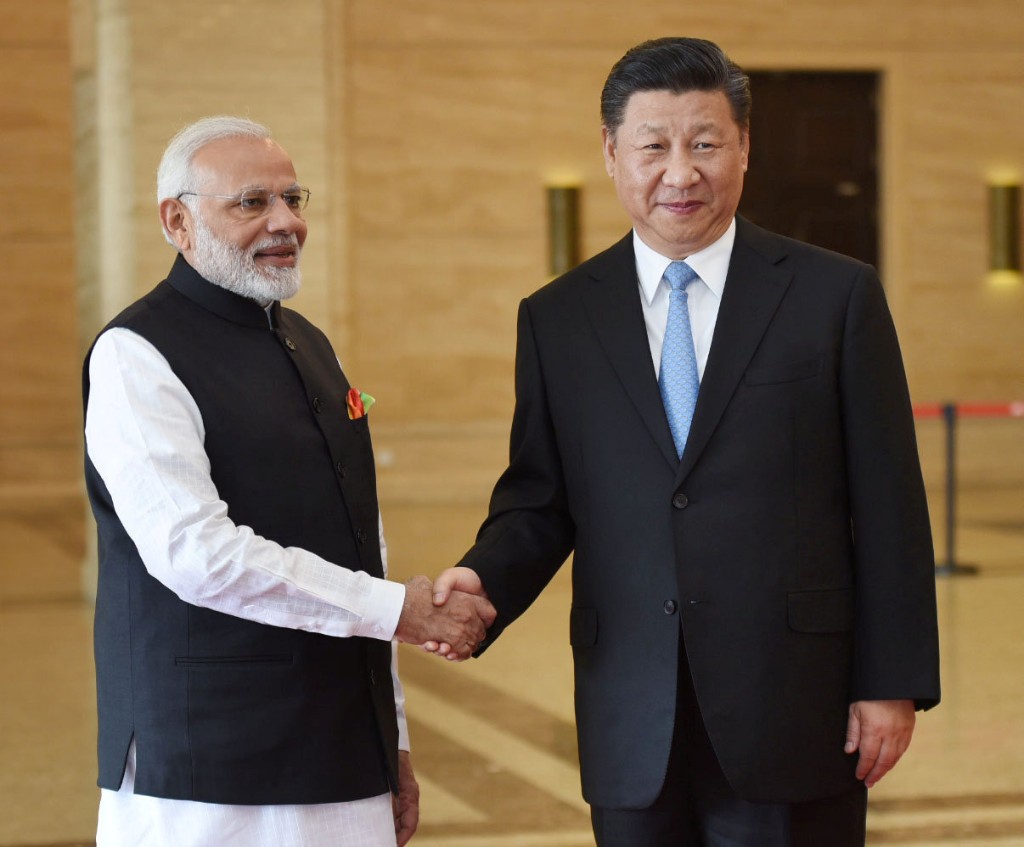 Indian Prime Minister Narendra Modi invited Chinese President Xi Jinping to an informal summit next year as he began an ice-breaking visit to China on Friday in which the giant neighbors are seeking to re-set troubled ties.
Modi is only spending about 24 hours in the central Chinese city of Wuhan, just months after a dispute over a stretch of their high-altitude Himalayan border rekindled fears of war between the Asian nations.
"I hope such informal summits become a tradition between both the countries. I'll be happy, if in 2019 we can have such informal summit in India," Modi said, in comments broadcast in a media center for reporters in Wuhan.
Xi told Modi that their two countries' influence in world and region was steadily on the rise.
"Looking ahead, we see a fast pace and bright future for China-India cooperation," Xi said.
"China and India are both important engines for global growth and we are central pillars for promoting a multi-polar and globalized world. A good China-India relationship is an important and positive factor for maintaining peace and stability in the world," he added.
Modi said that as India and China represented 40 percent of the world's population, they needed to try to work together to tackle global problems.
Stressing the importance of world peace, Modi said both nations have to "make all possible contributions".
But despite the rhetoric on Friday, the nations' differences are significant.
As well as disputes over stretches of a 3,500 km (2,200 miles) border, they are bumping up against each other in the Indian Ocean and squabbling over Xi's signature Belt and Road infrastructure initiative.
India signaled as recently as Tuesday its opposition to the grand trade and transport plan because one of its branches runs through Pakistani-administered Kashmir, which India claims.
India has long been suspicious of China's traditionally close ties with Pakistan.
For its part, China has been concerned about U.S. efforts to draw India into a maritime "quad" of democracies, including Japan and Australia.
China is also suspicious of India's hosting of the Dalai Lama and other exiled Tibetans.
But there was no public mention of any differences on Friday.
Earlier in the day, Modi and Xi viewed antique Chinese artifacts at the Hubei Provincial Museum, where they also exchanged views on boosting dialogue between their two ancient civilizations and how to live peacefully together, China's state news agency Xinhua said.
The two were due to have dinner together later, according to India's foreign ministry.
On Saturday, they will take a walk together and then an hour-long boat-trip, informal settings mostly without aides that both sides are hoping will lead to frank discussions.
In a commentary on Friday, the ruling Communist Party's official People's Daily said the cultures of both China and India set great store on the concept of harmony, and pointed out the Hubei Provincial Museum had in 2014 held a special exhibition on India.
"The friendly exchanges between China and India have again and again seen composed moving stories, creating a model for inter-cultural dialogue in the world," it said.
The museum in Wuhan, an industrial and university provincial capital with no obvious connection to India, was closed ahead of the leaders' visit. A plain clothes police office told a Reuters reporter to stop taking pictures.
A sign at the entrance said it was closed for four days due to "equipment maintenance".