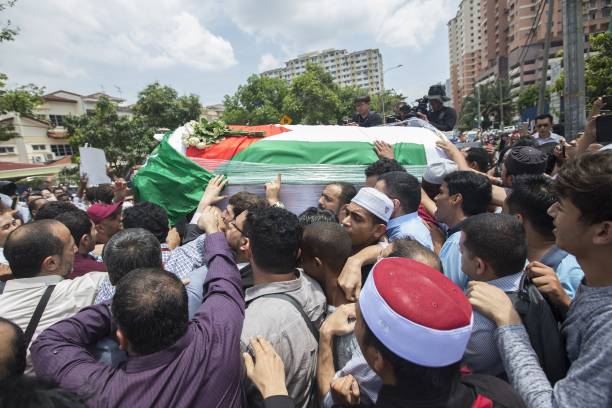 The body of the Palestinian lecturer, who was gunned down in Malaysia, has arrived in Cairo, from where it will be taken to the Gaza Strip through Rafah border crossing.
On Saturday, Hamas-linked lecturer Fadi Mohammed al-Batsh was shot dead near his home by two gunmen, who fled the scene unscathed.
While al-Batsh's family has accused Israel's spy agency Mossad of killing the lecturer, Israeli Defense Minister Avigdor Lieberman has denied involvement in the assassination.
The body was brought through an aircraft of Saudi Arabian Airlines, said a source at Cairo International Airport on the condition of anonymity due to restrictions on talking to the media.
"Al-Batsh's body was transferred to Rafah crossing in an ambulance alongside with his wife and children for burial in Gaza Strip," the source said.
On Tuesday, Palestinian Ambassador to Cairo, Diab al-Louh, announced Egyptian authorities' approval to allow the lecturer's body to Gaza.
On Monday, Malaysian police published two sketches of the suspects behind the lecturer's assassination, saying that the suspects could be from the Middle East or Europe and are well-built.
In earlier statements, Malaysian Deputy Prime Minister and Home Minister Ahmad Zahid Hamidi said the Home Ministry has spotted foreign agents including those from "a country in the Middle East" using passports of such countries to conduct "certain missions".
Malaysia has no diplomatic relations with Israel.
Israel is widely believed to have killed numerous Palestinian resistance activists in the past, many of them overseas.