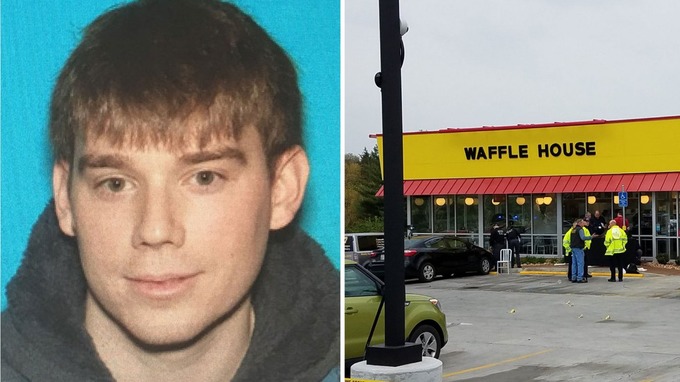 A nearly nude gunman killed four people at a Waffle House restaurant in Nashville, Tennessee, early on Sunday and then fled after a patron saved lives by wrestling the assault-style rifle from his hands.
The suspected shooter, identified as Travis Reinking, 29, fled on foot and was still at large as murder warrants were being issued for him, the Metropolitan Nashville Police said.
Reinking, originally from Morton, Illinois, lives near the restaurant, Nashville police spokesman Don Aaron told an afternoon news conference. The gunman's vehicle was registered to him and was found at the scene, Aaron said.
Police speculate that Reinking ran home, grabbed a pair of pants and fled his apartment. A shirtless, shoeless man believed to be him was spotted in the woods nearby, police said.
The gunman, who was naked but for a green jacket, first shot and killed two people in the parking lot of the restaurant in Antioch, a section of southeast Nashville, shortly before 3:30 a.m. (0830 GMT).
 He then entered the restaurant and opened fire, police said, killing one patron and wounding another, who later died. Two other people were in critical condition at a hospital.
One diner, James Shaw Jr., 29, who had hidden near the restrooms, dashed out and pulled the rifle from the gunman. His fast actions were credited with saving lives, but Shaw said at the news conference that he was no hero.
"I just wanted to live," said Shaw, who added that he had been getting a snack with friends after a fraternity house party. "I figured if I was going to die, he was going to have to work for it. I was completely doing that to save myself."
Shaw suffered non-life-threatening wounds including an injured elbow, while other patrons suffered facial wounds from shattered glass. He said he did not pursue the fleeing gunman for fear he had another weapon.
As the shooter ran off, he discarded the jacket, which contained additional ammunition, according to police, who cautioned that he was to be considered armed and extremely dangerous.
ARRESTED LAST YEAR NEAR WHITE HOUSE
While the AR-15 rifle wrestled from the gunman and another weapon in his apartment were recovered, police said the suspect may have two more guns with him.
Authorities said all four weapons – including a hunting rifle and handgun – were seized from Reinking last July after he was arrested by the Secret Service for being in a restricted area near the White House.
Officials said Reinking had gone there hoping to meet with U.S. President Donald Trump.
The weapons were taken from him by authorities at his home in Tazewell County, Illinois, police said, and were later handed over to the suspect's father. Police said he then gave them back to his son.
Police said Reinking moved to Nashville last autumn and had been working in construction, but was fired from one job three weeks ago and left another last week after just one day.
Officers are going door-to-door in the manhunt and "our efforts will continue until he is apprehended," Nashville Police Chief Steve Anderson said.
The Antioch neighbourhood was the scene of a mass shooting last September. A 25-year-old gunman wearing a mask killed a woman outside the Burnette Chapel Church of Christ and then shot and wounded six worshipers inside during a Sunday service. He later shot and wounded himself in a scuffle with an usher.
Calls to end gun violence and toughen restrictions on firearms sales in the United States have increased since the Feb. 14 massacre of 17 people at a high school in Parkland, Florida, sparked a youth-led activist movement.
Nashville Mayor David Briley said tragedies like the one on Sunday should not happen.
"This is our second mass shooting in 7 months," Briley wrote on Twitter. "We need comprehensive gun reform. If we all come together on this for the greater good, we can take weapons of war off the street."