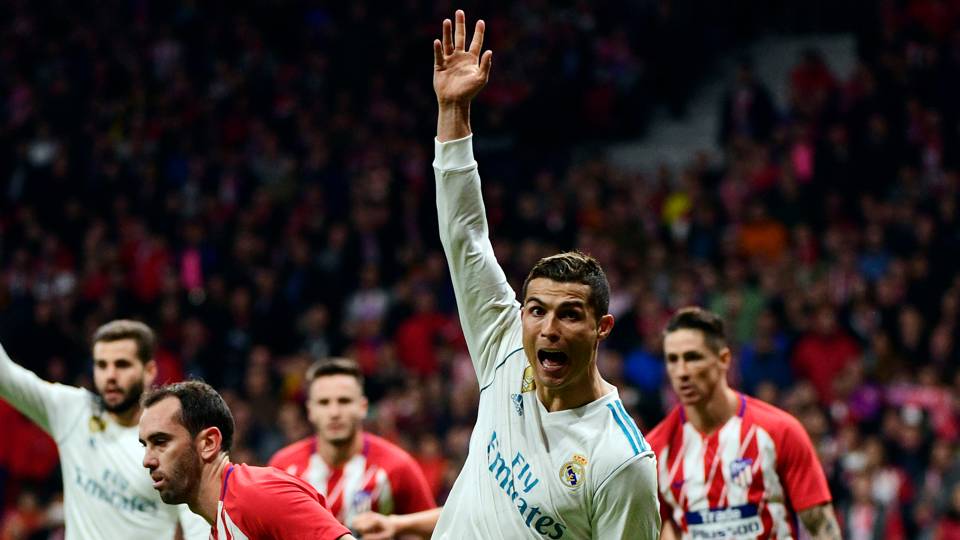 It is seemingly a no-win situation for Real Madrid on Sunday. Zinedine Zidane's side face Atletico in the derby at the Santiago Bernabeu and there is no result that will be good for Los Blancos.
Madrid are on their worst-ever run against Atleti in La Liga at home, having failed to win any of the last four fixtures versus Diego Simeone's side at the Bernabeu – three consecutive defeats and a draw last time around.
So they will want to win this time. But victory for Los Blancos will all but hand the title to their fierce rivals Barcelona, who are in action at home to Leganes on Saturday and could potentially move 10 points clear at the top with only seven rounds remaining in the Primera Division after this weekend.
A win for Real would move Zidane's side to within a point of their city rivals, however, and give them an excellent chance of finishing the season in second spot instead of third.
Meanwhile, a draw would also benefit Barca, while it would not see Madrid move any closer to Atleti and could see them bumped back down into fourth position by Valencia, who are at home to Espanyol on Sunday.
A loss, meanwhile, would keep Atleti's title hopes alive, but would represent an embarrassment for Real against their city rivals. It would also likely see them drop back down to fourth place in the table.
None of the options are particularly attractive. A fixture that should have had a big bearing on the title will now only likely boost Barca's hopes of claiming the trophy sooner rather than later.
It also comes at an awkward time for both Real and Atleti, with Zidane's side in action against Juventus on Wednesday in their Champions League quarter-final second leg, and the Rojiblancos away to Sporting CP in the last eight of the Europa League the following day.
Despite the importance of the game against Juventus, Zidane is set to field a strong side on Sunday including the in-form Cristiano Ronaldo, with the Portuguese keen to face Atleti and also catch Barca rival Lionel Messi in the race for the Pichichi prize.
Madrid have a stronger squad than Atletico, and Simeone was left with just 17 outfield players after Yannick Carrasco and Nico Gaitan moved to China at the end of February. However, his side is still competing in La Liga and in the Europa League.
And they always give absolutely everything in the derby. So there will be no taking it easy for Madrid ahead of their test against Juve on Wednesday and whatever the result Saturday, it will not be an ideal situation either in La Liga as Barca are likely to benefit.
Nevertheless, these two teams could yet end up with a European trophy apiece at the end of the season and for both sides, that is ultimately more important than the outcome of this derby duel.
In La Liga, however, there will be a sense of regret from both Real and Atleti that they are not playing for something more significant than local pride on Sunday.