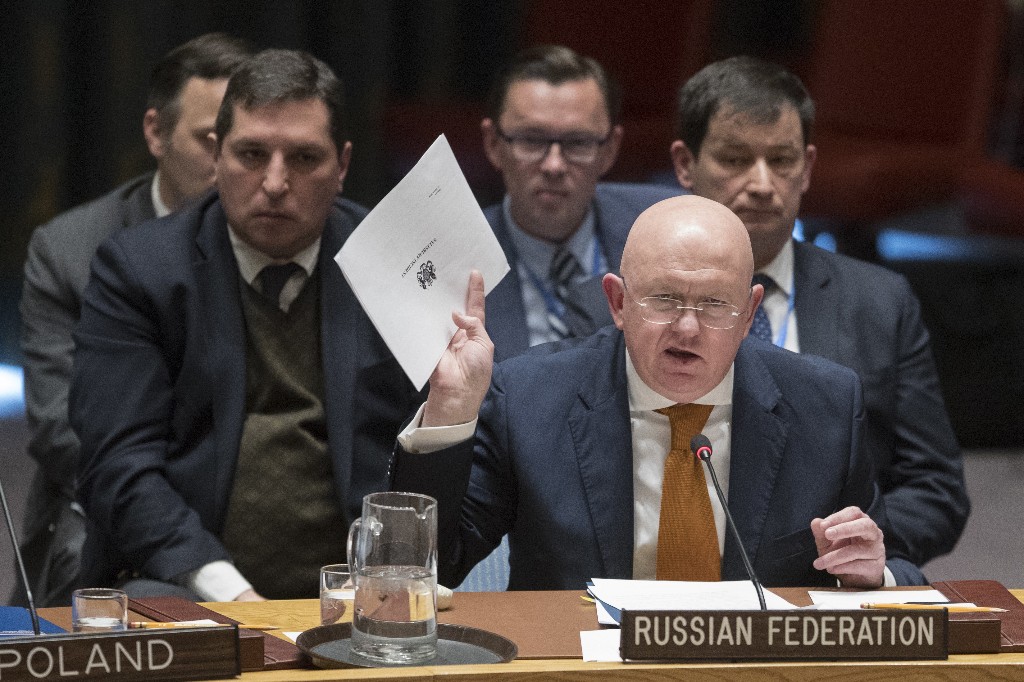 A relative of a former Russian spy and his daughter who were poisoned in Britain said Friday she has not heard from them after a phone call earlier this week but she is sure the call with the daughter was authentic.
Sergei Skripal and his daughter Yulia were found unconscious on a bench in the English city of Salisbury on March 4 and have been in a British hospital ever since. British authorities blame Russia for what they say is a poisoning by a military-grade Soviet-made nerve agent.
Yulia Skripal reportedly regained consciousness last week after being in critical condition since March 4.
Russian state television on Thursday played a recording of what they said was a phone call from Yulia Skripal to her cousin Viktoria Skripal, who lives in Russia. There was no explanation how the call was recorded, and Viktoria is heard on the call expressing surprise at hearing her 33-year-old cousin.
Viktoria Skripal told The Associated Press on Friday that she has no doubt that it was Yulia who called and that she has not heard from her since.
Russia called a U.N. Security Council meeting on Thursday to discuss the Skripal poisoning. The Russian ambassador to the U.N. warned Britain that it was "playing with fire" and claimed that Russia was the victim of a hasty, sloppy and ill-intentioned defamation campaign by London and its allies.
In an unprecedented show of solidarity with Britain, more than two dozen Western countries including the U.S. have ordered out over 150 Russian diplomats. Moscow has fiercely denied its involvement in the nerve agent attack and expelled an equal number of envoys. The diplomatic turmoil has hit lows unseen even at the height of the Cold War.
On Thursday, Yulia Skripal said in a statement released by British police that her "strength is growing daily" and she expressed gratitude to those who came to her aid when she and her father were poisoned.
The hospital in Salisbury confirmed that Yulia's health has improved, while her 66-year-old father remains in critical condition.
In the recording released by Russian state Rossiya TV on Thursday, Yulia Skripal allegedly said she and her father were both recovering and that her father's health was not irreparably damaged.
Viktoria Skripal, who works as a chief accountant in the city of Yaroslavl, said the call was recorded because she has an app on her phone to keep track of all the calls she makes for work.
"I made this recording, that was Yulia," she said.
Viktoria Skripal has said she wanted to visit Sergei and Yulia and has applied for a U.K. visa.
She told the AP that she was invited to come to the British Embassy on Friday afternoon, supposedly to pick up her visa, but a contact at the embassy emailed her that day to say the appointment has been cancelled and that the decision on her visa application has not yet been made.
"They're not giving me a visa, they keep postponing it," she said Friday. "They told me to wait. They told me that everything depends on London and that (Prime Minister) Theresa May is on holiday so there is no one to sign on to this."
Earlier Friday, the British government said that the Skripals' two guinea pigs and a cat were also victims of the poisoning. The two rodents were found dead at the Skripals' home after it was sealed off for expert investigators. The Department for Environment, Food and Rural Affairs said on Friday the cat was put down after it was found "in a distressed state."
Russia's Foreign Ministry was quick to react, questioning the decision. Ministry spokeswoman Maria Zakharova in a Facebook post called the pets who lived at former double agent's home "important evidence" in the case.
Later Friday, Foreign Minister Sergey Lavrov once again urged Britain to produce its evidence in the poisoning case.
Lavrov, speaking on a trip to Belarus, said British officials have engaged in "frantic and convulsive efforts to find arguments to support their indefensible position" instead of producing evidence.
He said Britain and its Western allies are wrong if they expect Russia to "confess to all deadly sins" it did not commit and "play by their rules."