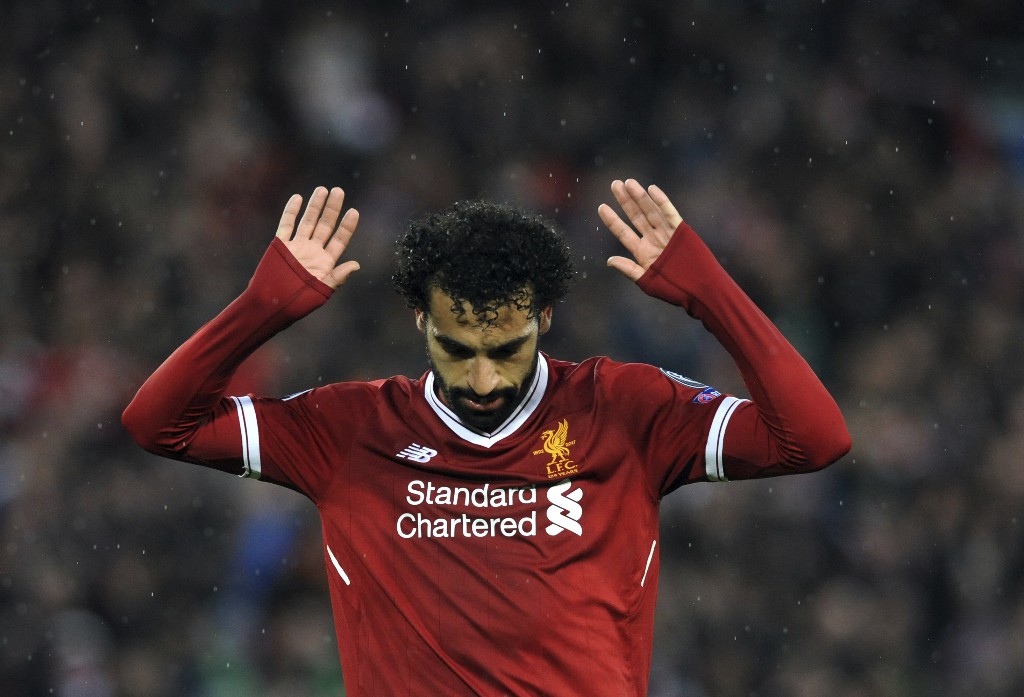 Mohamed Salah looked to the ground and held up his hands, almost apologizing for the sheer beauty of his goals.
Liverpool manager Juergen Klopp laughed to himself in incredulity. Roma's players, former teammates of Salah, were shellshocked. Anfield rocked in jubilation.
In the latest virtuoso performance of his stunning first season at Liverpool, Salah produced two world-class finishes in the first half then set up further goals for Sadio Mane and Roberto Firmino to help his team into a scarcely believable five-goal lead in the Champions League semifinals. Then he handed his old club a lifeline — by leaving the pitch.
After Salah was substituted in the 75th minute, Roma seized the initiative and scored two late goals to escape from Anfield with a 5-2 loss from the first leg on Tuesday.
The Italian side has already shown in this season's competition that a three-goal deficit can be overcome. Just two weeks ago, Roma beat Lionel Messi's Barcelona 3-0 in the Stadio Olimpico to advance from the quarterfinals on away goals.
Liverpool has been warned ahead of next week's second leg.
"The tie is not over, we have already proven that against Barcelona," Roma coach Eusebio Di Francesco said. "Whoever doesn't believe in a comeback should stay home. That applies to the fans in the stands as well."
There was a strange atmosphere after the final whistle of one of the most extraordinary Champions League matches. Liverpool had just become the first team in 23 years to score five goals in one leg of a semifinal, yet its players left the field thinking it was an opportunity lost.
Roma's fans, meanwhile, sang loudly and proudly long after the final whistle. They had been given unlikely hope.
"We have to work again in Rome now, that is no problem," Klopp said. "There would have been work if we had won 5-0."
It is still in Liverpool's hands, though. Especially with Salah in the team.
The Egypt forward's display was as exquisite as Roma's defending was naive, with his two goals moving him on to 43 goals for the season in all competitions. Salah won English soccer's Player of the Year award on Sunday and, at this rate, the Ballon D'Or could be his next year.
His first goal came after Roma striker Edin Dzeko gave up possession cheaply in Liverpool's half. The ball made its way to Salah, who cut inside from the right edge of the penalty area and curled a shot in off the crossbar, near to the post. It couldn't have been placed any better.
If that was a typical Salah finish from his first half of the season, his second goal was a replica of a couple of his more recent strikes. Firmino timed his through ball perfectly and Salah outpaced Juan Jesus before applying a dinked finish over goalkeeper Alisson, just like he did to eliminate Manchester City in the quarterfinals.
"Outstanding, pretty much undefendable," Liverpool manager Juergen Klopp said of Salah, who he signed from Roma for 42 million euros (then $47 million) in June. "He is playing a season that is not normal."
Salah didn't celebrate either of his goals, out of respect for his former teammates, but he made them suffer by setting up goals for the other members of Liverpool's devastating forward line.
Taking advantage of Roma's recklessly high defensive line, Salah provided right-wing crosses for Mane and Firmino to score almost identical, close-range goals in the 56th and 61st minutes, respectively. Salah, Firmino and Mane have now scored 28 goals between them in this season's Champions League — more than every other team that has taken part in the competition.
When Firmino glanced home a header from James Milner's corner in the 69th to make it 5-0, Liverpool had scored five goals in 33 minutes either side of halftime and Roma's players were on the floor — literally in the case of its distressed goalkeeper, Alisson. The semifinal looked over with 110 minutes remaining.
However, Klopp took off Salah in the 75th minute and Roma suddenly began to swarm all over the home side, outshooting them eight to one in the final 15 minutes.
Two of them resulted in goals. Dzeko chested down a long pass to slot a low finish inside the near post in the 81st and when Milner handled a shot from Radja Nainggolan, Diego Perotti converted the penalty in the 89th.
"If anyone wants to say it is my mistake we conceded the two goals because I change the striker, I have no problem with that," Klopp said. "We did not prepare our passes and he (Salah) was running all the time and it would not have helped us if he gets an injury."
A three-goal deficit will not scare Roma's players after what happened against Barcelona. Yet it is highly unlikely that Liverpool, the master of the counterattack, will fail to score against a side that has to take chances going forward
"If any of my players think Roma doesn't have enough to come back, they will not play," Klopp said.
Bayern Munich plays Real Madrid in the other semifinal, with the first leg in Germany on Wednesday.