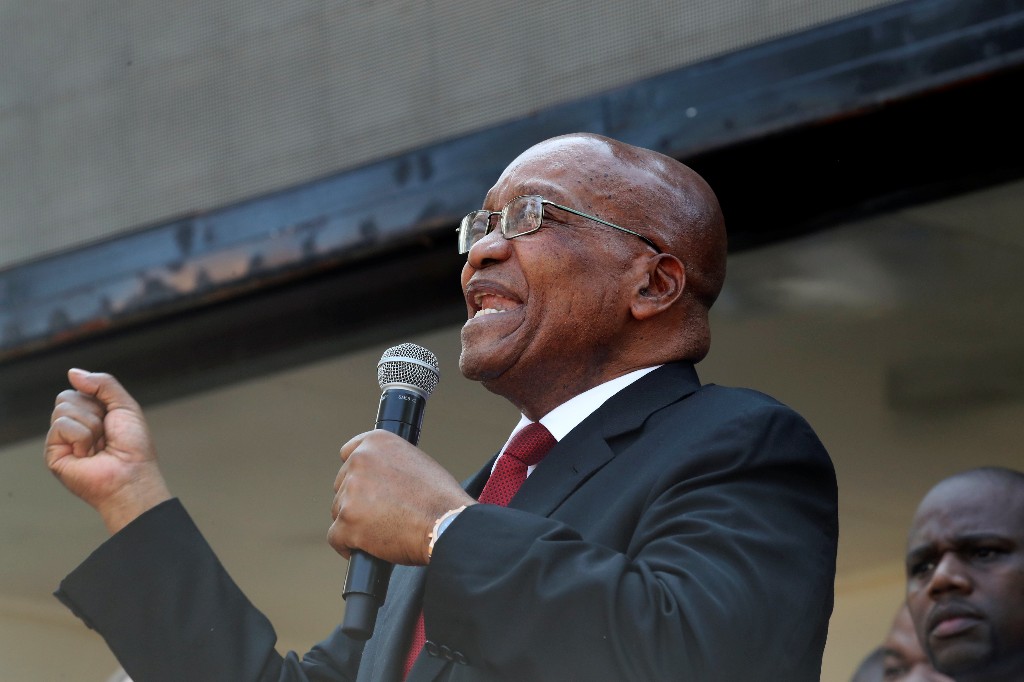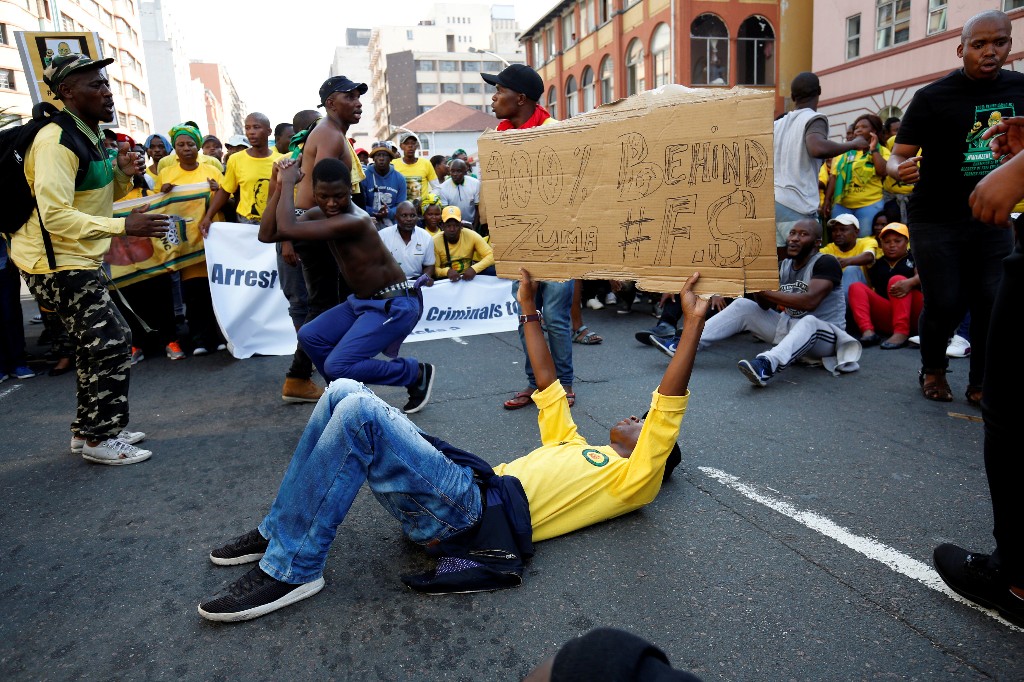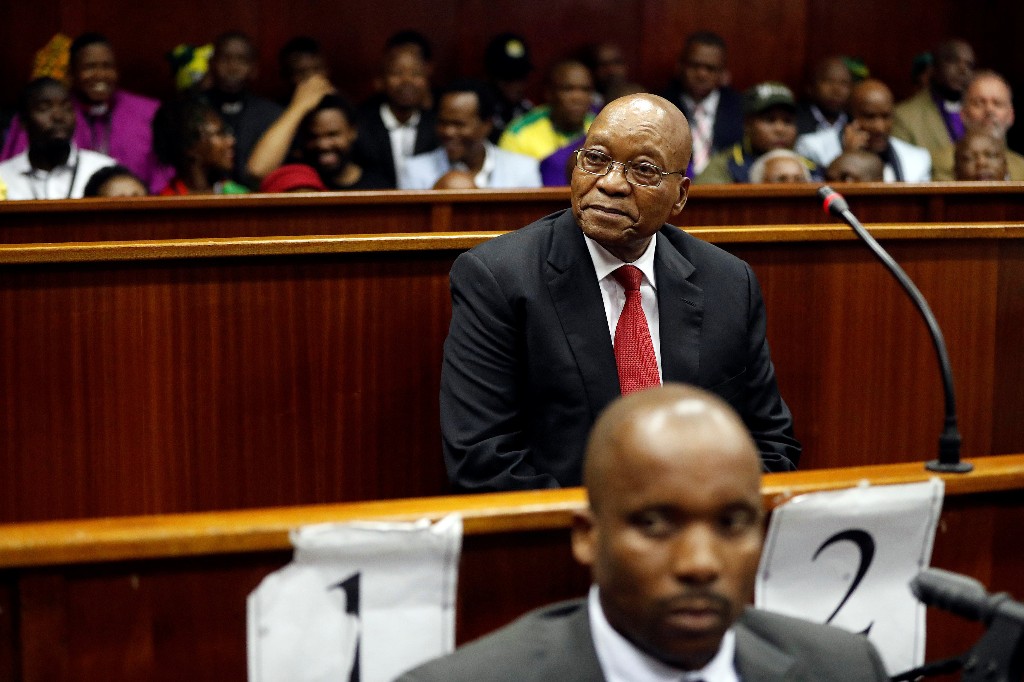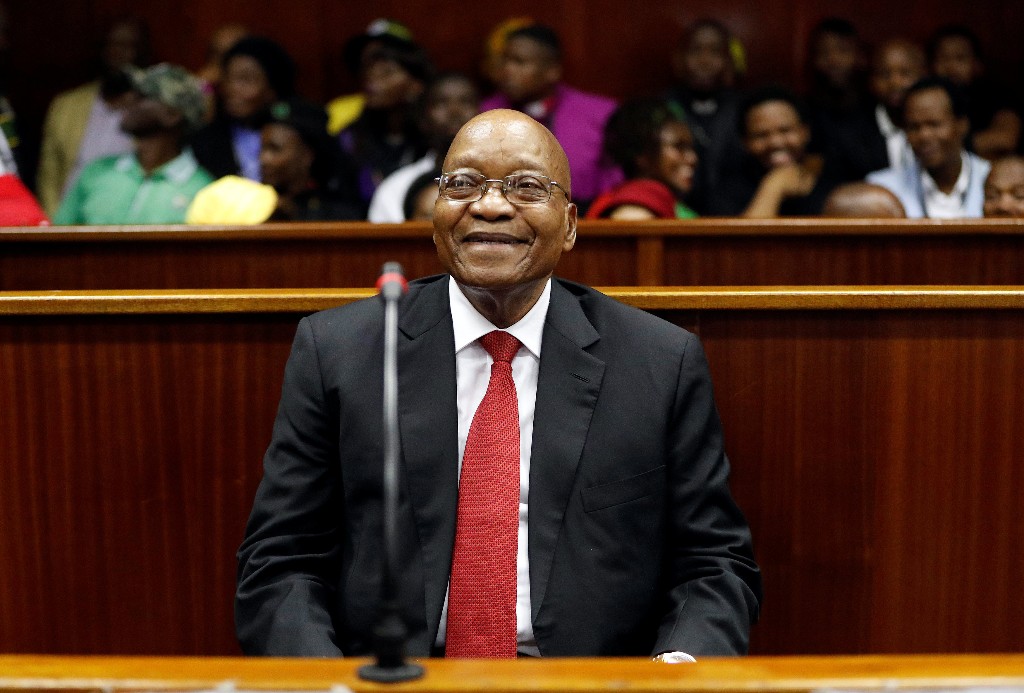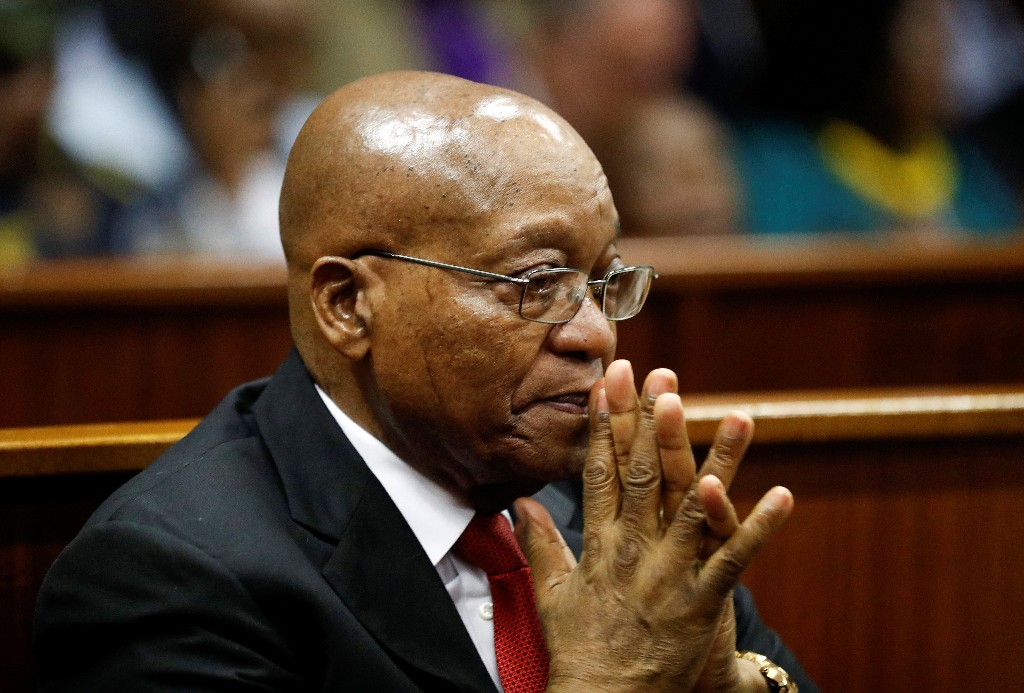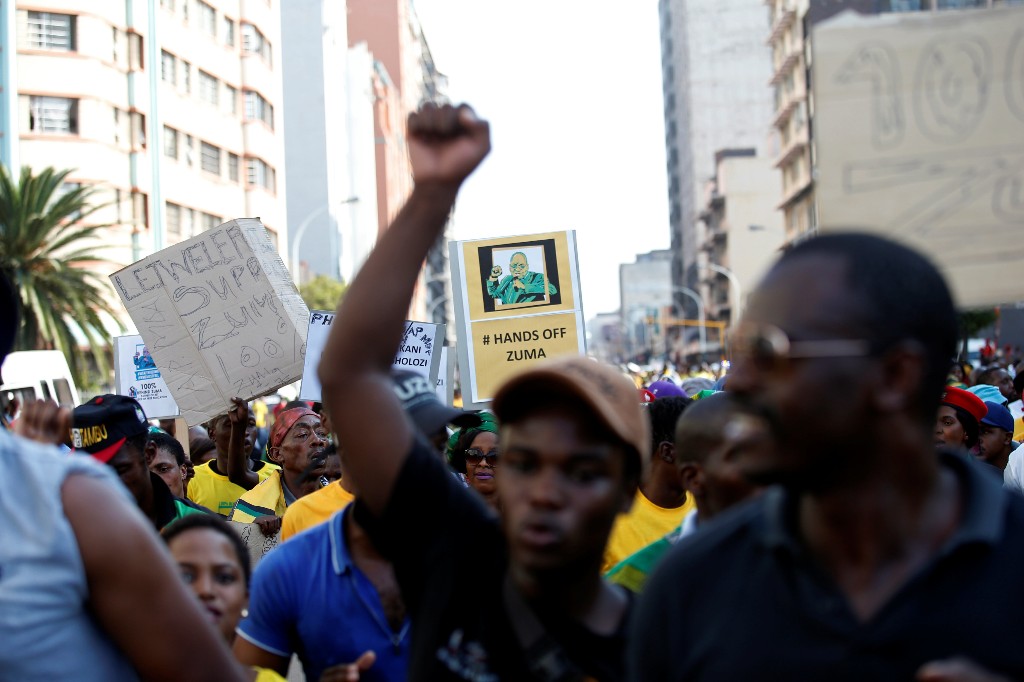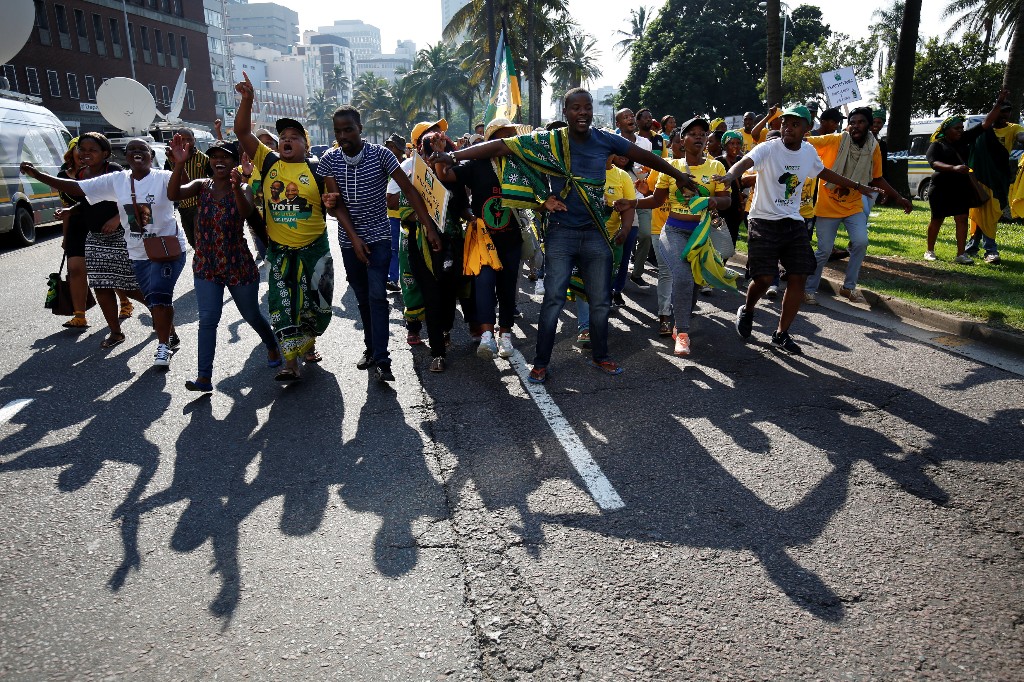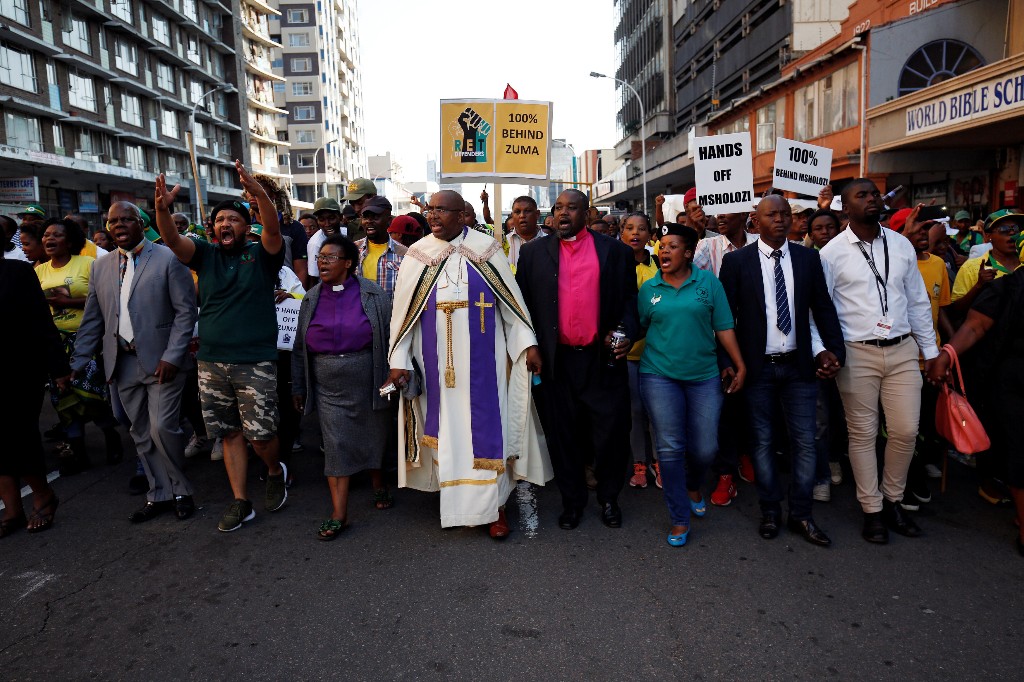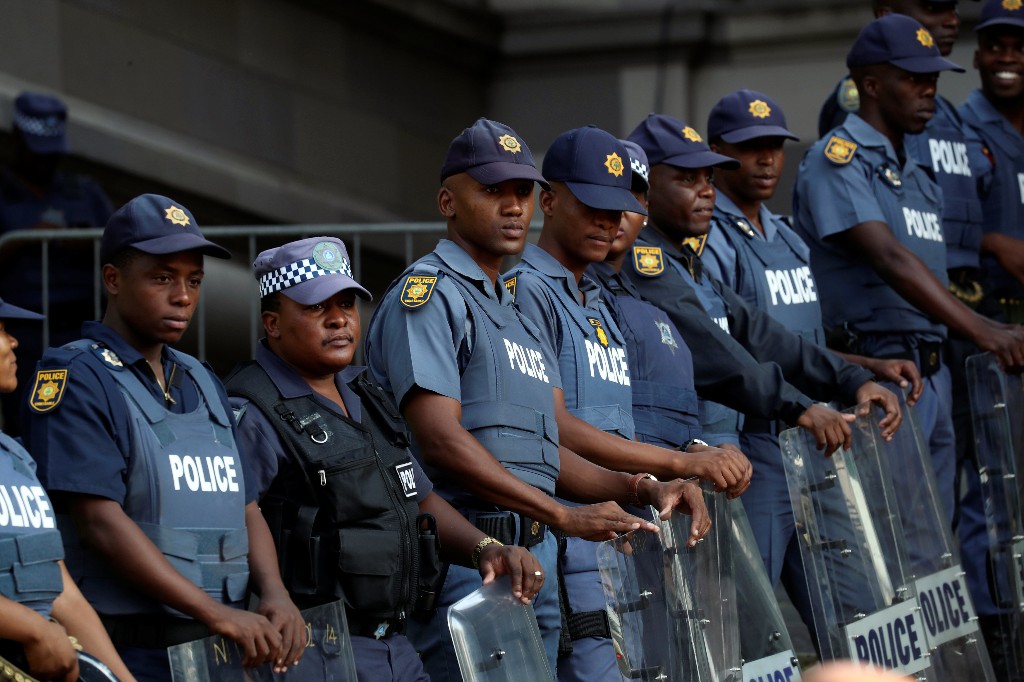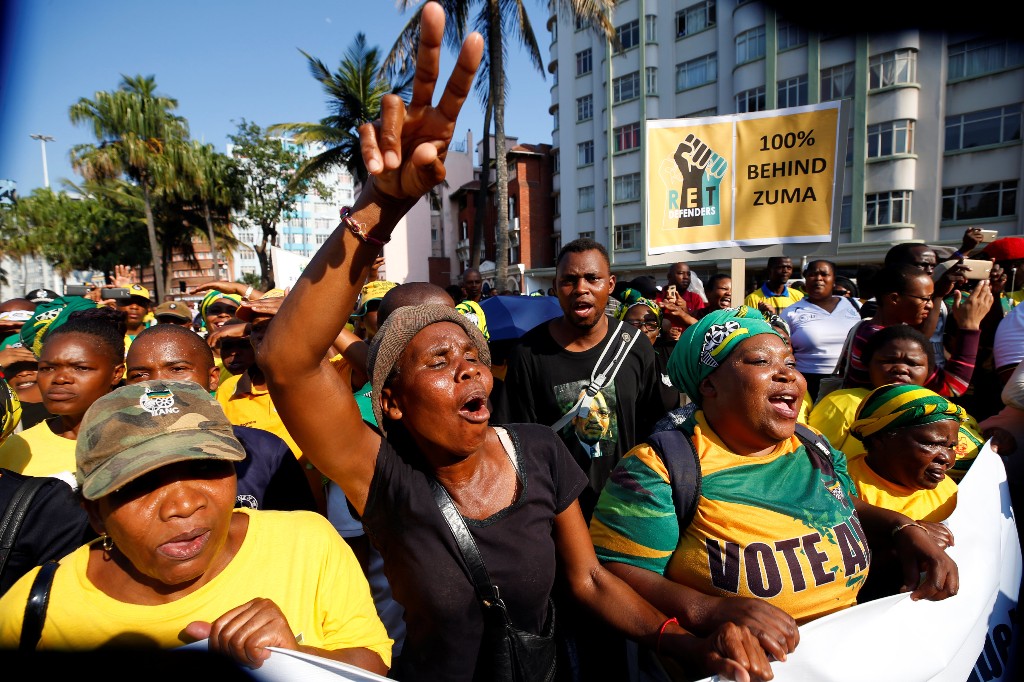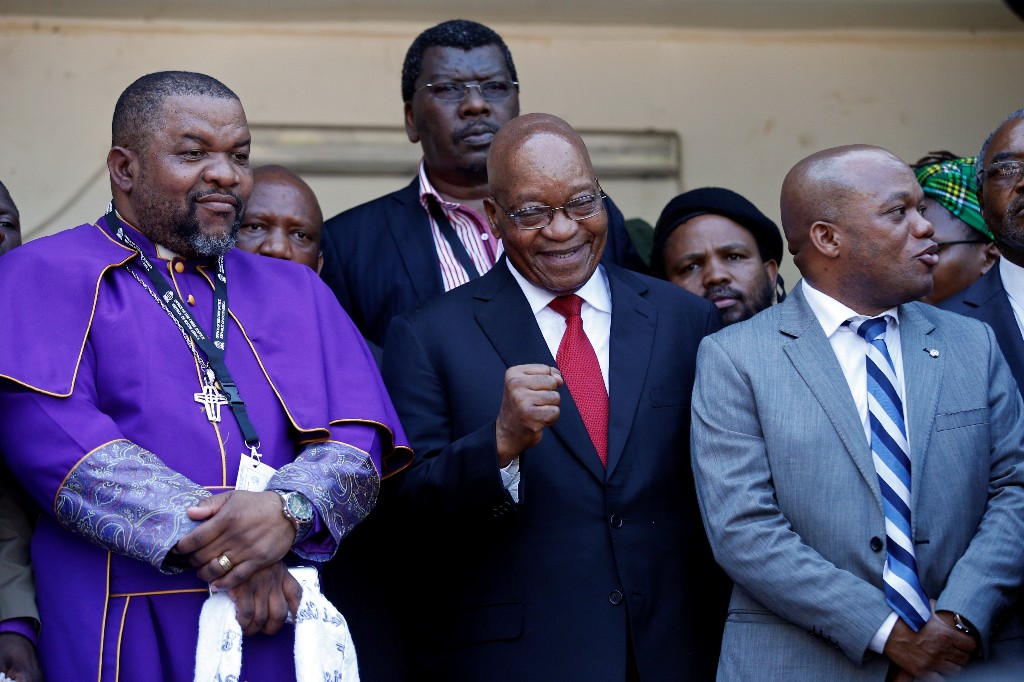 Former South African president Jacob Zuma appeared in court on Friday to face corruption charges relating to a $2.5 billion arms deal, later telling a crowd he would be proven innocent in the long-running case that resurfaced after his fall from power.
Zuma's transition from "Mr. President" to "Accused Number One" in less than two months is a significant setback for the 75-year-old, whose nine years in office were marked by economic stagnation and credit downgrades.
He faces 16 charges including fraud, racketeering and money laundering.
In a procedural appearance that lasted less than 15 minutes, state prosecutors and Zuma's lawyers asked the Durban High Court to adjourn the case until June 8 so both sides could prepare submissions. Judge Themba Sishi approved the request.
A potential trial would take several more months to prepare.
Zuma later made a rousing speech from a podium outside the Durban court, telling thousands of supporters that his opponents were telling lies and the judiciary and politicians believed that he did not have rights.
He said he was hated for championing policies to improve the lives of the country's black majority.
"It amazes me when people treat me as if I've given up. They want me to be treated as a prisoner," Zuma told the cheering crowd, flanked by family members and religious leaders who offered blessings before he spoke.
"I can't believe all the lies that are said about me. I am innocent until proven guilty," he added, speaking in Zulu in his home KwaZulu-Natal province.
Zuma denies any wrongdoing and is challenging the decision to prosecute the case, a dramatic development on a continent where political leaders are rarely held to account for their actions before the law.
The speed with which prosecutors have booked his day in court is a sign of the loss of control Zuma has suffered since his successor, Cyril Ramaphosa, became head of the ruling African National Congress (ANC) in December.
Zuma, who has never lost the ability to rouse a crowd with traditional song and dance, still retains some popular support, especially in his Zulu heartland.
He led the crowd on Friday in a rendition of "Umshini wami," a song made popular by the ANC's armed wing during South Africa's decades-long struggle against apartheid and which translates as "Bring my machine gun".
Heavily-armed police in riot gear looked on.
Marchers, many clad in the distinctive gold, green and black of the ANC, carried placards reading "Hands off Zuma" and "Champion of Radical Economic Transformation".
They said they would come out in force for Zuma's next court appearance in June and that the former president was the target of a politically motivated witchhunt.
"Zuma has opened our eyes as black people that the problem is not the government of ANC but the systems in place that prevent black people from benefiting from the economy," said Mondli Mthembu, 32, a laboratory analyst who travelled over 150 km (93 miles) to support Zuma.
Bishop Ndlela, of the United Methodist Church, said religious leaders attended Friday's rally to show Zuma that he was not alone.
Zuma, forced to resign by the ANC last month, was at the centre of a 1990s deal to buy billions of dollars of European military hardware to upgrade South Africa's post-apartheid armed forces.
But the deal was mired in scandal and controversy from the start, with many inside and outside the ANC questioning the spending given the massive social problems, from health to education, Nelson Mandela's party had to address after coming to power in 1994.
The affair has cast a shadow over South African politics ever since.
Zuma was deputy president at the time. Schabir Shaikh, his former financial adviser, was found guilty and jailed in 2005 for trying to solicit bribes for Zuma from a subsidiary of French arms company Thales.
The company is facing charges in the same case.
Charges against Zuma were filed but then set aside by the National Prosecuting Authority shortly before he successfully ran for president in 2009. After his election, his opponents fought a lengthy legal battle to have the charges reinstated, finally succeeding in 2016. Zuma countered with his own legal challenges.