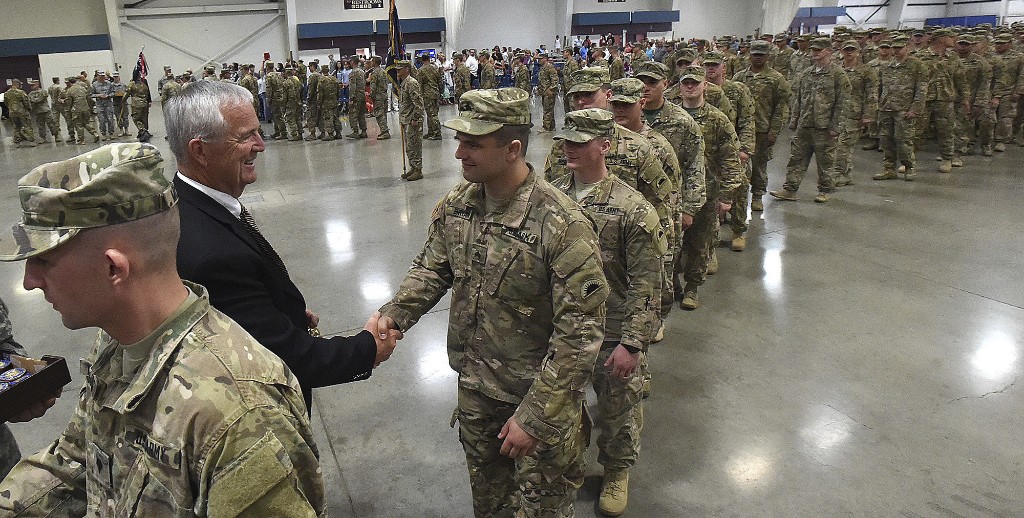 President Donald Trump's plan to deploy National Guard troops to the Mexico border has drawn resistance from some governors, most of them Democrats, and the law he invoked creates an opening for them to turn him down, officials said Friday.
But so far, three of the border states with Republican governors have endorsed the plan, and two, Arizona and Texas, quickly announced troop deployments. The Democratic governor of the fourth border state, California, has been silent on the issue.
Trump's order invoked a federal law called Title 32, under which governors retain command and control of Guard members from their state, with the federal government paying for the deployment.
Another statute, known as Title 10, establishes that National Guard personnel operate under the president's control and receive federal pay and benefits. The law also forbids them from performing tasks of civilian law enforcement unless explicitly authorized, according to the Congressional Research Service. Trump's order issued Wednesday did not mention Title 10.
Arizona's Republican Gov. Doug Ducey said about 150 Guard members will deploy next week. The GOP governors of New Mexico and Texas also back the plan. The Texas Army National Guard planned to deploy 250 people to the border within three days.
Trump said Thursday that he wants to send 2,000 to 4,000 Guard members to the border to help federal officials fight illegal immigration and drug trafficking. Homeland Security Secretary Kirstjen Nielsen said on Twitter that she had a "productive conversation" about the deployment with governors of the Southwest border states.
It's unclear if Trump will ask for troops from states other than those along the border.
White House press secretary Sarah Huckabee Sanders described the deployment as "a good first step." If the administration determines that more troops are needed, "we'll make that decision at that time."
Nevada Gov. Brian Sandoval, also a Republican, on Friday became one of the latest leaders to oppose Trump's plan. His spokeswoman, Mary-Sarah Kinner, said in an email that Sandoval does not believe the mission would be "an appropriate use" of the Nevada Guard.
But North Dakota Gov. Doug Burgum said his state would "answer the call," just as it has done in other times of need, like historic floods.
"We North Dakotans know from experience how critical it is for states to support each other in times of need," Burgum said.
Oregon Gov. Kate Brown has said she would deny Trump's request.
"As commander of Oregon's Guard, I'm deeply troubled by Trump's plan to militarize our border," Brown tweeted.
Her spokesman, Bryan Hockaday, said that if Trump invoked Title 10, the president "can federalize the National Guard forces, and there's not much the governor can do to prevent that."
However, under Title 32, a governor could try to reject a request for troops or order Guard members to remain in rear staging areas and not participate.
"If the president were to deploy under Title 32, he'd obviously have to have the approval of the governor," Hockaday said, citing an assessment from the governor's attorney. Lawyers reviewed all the pertinent legal provisions as soon as Brown's office heard the announcement about the deployment plan, he added.
While California Gov. Jerry Brown has not spoken publicly about Trump's plan, California National Guard spokesman Lt. Col. Tom Keegan said any request "will be promptly reviewed to determine how best we can assist our federal partners."
Alabama Gov. Kay Ivey, a Republican, said Friday that she will consult with the head of the Alabama Guard to see what resources are available.
The deployments will not be the first time the National Guard has gone to the U.S.-Mexico border.
Almost every U.S. state and territory contributed Guard members to Operation Jump Start, announced by President George W. Bush in 2006. Around 30,000 Guard members eventually participated, according to a 2008 National Guard analysis, including more than 1,000 each from Kentucky, North Carolina and South Carolina.
During Operation Phalanx, ordered by President Barack Obama in 2010, 1,200 Guard members deployed to the border, most of them from Arizona, California, New Mexico and Texas.
In the mid-1980s, National Guard troops were deployed even farther south, in Honduras, where they carried out military maneuvers. The missions happened as Sandinista forces in neighboring Nicaragua battled Contra rebels who were backed by Washington and had clandestine bases in Honduras.