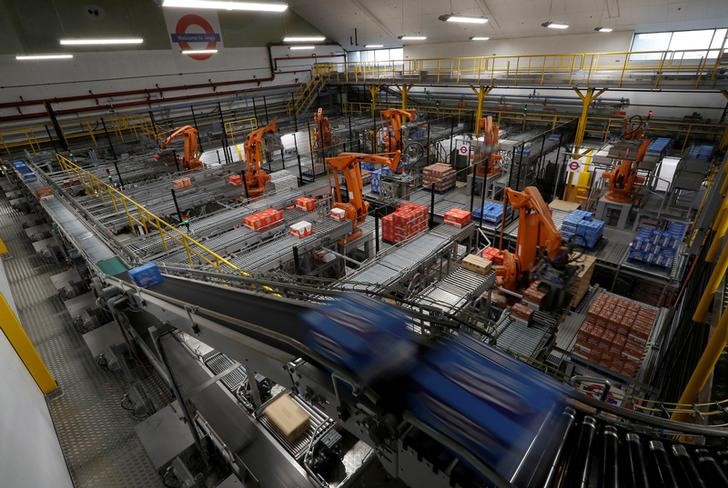 British manufacturing output fell unexpectedly in February, its first drop in almost a year, according to official figures that added to signs the economy may have slowed in the first quarter.
The data, released on Wednesday along with figures for overseas trade, also showed another sharp drop in construction output, defying expectations for a small rebound after a severe downturn in January.
The pace of economic growth slowed slightly in 2017 as higher inflation caused by the fall in sterling after the Brexit vote hurt consumers, although some exporters have gained from the weaker pound and the stronger euro zone economy.
Overall, Wednesday's data mostly chimed with business surveys that suggest Britain's economy cooled further in early 2018, weighed down in part by snow storms in late February and early March.
Manufacturing output, which was a bright spot last year thanks to the strong global economy, fell 0.2 percent month-on-month in February after a downward revision showed it stagnated in January, the Office for National Statistics said.
That marked the first drop since March 2017 and was worse than the consensus in a Reuters poll of economists that pointed to a 0.2 percent rise.
Manufacturing output was 2.5 percent higher than its level in February 2017, again less than the 3.3 percent Reuters poll consensus.
The subdued output figures will be of interest to Bank of England officials who are widely expected to raise interest rates next month.
In February the central bank raised its growth forecasts for Britain due to the improving global economy and said interest rates were likely to rise faster and to a greater extent than it expected in late 2017.
The ONS said overall industrial output, which combines manufacturing and energy production, rose 0.1 percent in February, compared with a 1.3 percent expansion in January.
The consensus of economists polled by Reuters pointed to a reading of 0.4 percent.
Industrial output accounts for 14 percent of Britain's overall economic output.
The ONS also released figures for construction output in February which showed a 1.6 percent drop after a 3.1 percent plunge in January – confounding the consensus expectation for a 0.7 percent increase on the month.
There was some anecdotal evidence that heavy snow in late February had hurt construction output, although the effect was difficult to quantify, the ONS said.
Separate figures on Britain's trade performance brought better news.
Britain's goods trade deficit with the rest of the world narrowed to 10.203 billion pounds in February from 12.228 percent in January – the smallest gap since September and better than all forecasts in the Reuters poll that had pointed to a deficit of 11.95 billion pounds.
The fall reflected a sharp drop in imports rather than an improvement in exports, both in value and volume terms.