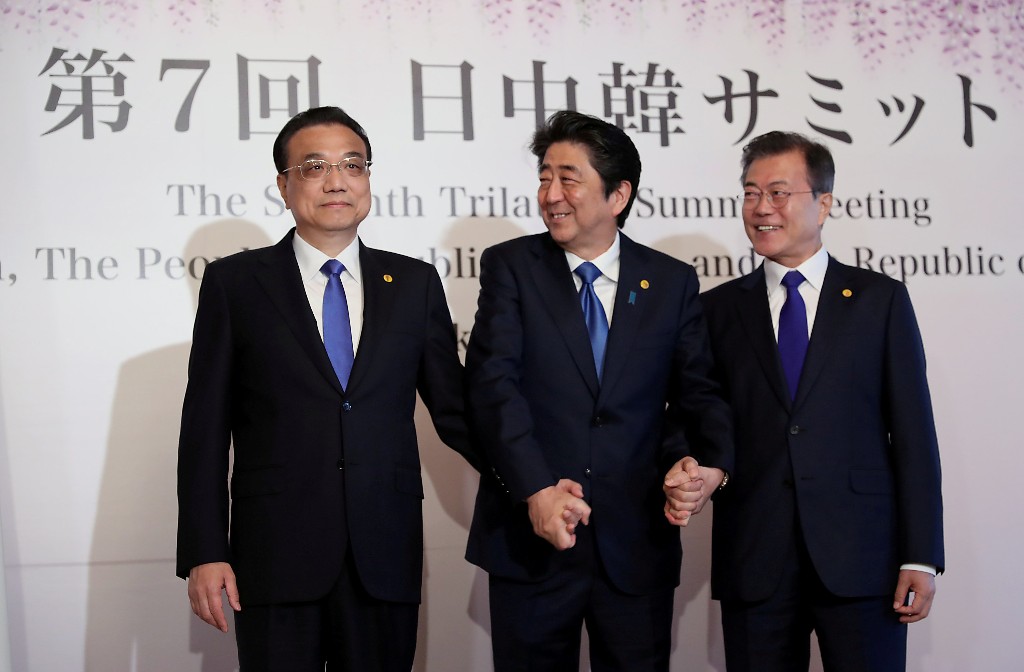 The leaders of China, Japan and South Korea met in Tokyo on Wednesday in a powerful gesture of solidarity against the backdrop of historic diplomatic moves by North Korea and a push for the isolated country to give up its nuclear weapons.
Last held in Seoul in 2015, the three-way summit has regularly brought together the East Asian neighbors, but this week's gathering comes amid an unusual period of calm for ties often beset by territorial and historical disputes.
Japanese Prime Minister Shinzo Abe will also hold separate meetings with South Korean President Moon Jae-in and Chinese Premier Li Keqiang, who is making the first state visit by a Chinese premier since 2010.
North Korea figured heavily at the talks after Moon's historic meeting last month with its leader, Kim Jong Un, who is expected to have a summit soon with U.S. President Donald Trump, but the leaders also touched on economics, in the face of U.S. trade pressure on China and Japan.
Praising Moon's recent leadership as well as Chinese moves to engage North Korea, which prompted a sudden visit by Kim on Tuesday to China's city of Dalian, Abe said further efforts toward denuclearization were essential.
"We must take the recent momentum toward denuclearization on the Korean peninsula and toward peace and security in Northeast Asia, and, cooperating even further with international society, make sure this is linked to concrete action by North Korea," Abe told a news conference after the meeting.
Moon said the three nations would continue cooperation as the two Koreas moved toward a permanent peace settlement.
"Above all we reached the consensus that complete denuclearization of the Korean peninsula, a permanent peace settlement and improvement of South-North relations is very important for peace and prosperity of Northeast Asia," he added.
Trump's trade pressure on China and Japan, the world's second and third-largest economies, appeared to have had an impact as Li urged swifter discussions on regional free trade deals, such as the Regional Comprehensive Economic Partnership backed by Beijing.
"We are all beneficiaries of free trade and even though various issues have emerged, these should not stand in the way," Li said. "Through actual behavior, let's show that we three nations support engaging in free trade."
While tension lingers between South Korea and Japan over the issue of Korean women forced to serve in Japanese military brothels during World War Two, larger regional issues are pushing this to the background.
South Korea and Japan share concern about U.S. troops stationed in South Korea, whose numbers Trump has threatened to cut, while China and Japan are set to strengthen economic ties by signing a currency swap deal during Li's visit.
As the meeting's host Abe has won an opportunity to project himself in a leadership role beyond domestic woes such as suspected cronyism scandals, falling support rates and calls for his finance minister to quit.
This is especially true in the context of Japan's fears that it may be left out of North Korean negotiations, with Abe and Kim yet to set up a summit.
In comments aimed at his domestic base, Abe told the news conference Japan would normalize ties with North Korea if the issue of Japanese abducted by Pyongyang to train spies, a key plank of his political platform, was comprehensively resolved.