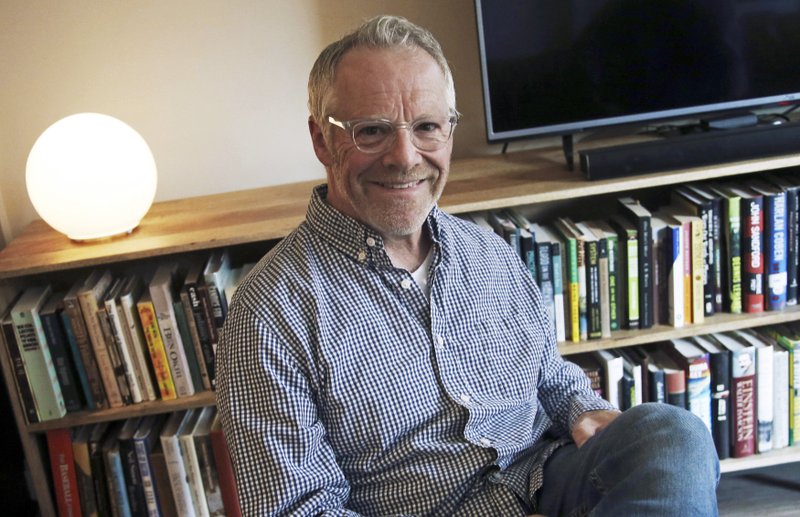 Author Matt Goldman was a "literary fiction snob," a former standup comedian and "Seinfeld" writer from Minnesota who had never read a crime novel. Then he read Raymond Chandler's stories of private investigator Philip Marlowe walking the mean streets of Los Angeles, and everything changed.
"Philip Marlowe was a socially observant, comedic voice telling serious stories. And when I saw that, I thought, 'Oh, I see how I can use my comedic voice I've developed over the decades,'" Goldman recalled.
The result was Goldman's first novel, 2017′s "Gone to Dust," a murder mystery featuring Minneapolis private eye Nils Shapiro, a short, 40-year-old Jew with a Scandinavian first name. Goldman's follow-up, "Broken Ice," due in June, has Shapiro trying to solve the mystery of a teenage girl who goes missing during that most Minnesotan of events: the state high school hockey tournament.
Goldman, 55, made an easy transition to writing crime fiction after working on almost 500 episodes of TV, including the first two seasons of "Seinfeld" and the groundbreaking 1997 episode of "Ellen," in which star Ellen DeGeneres' character came out as gay as DeGeneres did in real life.
The work taught Goldman to keep his stories punchy, with short chapters to push the plot forward.
"People read mysteries because they want to find out what happens next. If you don't tell them what happens next, you're not doing your job," he said.
His first book, "Gone to Dust," had a divorced woman murdered in the upscale Minneapolis suburb of Edina and vacuum cleaner bags of dust dumped everywhere to try to mask DNA evidence.
In "Broken Ice," Shapiro is hired by the parents of a 17-year-old girl who goes missing during the state hockey tournament, an annual event roughly equal to the Super Bowl in the state consciousness.
Three bodies later, Shapiro heads to Warroad, a small hockey hotbed near the Canadian border known for producing Olympic medalists, in pursuit of the killer. Plot twists involve Warroad's hard-bitten hockey coach as a suspect, the smuggling of a powerful street drug and a climax at the expansive woodland home of legendary Minnesota musician Graham Itasca.
Goldman was a student at the University of Minnesota when he got hooked on doing standup comedy when friends took him to see a show. Goldman opened for Jerry Seinfeld and other national acts; urged to go to Los Angeles and try writing, Goldman made the jump in 1987 and got his big break writing for Seinfeld's NBC show in 1990-91.
The years that followed included stints at "Love & War," a sitcom created by Diane English ("Murphy Brown"), and the Disney Channel's "Wizards of Waverly Place," which won an Emmy for Outstanding Children's Program with Goldman as co-executive producer in 2009.
Goldman's mysteries are larded with Twin Cities references, likely to delight Minnesota readers — St. Paul's caves overlooking the Mississippi River, the posh Saint Paul Hotel, Minneapolis' 7th Street Entry rock club — but he said he just wants to give any reader a strong sense of place.
"It adds a credibility and a reality when you use all those real things," Goldman said. "Things that are made up seem real."
Devin Abraham, who manages Once Upon a Crime Mystery Books in Minneapolis, said she thinks Goldman's crime-writing career has promise. Her store hosted a launch party for his first book and has one next month for his latest.
"I think he is fun," she said. "You can tell that he is new at it and he still has far to go, but he's starting off on the right foot."
Goldman already has finished his third Nils Shapiro mystery, "The Shallows," for release next summer and is working on the fourth. He also has written a pilot episode of "Gone to Dust" and is shopping it as a TV series.
"It's why I made Nils 15 years younger than me, so I can keep writing them," he says, laughing.