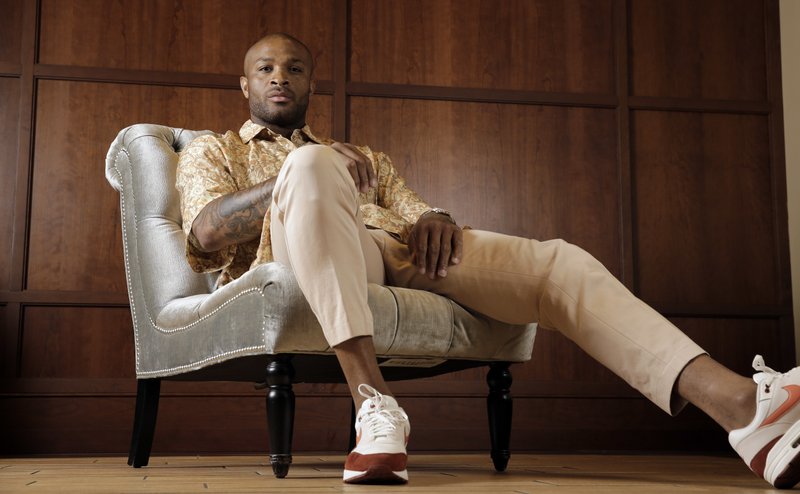 P.J. Tucker wasn't a high draft pick and actually is undersized by NBA standards.
At 6-foot-6, the Houston Rockets forward's intensity and defensive grit helps him overachieve against taller opponents on a nightly basis.
Off the court, Tucker also defies the norm.
He has spent years curating a wardrobe that has helped his style ascend to the upper echelons of fashion.
Tucker was in the Balmain store in Paris during this year's NBA All-Star break when the manager told him there was a special one-of-a-kind piece that would be perfect for him.
When Tucker first laid eyes on the beaded haute couture jacket at the French luxury fashion house he loved it, but was certain it wouldn't fit his muscular 245-pound frame.
It did.
"Everybody in fashion knows of those must-have pieces where you're just like: 'I've got to have it,'" Tucker said. "And I had to have this."
Then he learned the price of the black and gold open front jacket: $25,000.
"I had no idea. I was like: 'Oh all right, that's cool," he said with a nervous laugh. "I was at the point of no return."
But before Tucker could wear his most expensive fashion investment, he learned there were actually two of his "one-of-a-kind jacket" when he saw NBA super fan and eccentric 78-year-old millionaire James Goldstein sporting the same piece while courtside at a game .
"He came up and told me he has the same jacket," Goldstein told The Associated Press on Wednesday while wearing a different Balmain jacket. "I couldn't believe it."
A stunned Goldstein didn't realize that Tucker was so into fashion.
"I've never seen him except on the basketball court so I don't know how he dresses otherwise," Goldstein said. "But when he told me he had that jacket, one that both of us thought we each had a unique jacket that nobody else had, I gained a new respect for him."
Tucker has also gained his share of respect on the court.
He scored a playoff career-high 22 points Wednesday night in a win over the Golden State Warriors in Game 2 of the Western Conference finals. He is an integral part of the Rockets' success with his ability to shoot the 3 and hold his own in the low post.
But Tucker had to work to find an NBA home. He wasn't a highly regarded draft pick out of Texas; Toronto selected him in the second round in the 2006 draft. He spent just one year in the NBA before heading to Europe to play.
It was during those 4 1/2 years overseas that he started taking his fashion seriously.
"It wasn't a moment," he said. "It was just being there. It started out with suits. Seeing European guys wear suits was incredible. And it wasn't all like the big fashion house expensive suits, it was like simple stuff but the way the older men dressed in Europe just absolutely amazed me.
"In Italy, in France the way the older men dressed was incredible."
Like his game on the court, his fashion wasn't immediately embraced back in the United States.
"I would come home in the summertime and people would look at me like: 'What in the world does he have on,'" said Tucker, who breezed into the room to talk with AP about fashion with a coffee cup in one hand, two clothing bags draped over the other arm and a large Louis Vuitton duffel bag slung over his shoulder.
Tucker, who describes his style as adventurous and spontaneous, beamed while explaining that he assembled three looks for the interview. The first was what he calls his "anywhere outfit," a floral-print short-sleeved button-down Dries Van Noten shirt with coordinating cream-colored pants from the same designer, and Nike Air Max 1 shoes with a brown suede accent on the toe.
His summer ensemble featured a blue and white striped Balenciaga shirt adorned with piece of striking yellow fabric that ran down half the length of the back and white Alexander McQueen trousers. He finished off that look with the impossible-to-get Off-White X Nike Air Force 1 shoes.
But the star of the collection was his final look: a made-to-measure plaid Gucci two-button suit with cropped pants, which he wore without a shirt.
"It's really like a 70s suit, with the large cuffs, with the huge lapels," he said. "Nobody would wear that a year or two ago but now I love it."
He said there's nothing he won't wear and scoffs at people who think he should limit his wardrobe because he's such a big guy.
"People get so scared to try things," he said. "I think the way you dress should be fun. Wearing stuff that people don't normally wear or wouldn't particularly think is their style, I love that.
"I think that's fun and I think everybody should do it."
When he debuted his Balmain jacket before Game 1 of the conference finals, which he paired with black skinny jeans and Saint Laurent boots, not everyone was a fan.
"'You're like a bull fighter in the jacket,'" he said his teammates told him. "Maybe. I love it though. It's funny."
One person who's totally on board with Tucker's style is teammate James Harden. The pair often arrive at the same time and have turned arriving at the arena into a mini fashion show .
"He loves walking in the arena with the swaggiest 'fit," Harden said. "That's what he does and I'm here for it. I have his back 1,000 percent."
While Tucker doesn't mind that pictures of his pregame outfits have become a hit on social media, he insists he'd dress exactly the same way if no one was photographing him.
"It's just me and how I dress," he said. "I could never just throw on a sweatsuit and go to a game. No. It puts me in that mindset that I'm going to work. I'm taking care of business."