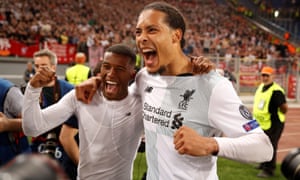 Is it too presumptuous, when Liverpool have conjured up so many thrilling occasions en route to the Champions League final, to believe they might just have the attacking riches to prevent Real Madrid, the most successful team in the history of the European Cup, from registering a 13th triumph? The final will be on 26 May in Kiev and Liverpool, on this evidence, will be heading to Ukraine to score goals, live dangerously and examine the theory that Madrid can be susceptible at the back.
Evidently, Jürgen Klopp's team will need to tighten up their own defence, eliminate the mistakes that briefly threatened a late meltdown and cling to the hope their goalkeeper, Loris Karius, avoids one of his more accident-prone performances. Attacking-wise, though, it is certainly within their reach to ensure another year, 2018, is added to all those banners on the Kop – many of them visible here in Rome – acclaiming their previous wins in 1977, 78, 81, 84 and 2005. Klopp's team have now accumulated 46 goals, qualifiers included, in this competition and Sadio Mané, Mohamed Salah and Roberto Firmino have 31 of them. True, they will need to find a way to subdue Cristiano Ronaldo et al but if there is one certainty about this Liverpool side it is that they will attack with vigour and confidence.
That approach was too much ultimately for Roma and, though it was a night of high drama, it was only in the final exchanges that Radja Nainggolan's two goals meant Liverpool's aggregate lead was down to one. Even then Roma did not actually manage another touch after Nainggolan's stoppage-time penalty had made it 4-2. The game kicked off again, the final whistle sounded straight away and Klopp was charging on to the pitch to bearhug his players, one by one, starting with James Milner.
There were wonderful scenes as the players celebrated in front of the corner where Liverpool's supporters were going through their victory songs. There was even a team photograph which featured a touching tribute to Sean Cox, the Liverpool supporter so badly hurt last week. Despite the defeat, it felt like we were witnessing a group of players who had come of age. Barcelona, lest it be forgotten, had buckled under the pressure here, blowing a 4-1 first-leg lead in the quarter-finals. The score might suggest Liverpool almost did the same and, granted, it was closer than Klopp must have imagined after the first‑half goals from Mané and Georginio Wijnaldum.
In truth, it was never really in doubt that it would be Liverpool in the final. That does not mean Klopp can be entirely happy with their performance bearing in mind the three second-half goals they conceded, the eccentric goalkeeping from Karius for Roma's third goal and the two occasions in the same period when Serie A's third-placed team should have been awarded a penalty. Roma gave everything and had a raucous crowd willing them on.
Anfield was special for the first leg. Stadio Olimpico, a seething, whistling pit of bias, somehow managed to make even more of a racket. Of all the places Liverpool have been in this competition, all the stories they have accumulated over the years, have they ever experienced such a febrile din?
That, however, was probably the most impressive part of Liverpool's performance: their fearlessness. Roma's record of having not conceded a single home goal in this competition – some achievement when their opponents have included Barcelona, Chelsea and Atlético Madrid – was gone within eight minutes. Liverpool began the game like a team in a hurry, not showing a flicker of apprehension, and had strong penalty claims of their own because of two Kostas Manolas challenges either side of Mané's goal.
Even when Milner's freakish own goal offered Roma new hope, there was not a single part of the first half when Liverpool started playing with more restraint. Another side might have tried to draw the sting out of the game. Liverpool refused to sit back and it was typical that the corner for their second goal originated from a surging run by their outstanding left‑back, Andy Robertson. Roma could not clear Milner's corner and when Edin Dzeko inadvertently headed the ball the wrong way, under pressure from Virgil van Dijk, it was too good an opportunity for Wijnaldum to pass up.
Roma kept attacking, desperately trying to change the complexion of the evening, but they were in need of a football miracle and Liverpool had shown with the opening goal how devastating they could be on the break. Roma were vulnerable as soon as Nainggolan played the ball straight to Firmino. Mané was running to the Brazilian's left, Salah was going the other way, and there were only three defenders back. Mané took a touch to control Firmino's pass and fired emphatically past Alisson, Roma's goalkeeper.
Perhaps the second half would have been more hazardous for Liverpool if Stephan El Shaarawy's 35th-minute shot had crept in rather than coming back off the post. Again Milner was involved, with the shot taking a hefty deflection off the midfielder. This time, however, Milner's luck was in – in stark contrast to the freakish set of events, a quarter of an hour in, when Dejan Lovren tried to hack away El Shaarawy's knockdown only for the ball to thud against Milner's head and zigzag into the net.
Roma began the second half knowing they needed four goals, with none in reply, just to take the game to extra-time. At least they had a go. Dzeko had a splendid game, barring the mistake for Wijnaldum's goal, and made it 2-2 when Karius turned a shot into his path. Dzeko, wrongly flagged offside, should also have been awarded a penalty two minutes earlier when he went down under Karius's challenge and Liverpool got away with another one when Trent Alexander-Arnold used his hand to block El Shaarawy's shot.
Karius was badly caught out for Nainggolan's first goal and the penalty was for an alleged handball by the substitute Ragnar Klavan. The damage was superficial and, half an hour after the final whistle, Klopp came out again, pumping his fists and screaming with joy in front of 5,000 euphoric fans.