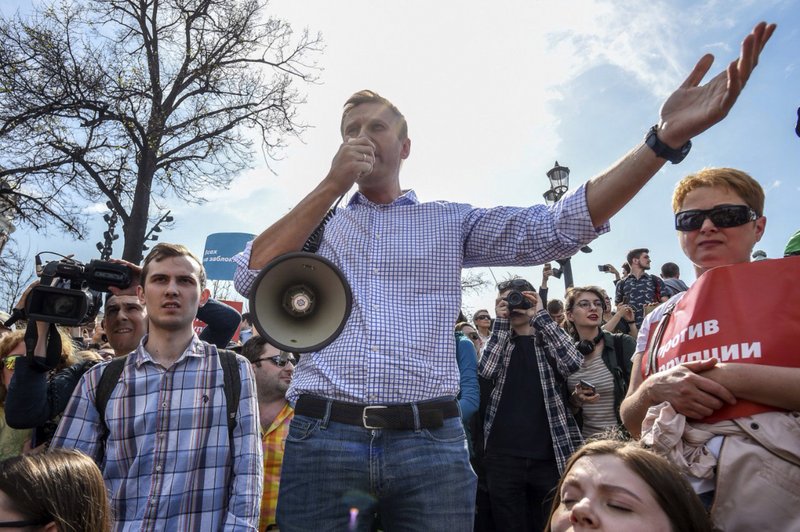 Alexei Navalny, the leader of protests against President Vladimir Putin that resulted in the arrests of more than 1,500 demonstrators across Russia including himself, said Sunday that the actions were worthwhile even though he faces another possible stretch in jail.
Navalny was released from detention Sunday, a day after he was arrested in Moscow's Pushkin Square along with hundreds of other demonstrators protesting Putin's upcoming inauguration Monday for a new term. He said he has been charged with organizing an unauthorized meeting and of resisting police. Each of those charges can carry a jail sentence of 15 days.
He is to appear in court on the charges on Friday.
OVD-Info, an organization that monitors Russian political arrests, said at least 1,575 people were arrested in demonstrations in 26 cities across Russia on Saturday protesting Putin's upcoming inauguration Monday for a new term.
It was not clear Sunday how many remained in custody, although the presidential human rights council said about 80 percent of 658 detainees in Moscow had been released.
Amnesty International called the arrests and beatings of some Russian protesters "outrageous."
Despite the arrests, Navalny termed the protests "a great success."
"Putin is coming into a fifth term and wants to demonstrate to all that 'I am the owner of this country and I will eat everything here; those who do not support me sit quietly and do not dare to make a squeak'," Navalny said on his website.
"But we showed that, no, it won't be this way for you; you are not the only one here and you will not frighten us," he said.
Putin is preparing to begin his fourth term as Russian president. Navalny's characterization of him beginning a fifth term refers to Putin's being prime minister in 2008-12. He was barred by the constitution from seeking a third consecutive term as president, but was widely regarded as remaining the country's leader while Dmitry Medvedev filled the chair in the Kremlin.
The anti-corruption campaigner who has become Putin's most prominent and determined foe has served several weeks-long jail terms for organizing protests.
His detractors characterize Navalny's support as coming from a small, urbanized core. But over the past year, Navalny has spearheaded several nationwide protests that suggest he has support in far-flung parts of the country.