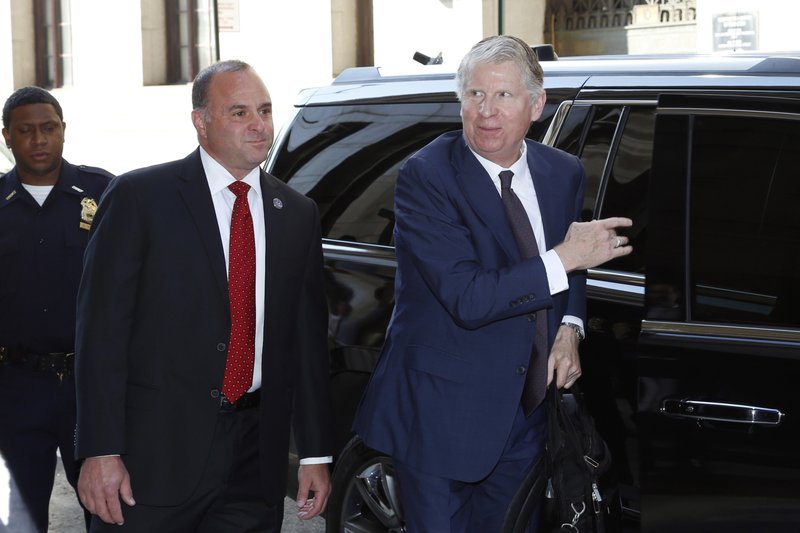 At least in the court of public opinion, the prosecutor leading a rape case against Harvey Weinstein may have more to prove than the charges alone.
But if Manhattan Attorney Cyrus Vance Jr. is out to answer critics of his past decisions not to pursue sex cases against Weinstein and another powerful man, there was little sign of it as the movie mogul faced a judge Friday.
Steering clear of the cameras that flocked to the courthouse, Vance issued a circumspect statement: "Today's charges reflect significant progress in this active, ongoing investigation."
It was typical of the anything-but-flamboyant head of a storied prosecutors' office with a long history of cases involving the famous and infamous. Subdued and guarded in public, Vance told The Associated Press in 2011: "I don't think I've ever strayed off-message."
But if going after Weinstein would put any prosecutor under a microscope, Vance is already there.
A state investigation has been examining how the Democratic DA handled a groping allegation against Weinstein three years ago. Women's-rights activists have protested outside Vance's office.
And the DA has been shadowed by another high-profile sex case that he ultimately dropped — a 2011 attempted rape prosecution of former International Monetary Fund director Dominique Strauss-Kahn, one of whose lawyers is representing Weinstein.
A former defense lawyer and litigator — and the son of Carter-era Secretary of State Cyrus Vance — the DA won the job in his first run for public office in 2009. Longtime predecessor Robert Morgenthau retired.
Early on, he highlighted such initiatives as a new cybercrime unit and efforts to unclog overloaded misdemeanor courts.
Then a hotel maid accused Strauss-Kahn — then a potential French presidential candidate — of trying to rape her in May 2011. He said the encounter was consensual.
Vance's office initially called the proof against Strauss-Kahn substantial and growing.
Just three months later, prosecutors dropped the case, saying they had developed doubts about the credibility of Strauss-Kahn's accuser.
Women's rights groups urged Vance to press on with the prosecution, and the accuser's lawyer said the DA denied her justice. She later reached a civil settlement with Strauss-Kahn.
Vance said prosecutors had been forthright about what they found and followed it to a responsible, correct decision.
In the years since, Vance, 63, has positioned himself as a national criminal justice innovator. Thanks to massive penalties paid by banks accused of violating U.S. sanctions, he's doled out millions of dollars to test rape-evidence kits around the country for DNA and joined with London's police commissioner in an effort to prevent cyberattacks, among other, more local investments.
He has testified in Congress about cellphone encryption and financial transparency. The New York Times Magazine dubbed him "the data D.A." in a 2014 piece spotlighting how his office drills down on crime patterns.
And he put his stamp on one of the nation's most haunting missing-child cases, the 1979 disappearance of 6-year-old Etan Patz. After Vance made a campaign pledge to re-examine the case, a 2012 tip led to a new suspect and ultimately a conviction.
As Vance campaigned last fall for a third term, it emerged that he'd closed a two-year-long fraud investigation against President Donald Trump's children Ivanka and Donald Jr. without charges in 2012 — and accepted a $32,000 campaign donation from their lawyer five months later.
And a dam of long-pent-up sexual misconduct allegations against Weinstein broke, with ultimately dozens of women accusing him of sexual harassment or assault.
The outpouring threw new scrutiny on Vance's decision not to charge Weinstein in 2015, when an Italian model accused him of groping her and recorded him apologizing for his conduct. One of Weinstein's then-attorneys, a former Vance law partner, had given him over $26,000, the bulk of it before representing the producer.
Weinstein denies ever engaging in non-consensual sex.
Vance returned the gift from the Trumps' lawyer and announced he would no longer accept campaign contributions from attorneys with business before his office. But he defended his decisions not to prosecute as based on evidence, not influence.
"I, as D.A., have to be guided by the evidence and the element of the crime and by experts in the office," he told reporters in October. "And if I stop being guided by any of those things and start being guided by outside influences, whether it's money or it's public opinion, then I'm not doing my job."