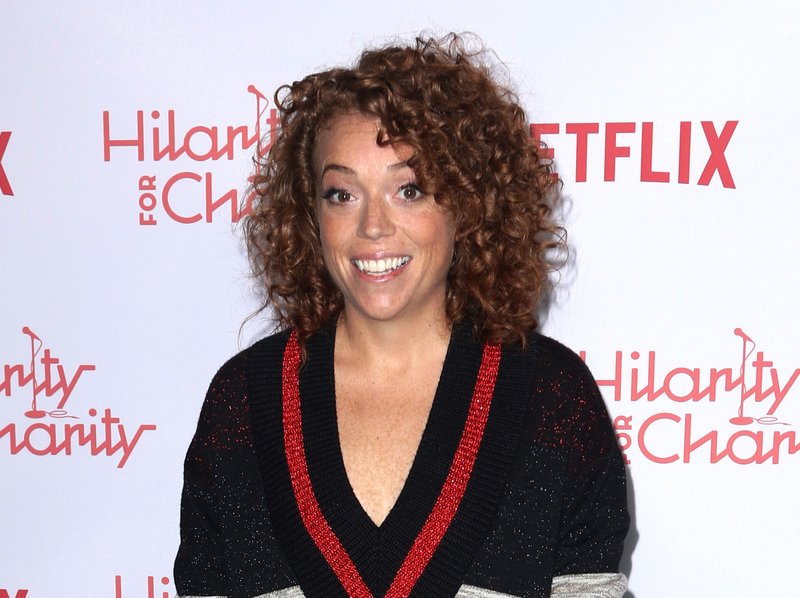 White House Correspondents Association roaster Michelle Wolf joins a club with likes of Kathy Griffin, Khizr Khan, Stormy Daniels and David Hogg — little-known or unknown figures who suddenly became surrogates for the hyper-partisan rhetorical warfare of the Trump era.
President Trump tweeted his disgust at Wolf's weekend routine on Monday, she was a hot topic on "The View" and the subject of a long and loud CNN exchange between Chris Cuomo and a conservative official. Journalists wondered if the annual WHCA dinner should be changed or ditched. A backlash quickly surfaced.
Wolf, who begins a Netflix show later this month and is best known for work on Comedy Central's "The Daily Show," was not made available to The Associated Press on Monday. She tweeted a few replies to critics.
Her routine directed barbs at Congress, Democrats and the media. But the jokes that targeted Trump, his daughter Ivanka and press aides Sarah Huckabee Sanders and Kellyanne Conway attracted the most negative attention. Her comedy was risque; C-SPAN radio cut away from her routine over what its management called an "abundance of caution" about whether she'd violate FCC indecency guidelines.
Wolf joked that Ivanka Trump had proven as useful to women as "a box of empty tampons." She wished for a tree to fall on Conway, not so she'd get hurt — just stuck. Wolf suggested Sanders burns facts and uses the ashes to create perfect eye makeup.
Margaret Talev, president of the reporters' organization that puts on the dinner, said in a statement that she'd heard from members who expressed dismay with Wolf's monologue. The WHCA wanted to honor free press and great reporting, "not to divide people," Talev said. "Unfortunately, the entertainer's monologue was not in the spirit of that mission."
Some reporters, notably Maggie Haberman of The New York Times in expressing support for Sanders, made their feelings known publicly.
It's not the first time comics have made people uneasy at the event, particularly since it has been televised across the country: Don Imus, Stephen Colbert and Larry Wilmore all had their critics. Trump's absence magnified the reaction to Wolf, since no one took to the podium to punch back.
Trump did so on Twitter. "The White House Correspondents' Dinner is DEAD as we know it," he tweeted Monday. "This was a total disaster and an embarrassment to our great Country and all that it stands for. FAKE NEWS is alive and well and beautifully represented on Saturday night!"
Wolf had become a political symbol, much like Parkland student Hogg when he spoke out on gun restrictions, Khan when he spoke against Trump at the Democratic National Convention, Griffin when she posted a picture of herself with a mock-up of Trump's severed head.
Trump's supporters took up the cause. Cuomo interviewed Matt Schlapp, chairman of the American Conservative Union, who tweeted that he and his wife, Mercedes Schlapp, director of strategic communications at the White House, walked out of the dinner. A "Fox & Friends" chyron read: "Should all women be critical of Wolf's jokes?"
Former White House press secretary Sean Spicer called it a disgrace, to which Wolf tweeted: "Thank you."
But a backlash to the criticism quickly developed, with some wondering why the correspondents should be surprised to get edgy comedy from an edgy comedian.
"The comedian did her job," said Sara Haines on "The View" Monday. "She is there to push the envelope."
Don't like it? "Hire a juggler next year," ABC's Jimmy Kimmel tweeted.
In his interview with Schlapp, Cuomo pressed the point that many Trump opponents made: how can you be insulted by Wolf's routine and not by some of the things that Trump has said or done?
While Wolf's performance was vulgar and unseemly, "the three-year performance of candidate and president Donald Trump has been vulgar, unseemly and infinitely more damaging to our civil discourse," tweeted conservative commentator Bill Kristol.
The White House quickly sniffed an opportunity. Trump, who held a rally in Michigan at the same time as the dinner, asked aides for an update soon after leaving the stage. When he watched it being talked about on cable TV the next day, he called several outside advisers to bash the comedian, saying she was unfunny and mean-spirited. He told at least one confidante that it again proved he can't get a fair shake from the media and he was certain his base would agree with him.