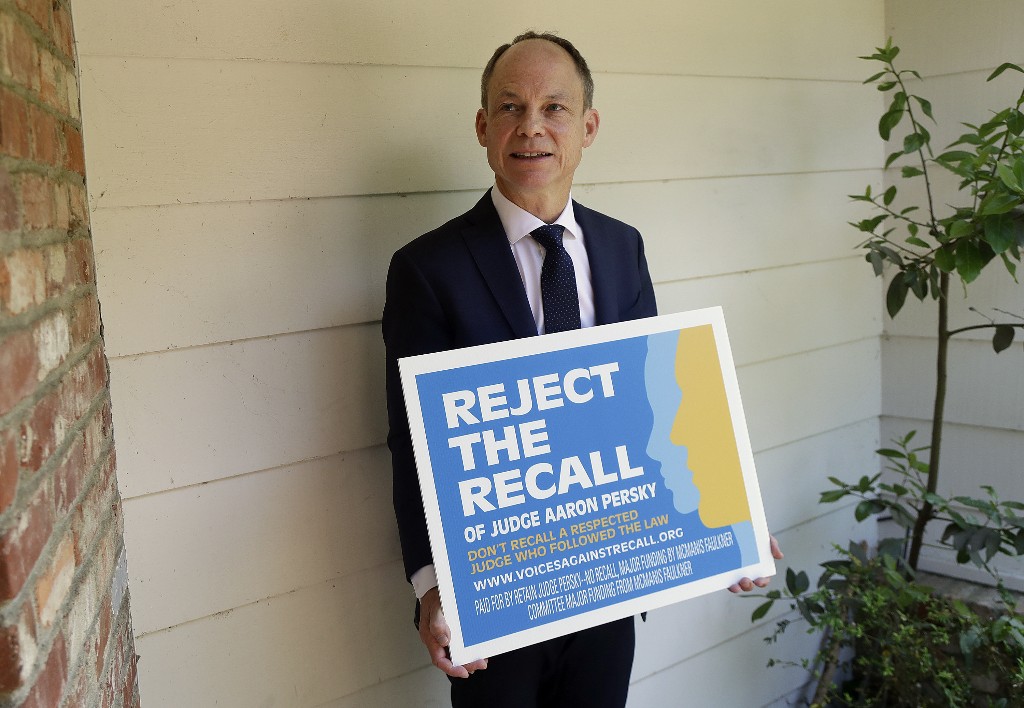 Democrat Gavin Newsom has secured the first of two slots in the November election to replace Jerry Brown as California's governor.
The lieutenant governor and former San Francisco mayor defeated rivals from both parties in Tuesday's primary.
It's too early to say who will take the second slot and advance to the general election.
Newsom was the first candidate to announce a bid for governor more than three years ago. He leaned heavily on his decision in 2004 to issue marriage licenses to same-sex couples in San Francisco, touching off years of debate over gay marriage in California and around the country. He says the move shows he's willing to take bold steps on liberal priorities.
He's been open about his desire to face a Republican in the November runoff.
Democrat Gavin Newsom and Republican John Cox have taken an early lead in the race to replace Jerry Brown as California governor.
Newsom narrowly led Cox with about 30 percent of the vote in early returns from Tuesday's primary, while Republican Travis Allen and Democrat Antonio Villaraigosa (vee-yah-ry-GOH'-sah) trailed.
Because of California's so-called jungle primary, the top two vote-getters — regardless of party — advance to a runoff in November.
Newsom is California's lieutenant governor and the former mayor of San Francisco. He was strongly favored to come in first in a race he began almost four years ago.
Cox is a businessman from the San Diego area who has never held elected office. President Donald Trump tweeted his support for him Tuesday.
Early results show voters favoring the recall of a Northern California judge over a sexual assault sentence that garnered national attention.
Santa Clara County's voter registrar reports the first returns Tuesday night show 59 percent of voters favoring removing Judge Aaron Persky from office, with 40 percent opposed.
Persky sentenced former Stanford University swimmer Brock Turner in June 2016 to six months in jail instead of prison after he was convicted of sexually assaulting a woman outside a fraternity house. The recall campaign launched shortly afterward.
The campaign gained national prominence after the victim's powerful courtroom statement lamenting her treatment by the judicial system was circulated widely online.
U.S. Rep. Kristi Noem has won the Republican primary for governor in her bid to become the first woman elected South Dakota governor.
Noem beat Attorney General Marty Jackley on Tuesday, becoming the first GOP woman to win the nomination. The campaign soured at the end as the candidates sought to break out.
Noem overcame criticisms that she turned the race negative and broke several congressional campaign promises. Noem — who was first elected to Congress in 2010 — touted her role negotiating Republicans' recent federal tax cuts with President Donald Trump and her farming and ranching background.
Noem will face Democrat Billie Sutton, a state senator and former professional rodeo cowboy, in the general election. Sutton avoided a primary, allowing him to bank cash.
Former Miss America Mallory Hagan of Opelika has won the Democratic nomination in an Alabama congressional race.
She defeated Adia Winfrey of Talladega and will face U.S. Rep. Mike Rogers in the fall.
Hagan was crowned Miss America in 2013 and until recently worked as a news anchor at WLTZ-TV in Columbus, Georgia. She says many people feel unheard after nearly four terms of Rogers holding the seat.
Winfrey is a psychologist who said she was inspired to run by the late Dr. Martin Luther King Jr. She was a volunteer in Sen. Doug Jones' successful Democratic campaign last year.
Rogers is unopposed for the GOP nomination. He's from Anniston.
U.S. Sen. Dianne Feinstein has won first place in the California primary, easily moving to the general election as she seeks a fifth full term.
Feinstein's opponent hasn't yet been determined.
California runs a primary system where the two highest vote-getters move on, regardless of party. That means Feinstein could face a fellow Democrat in November.
The 84-year-old Feinstein was first elected to the Senate in 1992 after serving as San Francisco mayor and running unsuccessfully for governor.
She is the top Democrat on the U.S. Senate Judiciary Committee.
Twenty-eight-year-old state legislator Abby Finkenauer has won a Democratic congressional primary in Iowa and is fighting to be the youngest woman ever elected to the U.S. House.
Finkenauer won the nomination Tuesday over three other candidates by stressing her blue-collar roots and support for policies intended to support working families.
She now will face two-term Rep. Rod Blum, who ran unopposed in the GOP primary.
Finkenauer frequently notes she's running for Congress while still paying off student loans.
Finkenauer is serving her second term in the Legislature. She has called for improving health care through the Affordable Care Act, supported more infrastructure spending and questioned federal tax cuts she argues primarily helped corporations and the wealthy.
Republican Elise Stefanik of New York became the youngest woman ever elected to Congress in 2014 at age 30.
California polls have closed and results are trickling in in hundreds of contests across the state that could solidify Democratic dominance and reshape the fight for control of the U.S. Congress.
Traffic at polling stations was light Tuesday because many people voted in advance in races setting the stage for the November election.
Democratic Lt. Gov. Gavin Newsom is the front-runner in the race for governor. President Donald Trump tweeted support for Republican businessman John Cox in the governor's race.
The secretary of state's office said more than 2.5 million people had voted by mail as of Monday night.
Tuscaloosa Mayor Walt Maddox has won the Democratic primary in Alabama's race for governor.
Maddox defeated former Alabama Chief Justice Sue Bell Cobb and other candidates in the Tuesday race.
Maddox has been the mayor of Tuscaloosa since 2005. His platform includes establishing a state lottery to fund a mixture of college scholarships, prekindergarten programs and financial assistance for the state's poorest and struggling schools.
In seeking the Democratic nomination, Maddox obtained valuable endorsements from Birmingham Mayor Randall Woodfin and the Alabama Democratic Conference, which is the state's largest African-American political organization.
Alabama hasn't elected a Democrat to the governor's office since 1998. Energized by the December victory of U.S. Sen. Doug Jones, the party is seeking a resurgence in state politics.
Alabama Gov. Kay Ivey has clinched the Republican nomination for governor without a runoff.
Ivey was declared the winner Tuesday night after beating back a field of GOP challengers. She is seeking to win the office in her own right after becoming governor 14 months ago when her scandal-battered predecessor, Robert Bentley, resigned.
Huntsville Mayor Tommy Battle, evangelist Scott Dawson and state Sen. Bill Hightower did not collectively pull enough votes to force Ivey into a runoff. She will face the Democratic nominee in November.
In her campaign, Ivey emphasized the state's robust economy, falling unemployment rate and the quieting of the scandal that had engulfed the state's previous governor.
Her challengers had condemned her refusal to debate and indirectly questioned whether the 73-year-old governor could complete a four-year term.
David Baria and Howard Sherman are headed to a June 26 runoff in Mississippi's Democratic primary for U.S. Senate.
Six candidates ran in Tuesday's primary.
The Senate seat has been held since 2007 by Republican Roger Wicker. Mississippi last had a Democrat in the Senate in 1989.
Baria, of Bay St. Louis, is an attorney and served one term in the state Senate before being elected in 2011 to the Republican-led Mississippi House, where he's now the Democratic leader. He criticizes Republicans for cutting taxes and refusing to expand Medicaid.
Sherman is a venture capitalist and the husband of actress Sela Ward. They raised their two children in Los Angeles, where he grew up, and the couple now lives near her hometown of Meridian, Mississippi.
U.S. Rep. Martha Roby has been forced into a runoff in Alabama's Republican primary after challengers blasted her 2016 criticism of Donald Trump.
Roby faces Bobby Bright in a July runoff in Alabama's conservative 2nd district — where Trump loyalty has been a central issue.
Roby is a four-term incumbent. In campaigning for Tuesday's primary, she emphasized her record and working relationship with the White House.
In 2016, Roby criticized Trump after a 2005 recording surfaced of him making lewd comments about women, saying the behavior made him an unacceptable candidate and suggesting he step away from the presidential ticket.
Bright is a former Montgomery mayor who represented the district for two years as a Democrat before losing in 2010 to Roby. He ran an ad with footage of Roby's Trump comment.
Retired Des Moines businessman Fred Hubbell has won the Iowa Democratic primary and a chance to face Republican Gov. Kim Reynolds in November.
Hubbell hasn't been elected to office but has held numerous business positions he says make him well-positioned to lead state government. Those jobs include executive roles at Younkers department stores, Equitable Life Insurance and the ING Group.
Hubbell's victory in Tuesday's primary over four other candidates followed a campaign in which he outspent all of his opponents. Much of Hubbell's campaign was self-funded, with him contributing $2.1 million of his own money in 2018.
Hubbell says his priorities include improving wages, health care and education.
A sixth candidate on the ballot, state Sen. Nate Boulton, dropped out of the race after allegations of sexual misconduct.
U.S. Rep. Michelle Lujan Grisham has won the Democratic nomination for New Mexico governor and will take on Republican congressman Steve Pearce in November for the state's top job.
The three-term congresswoman defeated state Sen. Joseph Cervantes and former media executive Jeff Apodaca in a campaign focused on improving the state's lagging economy and public education.
Lujan Grisham leads the Congressional Hispanic Caucus and has been a vocal critic of President Donald Trump and his immigration policies.
She previously led state public health agencies under three former governors, including Democrat Bill Richardson. Her campaign received endorsements from an array of labor unions, progressive advocacy groups and several tribal governments.
State law prevents Republican Gov. Susana Martinez from seeking a consecutive third term.
Polls have closed in Iowa and Montana on a night when eight states are holding primaries.
In Montana, races were called at closing time Tuesday for the unopposed incumbents, Democratic U.S. Sen. Jon Tester and Republican U.S. Rep. Greg Gianforte.
They and other candidates running unopposed advanced to the Nov. 6 general election.
In Iowa, election officials say there appeared to be record turnout Tuesday, fueled in part by a five-way race for the Democratic governor nomination. The winner will face incumbent Gov. Kim Reynolds, who wasn't opposed for the Republican nomination.
There also were contested Democratic primaries for three of Iowa's four U.S. House seats.
Republican Rep. Steve King was the only incumbent who was challenged in the primary.
U.S. Sen. Bob Menendez has fended off a primary challenger and will be the Democratic nominee in New Jersey's only statewide race this fall.
The 64-year-old on Tuesday defeated publisher Lisa McCormick in his push for a third term.
Menendez is heading into the general election after federal criminal corruption charges against him were dropped and he was rebuked by the Senate's ethics panel.
Republican challenger Bob Hugin (HYOO'-gihn) has been pummeling Menendez over the allegations he accepted gifts in exchange for helping a friend with personal and business matters. A jury couldn't reach a verdict on the charges last year, and federal prosecutors decided not to retry the case.
Menendez has denied he did anything wrong and has cast himself as a check against President Donald Trump in a year when the Senate could be up for grabs.
Los Angeles County officials say the names of more than 118,000 voters were omitted from voter lists because of a printing error, but residents can still cast their ballots.
The county's registrar-recorder's office says registered voters can cast provisional ballots in Tuesday's primary election.
They say the issue involves 118,522 voters in Los Angeles County.
They say poll workers have been instructed to offer provisional ballots to every voter whose name doesn't appear on the poll site's roster.
The county says votes cast on provisional ballots will be counted once the voter's registration is confirmed.
Democratic U.S. Rep. Adam Schiff tweeted Tuesday: "Don't let this affect the election results. Make sure your vote is counted!" Democrats need a good day in California to have much hope of seizing the House majority this fall.
Polls are closing in New Mexico as voters decide on a Democratic candidate for governor and major-party nominees for two open congressional seats.
More than 92,000 votes were cast as the race narrows to succeed Republican Gov. Susana Martinez, who cannot run for a consecutive third term. In all, eight states are holding primaries Tuesday.
Democratic U.S. Rep. Michelle Lujan Grisham is competing against state Sen. Joseph Cervantes and former media executive Jeff Apodaca, the son of a former governor.
The winner will face the sole Republican candidate, U.S. Rep. Steve Pearce, in the November general election.
A wealthy former biopharmaceutical executive and Marine has won New Jersey's Republican Senate primary.
Bob Hugin defeated Brian Goldberg on Tuesday. Hugin ran Celgene until this year and is a first-time candidate spending millions of his own fortune to finance his race.
He says he's running as an independent Republican in a state with roughly 900,000 more Democrats than Republicans.
Hugin barely concentrated on Goldberg, a former IT professional and construction firm executive.
Hugin's entrance into the race buoyed Republicans, who have been on a downswing in statewide politics since Democratic Gov. Phil Murphy won last year.
Hugin has loaned his campaign at least $7.5 million and has pledged to restore dignity to the state.
That's a ding at Democratic incumbent Bob Menendez, who defeated federal corruption charges after a hung jury last year.
Republican U.S. Sen. Roger Wicker of Mississippi has won his party's primary, months after being endorsed by President Donald Trump.
Mississippi is heavily Republican. It last had a Democrat in the Senate in 1989.
Wicker said in a recent fundraising appeal that he wants to help the president "enact his America-first policies." In Tuesday's primary, he defeated one opponent, Richard Boyanton. Boyanton ran a low-budget campaign.
Wicker served nearly 13 years in the U.S. House before he was appointed to the Senate when fellow Republican Trent Lott resigned in late 2007.
Six people were competing Tuesday in Mississippi's Democratic primary for Senate. They include state lawmakers David Baria and Omeria Scott and venture capitalist Howard Sherman, who is married to TV and movie actress Sela Ward.
Polls have begun closing in the eastern half of the United States as eight states hold primaries ahead of the November midterm elections.
Races were called at closing time Tuesday for candidates running unopposed in New Jersey, Alabama and Mississippi, and they advanced to the general election.
With primary elections across California and seven other states on Tuesday, the political battlefield will soon be set for the first midterm elections of Donald Trump's presidency.
With the possibility of a Democratic wave on the horizon, the elections will test voter enthusiasm, candidate quality and Trump's influence as each party picks its nominees to face off in November.