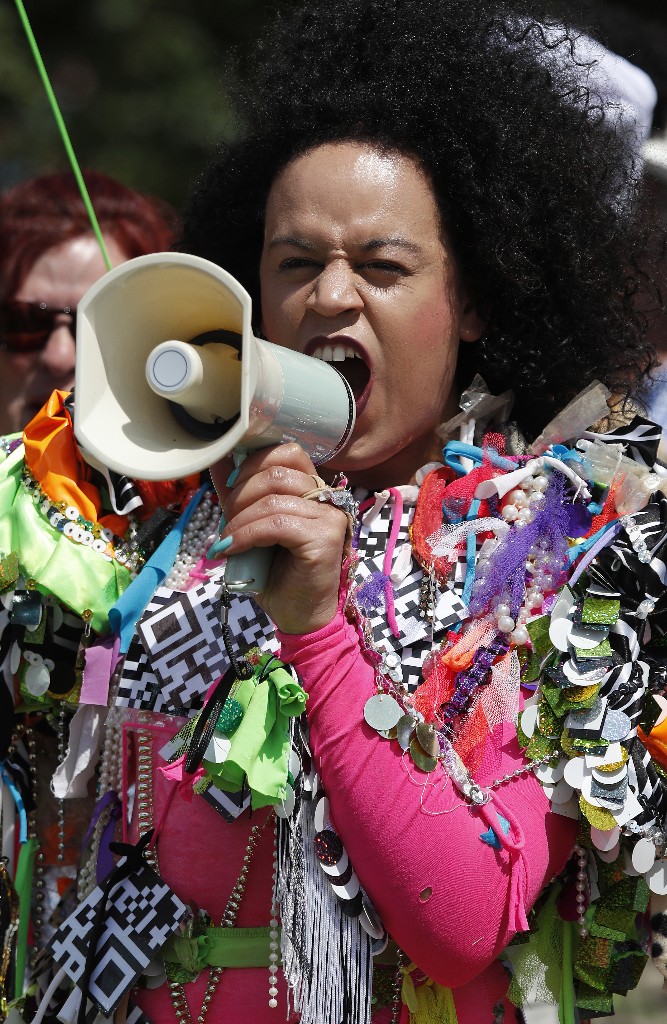 Thousands of women turned cities in England, Northern Ireland, Scotland and Wales into rivers of green, white and violet Sunday to mark 100 years since the first women won the right to vote in the U.K.
Wearing scarves in the colors of the suffragette movement that fought for female political enfranchisement, women marched through London, Edinburgh, Cardiff and Belfast in events that were part artworks, part parades.
The milestone they observed was enactment of the Representation of the People Act, which in 1918 granted property-owning British women over age 30 the right to vote. It would be another decade before women in the U.K. would have the same voting rights as men.
Sunday's celebrations were organized by arts group Artichoke, which specializes in large, participatory events. It asked 100 artists to work with women's groups on banners inspired by the bold designs of the suffragettes, who led a decades-long campaign of protest and civil disobedience to get women the vote.
The London march flowed in bands of color through the heart of the city, winding along Piccadilly and around Trafalgar Square before heading to Parliament, the seat of British political power. Some participants dressed as Edwardian suffragettes or wore sashes in green, white or violet
Brownie packs and arts groups, an organization for female ex-prisoners and the Worshipful Company of Upholders, an upholsterers' guild, were among the groups that created banners.
One woman knitted a pennant with the suffragette slogan "Deeds not words." Another came with a banner evoking the phrase that became a tool of the women's movement last year after U.S. Sen. Elizabeth Warren was silenced during a debate: "Nevertheless, she persisted."
Women came from across England and even further afield to take part.
Asma Shami from Lahore, Pakistan, said she rearranged her visit to Britain so she could attend the march and celebrate women's progress.
"It's so energizing," she said. "We've come a long way, and we have a long way still to go."
Artichoke director Helen Marriage said she was struck by the amount of enthusiasm for the project.
"A craft shop in London told us they'd run out of purple and green tassels, and they didn't know why," she said.
Mother and daughter Claire Gillett and Chloe Whittaker, from Great Saling in eastern England, wore green shawls and said they had recently discovered suffragettes among their ancestors.
Gillett said she was "super proud" of her foremothers, especially since she'd always believed "women in our family aren't very outspoken or bold."
"It was quite empowering," she said.
The mood was celebratory, but Marriage said the event also was meant to highlight the work still needed, from closing the gender pay gap to ending workplace sexual harassment.
It also hoped to erase any notion of the suffragettes as prim campaigners from a more polite age. They defied the law, went on hunger strikes, broke windows and set off bombs in pursuit of their goal.
"They were really extraordinary people," Marriage said. "A thousand of them went to prison. They were force fed in prison. In today's terms, they would be described as terrorists."
Voting rights for British women were won through a combination of the militant suffragettes and their more law-abiding sisters, the suffragists. A statue of suffragist leader Millicent Fawcett was recently erected in Parliament Square, the first on the site to commemorate a woman.
The suffragettes and their legacy remain more controversial.
"They were really quite anarchic," artist Quilla Constance said while standing with a riotously colorful banner from the group Bedford Creative Arts. "They had to really fight. And we still have to fight.
"I think they're here today in spirit, and we're giving them high fives," she said.