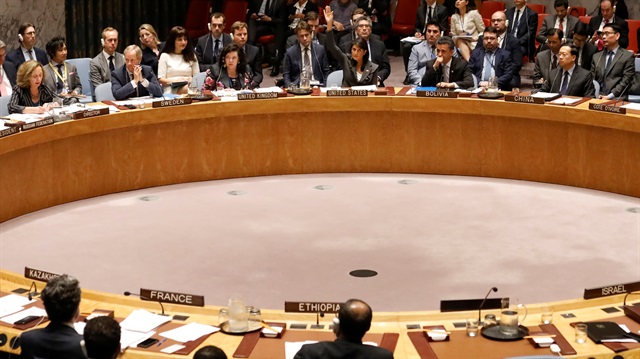 The U.S. bias for Israel is encouraging the self-proclaimed Jewish state to pursue its assaults against defenseless Palestinians, analysts believe. 
"Israel will halt its crimes against Palestinians if Washington ceases its unwavering support for it," Akram Attalah, a Palestinian political analyst, told Anadolu Agency on Sunday. 
On Friday, the U.S. vetoed a UN Security Council resolution condemning Israeli violence and calling for "protection of the Palestinian people" in Gaza and the West Bank. 
Ten countries voted in favor of the Kuwait-draft resolution, while the U.K., Poland, the Netherlands and Ethiopia abstained. 
"Israel would have curtailed its criminal behavior against the Palestinians if the U.S. had not used the veto," Attallah opined. 
He said the U.S. veto gives Israel the green light to continue its aggression against the Palestinians. 
"Israel knows that it will not be punished by the international community and that the UN Security Council will not issue any condemnation as long as the Trump administration uses the veto in its favor," he added. 
The resolution, which was revised three times and was said to have been "watered down," previously called for international protection for the Palestinian people. 
The final draft called for "the consideration of measures to guarantee the safety and protection of the Palestinian civilian population in the Occupied Palestinian Territory, including in the Gaza Strip". 
Since March, more than 120 Palestinians have been martyred and thousands more injured by Israeli army gunfire during anti-occupation protests near the Gaza-Israel security fence. 
– Immunity 
Palestinian political analyst Walid al-Mudalal said the U.S. veto gives Israel immunity against prosecution for killing scores of protesters along the Gaza border. 
"It has given Israel a safety net and protected it against prosecution," al-Mudalal, a professor of political sciences at the Islamic University in Gaza, told Anadolu Agency. 
He said the unwavering American support for Israel dates back to the 1940s. 
"However, this support has reached its peak with the current U.S. administration," he stressed. 
The U.S. has used the veto more than 40 times against pro-Arab and Palestinian resolutions since the UN Security Council was established in 1945. 
In 1972, Washington used the veto for the first time in favor of Israel to abort a UN resolution condemning its attacks in Lebanon. 
In 1988, the U.S. used eight vetoes to abort UN resolutions against Israel. 
"Since he came to power, Trump is participating Israel in its crimes against the Palestinians," Mekhaimar Abu Saada, a professor of political sciences at Gaza-based Al-Azhar University, told Anadolu Agency. 
He said the Trump administration will not be a "fair mediator" during any peace talks between the Palestinians and Israel. 
"The U.S. veto to abort the resolution for protection of the Palestinians was a green light for Israel to commit new crimes against the Palestinian people," he said.