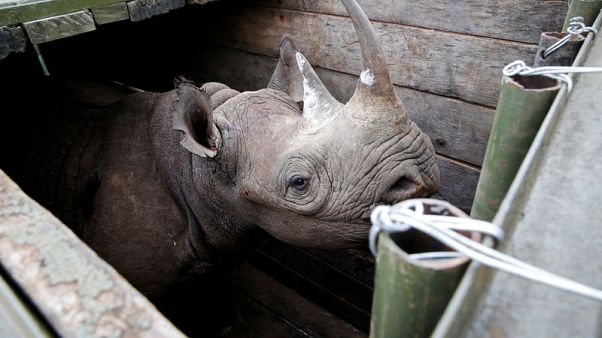 Poachers have killed a 12-year-old black rhino in Kenya's Lake Nakuru national park, the national wildlife agency said on Tuesday, days after the authorities announced that ten of the critically endangered animals had died in a bungled relocation.
To widespread consternation from wildlife and environmental groups, Kenya's government announced last week that ten out of 11 black rhinos died in May owing to negligence by conservation officers during their relocation from the Nakuru and Nairobi national parks to Tsavo East National Park.
The only rhino to survive was subsequently attacked by lions, though it survived and has received medical treatment.
Poachers killed the rhino on Monday evening, the Kenya Wildlife Service (KWS) said on its Twitter account.
"Pursuit for poachers is underway," it said.
A report by an independent inquiry on the deaths in May found the animals had succumbed to stress and poisoning from drinking salty water.
Poaching has risen in recent years across sub-Saharan Africa where armed criminal gangs have killed elephants for tusks and rhinos for horns. Often the animal parts are shipped to Asia for use in ornaments and medicines.
The world's last male northern white rhino died in Kenya in March, leaving only two females of its subspecies alive.
Kenya had 20,000 rhinos in the 1970s, falling to 400 in the 1990s. In 2017, the number had risen back to 1,258 – 745 of them black rhinos and 510 southern white rhinos, according to KWS.