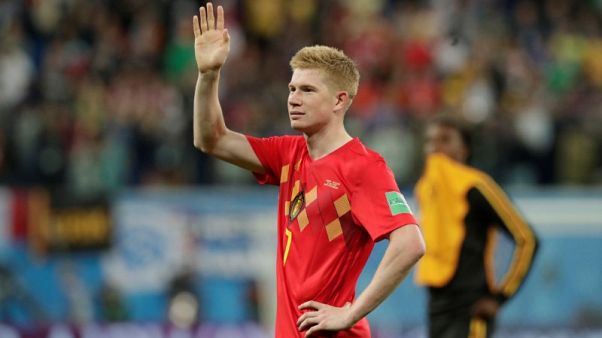 Manchester City do not need to win the Champions League to be considered successful as the European competition does not demand the same level of consistency it takes to triumph in the Premier League, midfielder Kevin de Bruyne has said.
The 27-year-old Belgian has been a key part of City's rise in recent years, with Pep Guardiola's side clinching the league title after a record-breaking run last season to add to their League Cup triumph.
The Champions League, however, has eluded City's grasp with the high-flying side falling in the semi-finals in 2016 and knocked out by league rivals Liverpool in the quarter-finals last term.
"I don't agree that we have to win the Champions League to be a success. It is a big title to win but in the Champions League you don't need to have the consistency that you need in the league," De Bruyne told the BBC.
"We were great for the whole year, maybe a bit less against Liverpool, and so we were out. It is a tournament, you need to be good at the right time.
"In the league if you have a bad spell then you are running behind. It is a different prospect, cup games are different to a league."
Liverpool have also challenged City in the league, with the Etihad Stadium outfit winning just one of the last five meetings between the sides — a 5-0 win at home early last season.
De Bruyne believes that Liverpool, who have strengthened significantly in the transfer window, will lead the challenge to de-throne City, along with the rest of the top six, this season.
"The main focus is on us. The other teams are always going to push us, Liverpool did what we did last year. They have spent a lot of money but wisely," De Bruyne added.
"They needed some additions and they have got them in the right places. They saw that they had to up the level to come closer to us and we are trying to maintain what we have done last year.
"It will be a good battle between the top sides."