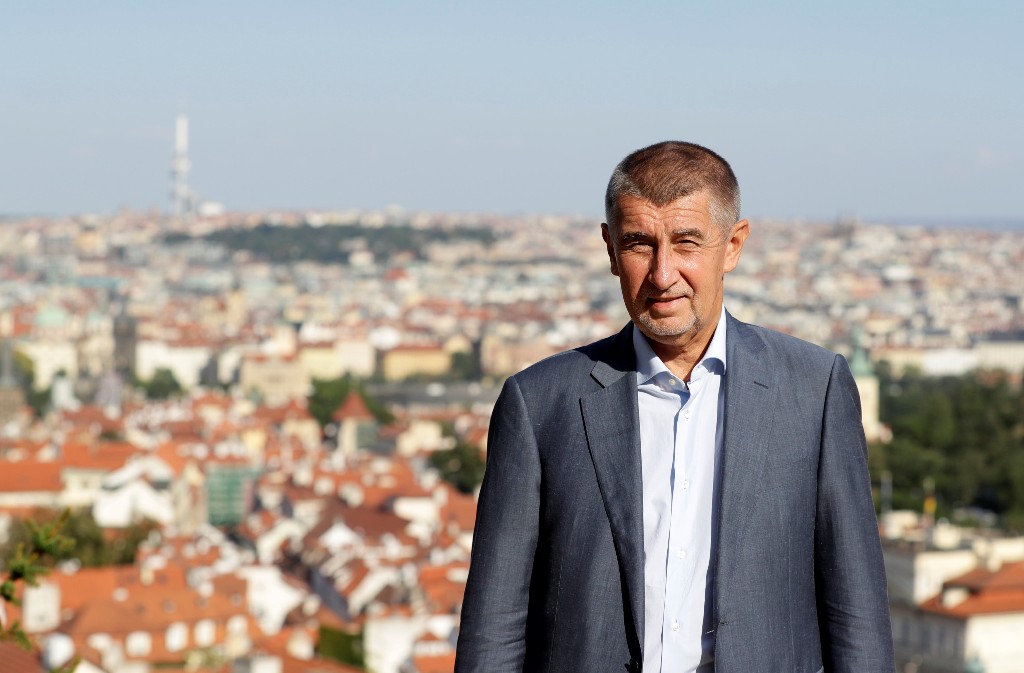 Leaders tend to rein in generous election promises once they come to power; few tour the country adding more, as Czech Prime Minister Andrej Babis has been doing.
The billionaire businessman says the strength of the economy allows for what is set to be a record spending spree.
Some, including the lead economist advising the parliament-appointed National Budget Council, are not so sure, and worry that Babis may undo the gains from years of belt-tightening when he was finance minister.
The European Union welcomed that frugality. With the bloc at odds with post-communist members Poland and Hungary over anti-establishment leaders' approach to the rule of law, it does not want weakening Czech finances to worry about.
Babis won a clear lead for his anti-establishment Action for Dissatisfied Citizens (ANO) party last October by promising to increase state salaries and pensions, boost healthcare spending and upgrade shoddy roads.
Now his spending pledges are being incorporated into his government's first budget, and a Reuters analysis points to the biggest spending rise in the country's modern history of about 4 billion euros ($4.69 billion), or 2 percent of output.
The sums include hefty rail subsidies for older people and students, increasing teachers' wages and more military spending.
Some experts say the country's finances are healthy enough to justify this – it has a solid credit score from both major rating agencies.
However, the chief economist advising a new state budget overseer told Reuters he was concerned the spending might weaken state finances just as economic growth begins to falter.
"The government has been so generous at the start of the election cycle," said the economist, Pavel Sobisek from Italian lender Unicredit.
In common with other anti-establishment leaders, Babis rose to prominence by pledging to weed out perceived elitism and corruption.
For months, politicians thwarted his attempts to form a government, citing concern over a charge against him, made just before the election, of alleged fraud to obtain EU funds.
He denied the charge, calling it a political ploy, and boosted his public support with a new campaign-style tour starting in March and lasting through the spring in which he pledged to fund local projects including a new hospital wing, theater and sports arena.
Babis finally won approval for his minority coalition with the Social Democrats after the Communists, out of the limelight since the end of one-party rule in 1989, played king-maker.
Babis says he will bring management skills to improve policymaking and cut waste.
He has on his side strong economic growth – more than 4 percent last year – and two years of public finance surpluses, all while he was finance minister.
Against him are an approaching decline in European Union subsidies, rising debt costs and an aging population which means pension costs are growing.
Sobisek, UniCredit's chief economist in Prague and leader of 10 economists advising the new National Budget Council, said that meant a likely switch back to deficits.
This would not be bad if money was spent wisely, he said in an interview, adding. "I am afraid this will not be the case."
Critics say the approach so far has been to throw cash at problems rather than tackle them head-on and ensure long-term fiscal stability. That would support wages, which are rising but still leave many people struggling.
Richard Hindls, one of the three council members, said in a separate interview that the government should bolster reserves to help the economy in a slowdown without raising debt.
The council's chairwoman, former central banker Eva Zamrazilova said she "fundamentally" disagreed, when asked about planned pension increases by daily Mlada Fronta Dnes in May.
The hikes would lift pensions by an average of 8 percent and throw the pension account of the budget into a deficit, despite the economic boom. That would, according to the Finance Ministry, force the government to tap 21 billion crowns ($956 million) from a fund that accumulates dividends from state firms to draw down when times are bad.
Prime minister Babis and Finance Minister Alena Schillerova have defended the budget, including increased spending.
"(Spending) grows because we increase pensions dramatically, there is an increase in education too," Babis told Reuters in an interview, adding that budget plans don't need to be taken too seriously.
"The plan is not significant, only the result is," he said.
He cited the ratio of debt to gross domestic product, which fell to 32.2 percent of GDP last year from 33.8 percent in 2016. That is less than half the EU average of 81.6 percent.
As finance minister from 2014-2017, Babis improved tax collection and presided over a rebound that helped rein in a fiscal deficit which had breached the EU ceiling of 3 percent of GDP in two of the previous four years.
He also continued running his farming and chemical conglomerate Agrofert until last year, when he put it into a trust fund to comply with a new conflict-of-interest law.
He was fired as finance minister amid allegations of tax evasion, which he denied and which have not yet been followed up by authorities. The fraud charge raised by police in October has yet to go to court.
Unemployment in the country of 10.6 million has fallen to less than 3 percent, the lowest in the EU, and public finances have been in surplus in the past two years, and likely again in 2018, partly due to a bump in EU funding.
Among the mostly ex-communist countries of central Europe, the Czech Republic has one of the lowest borrowing costs and the highest credit rating.
Steffen Dyck, a senior credit officer at ratings agency Moody's, attributed the agency's A1 credit rating and positive outlook for the Czech Republic to its budget outperformance.
"The (spending) promises… will lead to somewhat higher expenditure. But nevertheless, the fiscal policymaking is generally quite prudent in our view," he said.
The Finance Ministry forecasts a surplus of 1.1. percent of GDP – down from 1.6 percent in 2017 – in the fiscal sector, including the central budget, some health spending and other funds.
It expects a slowdown in growth from 4.4 percent last year to 3.2 percent this year and 3.1 percent in 2019, a rate some analysts say is over-optimistic.
Global trade wars could also hit the small, export-oriented country.
Interest rates are rising after an unprecedented period of negative yields when the Czech central bank maintained near zero rates and a weak crown regime between 2012-2017 – although debt servicing costs may not be affected for another few years.
The state must continue to invest, especially in transport, to bolster the economy, business leaders say. The new government plans to invest 1.3 percent of GDP, although for three of the last four years actual investment spend fell below forecasts.
A major modernization of the main highway connecting Prague and the second biggest city Brno is underway, but there is no direct highway to neighboring Austria; road building has lagged neighbors Poland and Slovakia.
Jan Bures, chief economist at Patria Finance, said there was no space to add new long-term spending in the budget.
"It seems to me that the government wants to enjoy the good times," he said. "But while living in the good times, they are not dealing with the clouds (ahead)."