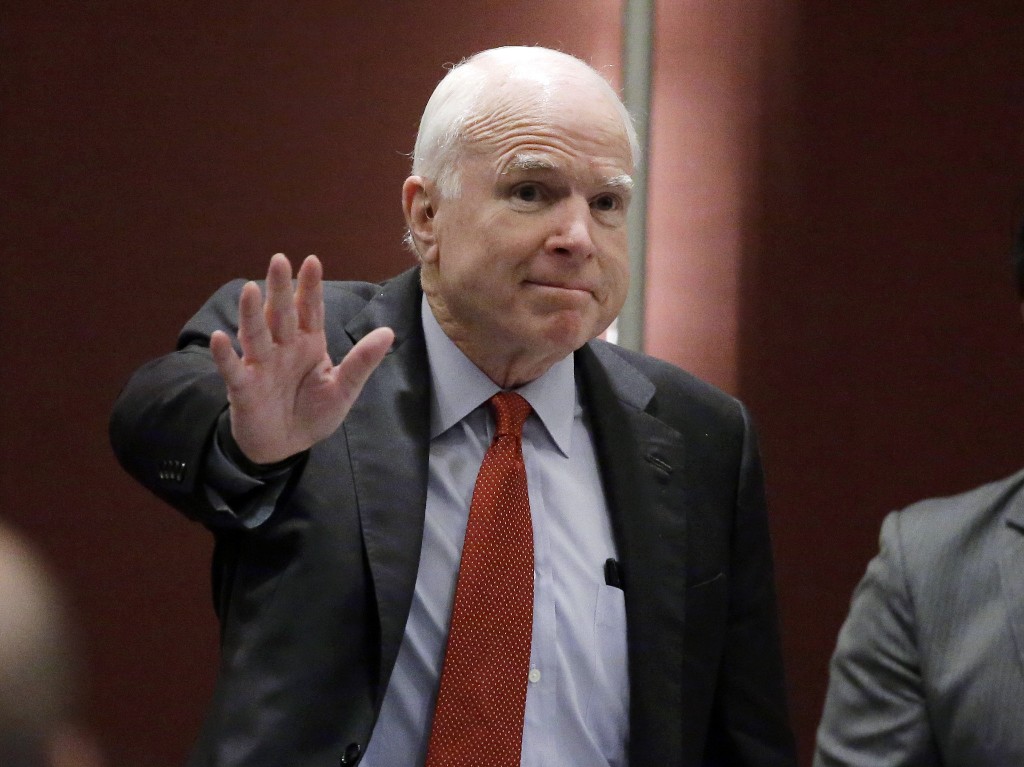 Arizona Diamondbacks baseball fans gave a standing ovation when Sen. John McCain's image was shown on the video board Saturday night during the team's game against the Seattle Mariners.
The team is remembering cCain as a longtime fan and friend.
Before his cancer diagnosis last year, McCain was a regular at Arizona sporting events.
Derrick Hall, the team's president and CEO, says McCain has "always been a member of the D-backs' family and was one of this team's biggest fans since day one."
Hall said Saturday that he is honored to consider McCain a friend and that the team will "miss seeing his smiling face in the stands."
Former Diamondbacks star Luis Gonzalez says McCain was "not only a great man and patriot, but a great D-backs fan."
Vice President Mike Pence and his wife, Karen Pence, are offering condolences to the family of Arizona Sen. John McCain following the senator's death.
Pence says on Twitter that we "honor his lifetime of service to this nation in our military and in public life." Pence says McCain's family and friends will be in their prayers, adding, "God bless John McCain."
Pence tweeted his condolences after President Donald Trump offered his "deepest sympathies and respect" to McCain's family. Trump has had a strained relationship with the Republican senator since the president questioned whether McCain was a war hero.
A hearse and a police motorcade has left Sen. John McCain's Arizona ranch.
McCain died at home Saturday after battling brain cancer for more than a year.
On Saturday night, a black hearse accompanied by multiple Arizona State Police vehicles could be seen driving in procession away from McCain's ranch near Sedona.
The patrol vehicles drove slowly down the gravel roadway with lights flashing. The procession then headed toward Phoenix.
Former President Bill Clinton and former Secretary of State Hillary Clinton are paying tribute to Sen. John McCain as a "skilled, tough politician" who often set aside partisanship "to do what he thought was best for the country."
The Clintons say in a statement after McCain's death that the Arizona senator "believed that every citizen has a responsibility to make something of the freedoms given by our Constitution."
Bill Clinton says he is grateful to McCain for his leadership in helping the U.S. normalize relations with Vietnam during his presidency. McCain was a prisoner of war in Vietnam for more than five years.
McCain served alongside Hillary Clinton in the Senate. The Clintons say McCain was "never afraid to break the mold if it was the right thing to do."
Senate Majority Leader Mitch McConnell asked Republicans in his home state for a moment of silence to remember Sen. John McCain just before lamenting the practical reality that he "needs more votes" in light of a confirmation fight with Supreme Court nominee Brett Kavanaugh.
McConnell announced McCain's death to a few hundred people at the Republican Party of Kentucky's annual Lincoln Dinner on Saturday night in Lexington. He asked for a moment of silence "in memory of his outstanding life."
McConnell noted that McCain's absence from the Senate has shrunk his majority to 50-49. He said the biggest question he has had to face over the last few months is whether anyone had to go to a funeral. He later called McCain a "unique American" who made "every tense moment come out better."
Former President Barack Obama is paying tribute to Arizona Sen. John McCain following the death of his 2008 presidential rival. Obama says despite their differences, they shared a "fidelity to something higher – the ideals for which generations of Americans and immigrants alike have fought, marched, and sacrificed."
Obama says in a statement that the two political opponents "saw our political battles, even, as a privilege, something noble, an opportunity to serve as stewards of those high ideals at home, and to advance them around the world."
Obama writes that they "saw this country as a place where anything is possible – and citizenship as our patriotic obligation to ensure it forever remains that way."
Former President George W. Bush is calling Arizona Sen. John McCain, his one-time political rival, a "man of deep conviction and a patriot of the highest order."
Bush says in a statement that McCain was a "public servant in the finest traditions of our country" and is calling him a "friend whom I'll deeply miss."
McCain died Saturday at the age of 81 after battling brain cancer for more than a year.
Bush defeated McCain in a hard fought Republican presidential campaign in 2000 and later backed McCain's unsuccessful campaign to succeed him eight years later.
Arizona Gov. Doug Ducey has released a statement calling Sen. John McCain a "giant," an "icon" and an "American hero."
McCain was elected to the U.S. Senate from Arizona six times.
Ducey says McCain was an American who will never be forgotten, and he was proud to call him a fellow Arizonan. The Republican governor says McCain's "spirit, service and fierce independence shaped the state with which he became synonymous."
Ducey recalled that the senator always fought for what he thought was right, even when it wasn't popular. He says McCain's "dogged patriotism and passion for country" made him an inspiration.
The governor added that he hopes McCain's legacy will continue to inspire Americans to build a future that would make him proud.
President Donald Trump is offering his "deepest sympathies and respect" to the family of Arizona Sen. John McCain following the senator's death.
The president's statement comes after the two Republican leaders maintained a strained relationship since Trump suggested in 2015 the Vietnam veteran and prisoner of war was not a war hero.
Trump says on Twitter, "Our hearts and prayers are with you!"
McCain, the 2008 Republican presidential nominee, died Saturday at the age of 81 after battling brain cancer for more than a year.
Trump has frequently criticized McCain for voting against a 2017 plan in the Senate to replace the so-called Obamacare law.
Arizona Sen. John McCain, the war hero who became the GOP's standard-bearer in the 2008 election, has died. He was 81.
His office says McCain died Saturday. He had battled brain cancer.
In 1967, his plane was shot down on a bombing mission over North Vietnam. He was severely injured and spent more than five years as a prisoner of war.
He was elected to the House of Representatives in 1982 and the Senate in 1986. A conservative on most issues, he pushed for campaign finance reform and the effort to account for those missing in Vietnam.
He ran unsuccessfully for the Republican presidential nomination in 2000, then won it in 2008. But he and running mate Sarah Palin lost to Barack Obama.