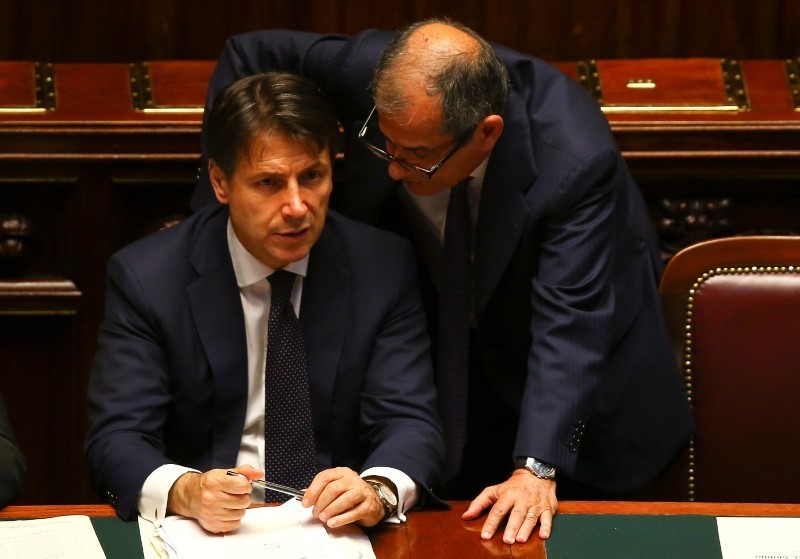 Italian Prime Minister Giuseppe Conte and his top ministers discussed the 2019 budget on Monday and agreed that it will preserve the stability of state finances and lower the public debt, the prime minister's office said.
Conte assessed the economic situation and the budget with Economy Minister Giovanni Tria and the heads of the League and the 5-Star Movement, the two parties that make up the ruling coalition, the statement said.
The budget, which will be drawn up in the autumn, "twins the government's economic goals with the stability of public finances, in particular the continuation of a downward path in the ratio of debt to GDP," the statement said.
The commitment to debt reduction helped ease pressure on Italian stocks and government bonds, which have come under pressure in recent days due to contagion from financial turmoil in Turkey and market concerns that Rome's spending plans would push up the already-high public debt.
Yields fell for the first time in a week on Tuesday, with the closely watched spread between Italian 10-year bonds and safer German Bunds narrowing to 272 basis points from 280 the day before.
"The fact that they (the government) recognize that the debt-to-GDP is a problem that needs to be dealt with is something that the market should look at positively," said DZ Bank strategist Andy Cossor.
"The Turkish lira is not looking as wobbly as it did yesterday morning and so that is also putting some support under the BTP market today."
Tria, an academic who is not a member of either ruling party, will head to China at the end of this month accompanied by a Bank of Italy official for a five-day visit to meet financial operators, a Treasury source said.
Tria, who will be in China from Aug 27 to Sept 2, will aim to convince Chinese investors, including its central bank, to buy Italian sovereign debt, daily Corriere della Sera reported.
Italy's public debt, at around 132 percent of gross domestic product, is the highest in the euro zone after Greece's.