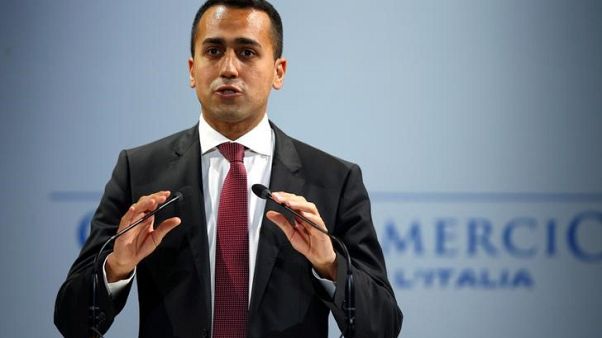 Italy should scrap a clause in its constitution obliging it to run a balanced budget, deputy Prime Minister Luigi Di Maio said, adding that the government was not yet working on the matter.
"I think that in future it should be canceled," Di Maio said in a television interview on Thursday evening.
Di Maio said scrapping the clause was in the "contract" drawn up by the ruling coalition made up of his 5-Star Movement and the right-wing League before it took office in June.
He said the government was now concentrating on keeping its pledges to provide a minimum income for the poor, cut taxes and reform the pension system to make it possible to retire earlier.
Financial markets are worried the government's spending plans will push up Italy's debt, the highest in the euro zone after that of bailed-out Greece, and yields on Italian bonds have been rising in recent weeks in volatile trading.
Italy's benchmark 10-year bond yield rose sharply early on Friday before recovering partially, as uncertainty surrounding the 2019 budget talks and turbulent world markets prompted investors to dump the euro zone's riskier assets.
The balanced budget constitutional amendment was approved by parliament in April 2012 during the euro zone debt crisis, under the government led by Mario Monti.
It had been presented the previous year by Monti's predecessor Silvio Berlusconi in an effort to calm financial markets as Italy's borrowing costs increased.
The clause came into effect from 2014 but since then Italy has never achieved a balanced budget and parliament has voted to make a temporary exception each year to approve the governments' spending plans.
The new 5-Star/League administration says the best way to bring down public debt is by investing more to boost economic growth, rather than trying to balance the budget each year.
The government contract said the balanced budget rule needed changing because it "makes it impossible to adopt effective anti-cyclical policies."
However, Prime Minister Giuseppe Conte said on Wednesday the government had no plan to scrap the balanced budget clause.
"It's there and it's staying there," he said when asked about the issue at a news conference.
La Repubblica daily reported on Friday the government planned to target a budget deficit in 2019 of 1.7 percent of gross domestic product, comfortably inside the EU's 3 percent ceiling but double the current 0.8 percent goal.
The prime minister's office said the target for 2019 had not yet been set and that it was too early to speculate on what it might be.
The government is due to update its economic targets in September before drawing up the 2019 budget and submitting it to the European Commission for approval the following month.