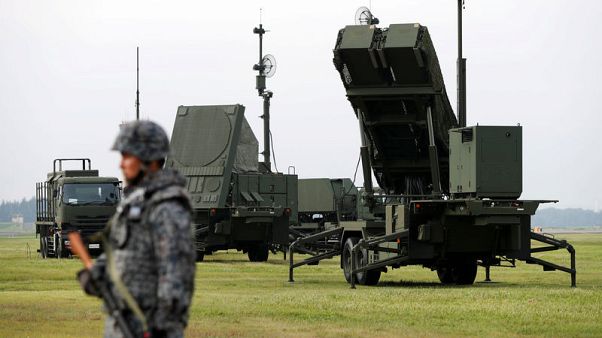 Japan's military wants record spending next year to help pay for major upgrades to defenses designed to shoot down North Korean ballistic missiles that Tokyo sees as a continued threat despite Pyongyang's promise to abandon nuclear weapons.
The Ministry of Defence budget proposal released on Friday calls for defense spending to rise 2.1 percent to 5.3 trillion yen ($48 billion) for the year starting April 1.
If approved, it will be the seventh straight annual increase as Prime Minister Shinzo Abe reinforces Japan's military to respond to any North Korea missile strike and counter China's growing air and sea power in the waters around Japan.
The proposed defense budget still has to face scrutiny by Ministry of Finance officials who may seek to curtail any rise in military outlays to secure funds for Japan's burgeoning health and welfare spending.
The biggest proposed outlay in the military budget will be on ballistic missile defense, with a request for 235 billion yen for two new powerful ground-based Aegis Ashore radar missile tracking stations built by Lockheed Martin Corp.
Japan's military also wants funds to buy longer-range Raytheon Co SM-3 interceptor missiles designed to strike enemy missiles in space and money to improve the range and accuracy of its PAC-3 missiles batteries that are the last line of defense against incoming warheads.
Japan remains wary of North Korean promises to abandon its nuclear weapons and ballistic missile programs. The Ministry of Defence said in a white paper published on Tuesday Pyongyang remained Japan's "most serious and pressing threat".
Other big buys include six Lockheed Martin F-35 stealth fighters for 91.6 billion yen and two E-2D Hawkeye early warning patrol planes built by Northrop Grumman. Japan's Maritime Self Defence Force also wants funding to build two new destroyers and a submarine worth a combined 171 billion yen.
Purchases of American-made equipment could help Tokyo ease trade friction with Washington as U.S. President Donald Trump pushes Japan to buy more American goods, including military gear, while threatening to impose tariffs on Japanese auto imports to cut a trade imbalance with Tokyo.
The defense ministry's latest budget request comes ahead of a possible meeting between Abe and Trump in September, when the Japanese leader is expected to attend the United Nations in New York.