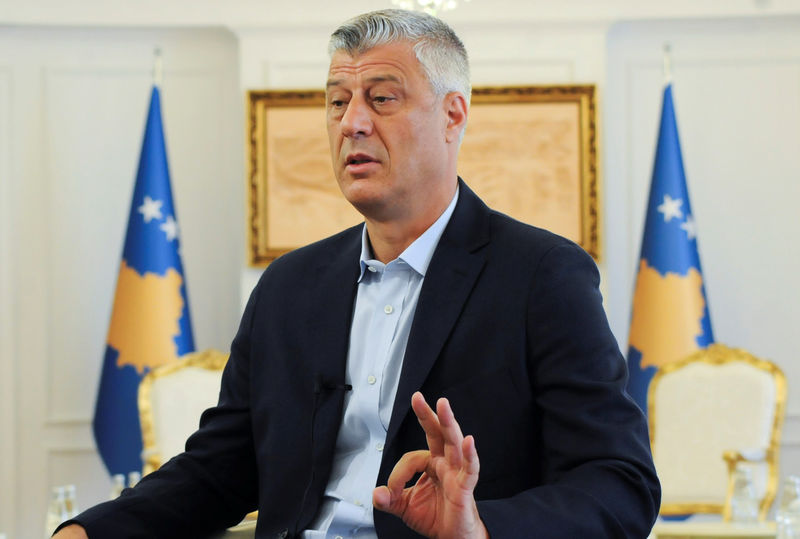 A redrawing of the border to bring parts of Serbia with a majority Albanian population into Kosovo could end persistent tensions between Belgrade and Pristina and allow both nations to move towards EU membership, Kosovo's president said on Tuesday.
Hashim Thaci said in an interview that he would present his plan to Serbia's President Aleksandar Vucic when they meet in September in Brussels as part of a dialogue sponsored by the European Union.
Normalizing bilateral relations is a key condition for both Serbia and Kosovo to advance towards their eventual goal of EU membership. The Balkan neighbors agreed in 2013 to resolve all pending issues but have so far made little progress.
"Definitely now is the moment to correct the border between Kosovo and Serbia, which is around 400 kilometers (250 miles) long," Thaci said.
"This would help avoid inter-ethnic problems and creating any sort of autonomous region such as the Serb Republic (in Bosnia)."
Thaci did not say what Serbia might receive in return for giving up such territory – home to about 55,000 ethnic Albanians – and rejected any partition of Kosovo along ethnic lines.
"Correcting borders will definitely avoid Kosovo's partition, swapping territories, more crises or problems or even possibly a new war," he said.
Kosovo, whose population of 1.8 million is mainly ethnic Albanian, declared independence from Belgrade in 2008, a decade after NATO bombed rump-Yugoslavia to end the killing of Albanian civilians by Serb forces during a two-year insurgency.