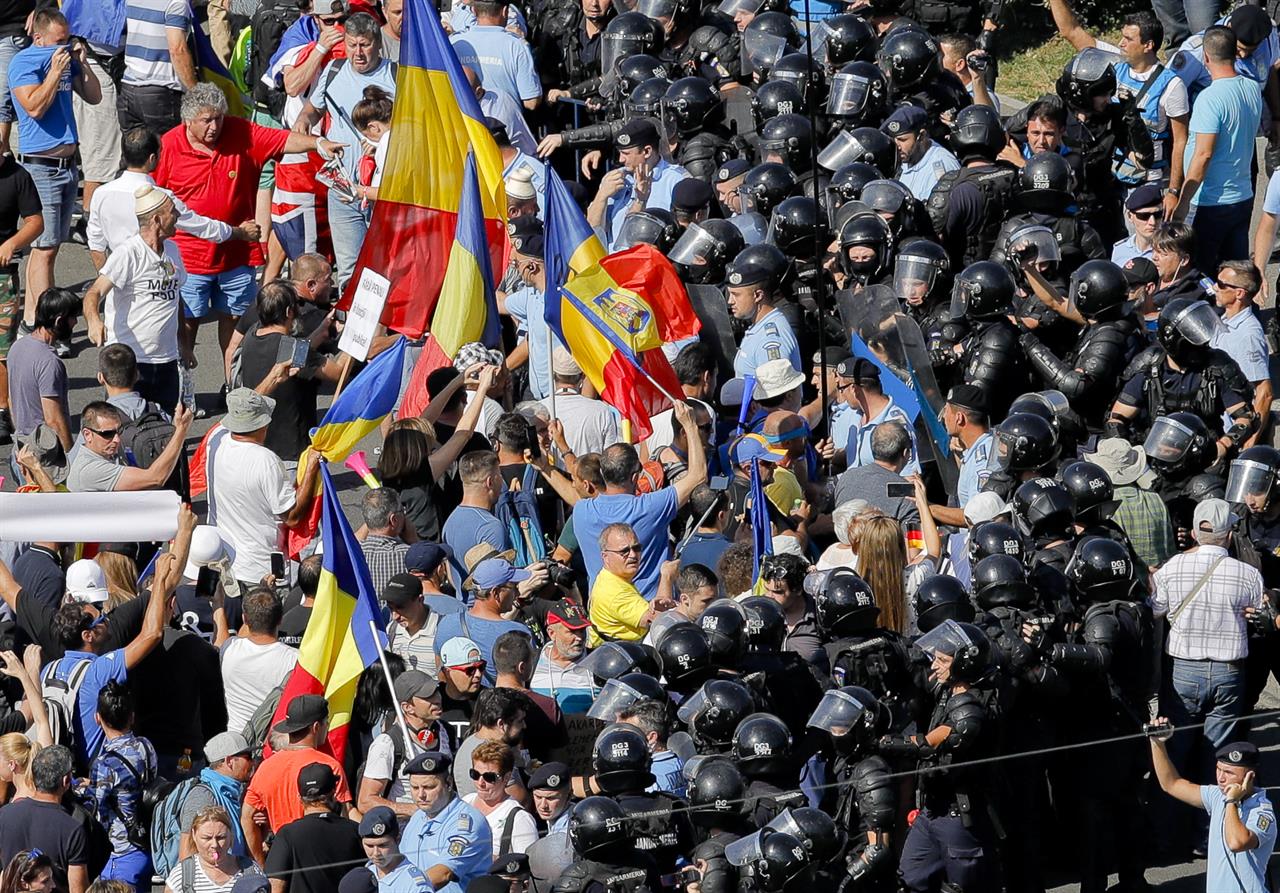 Tens of thousands of Romanians flocked to an anti-government protest from places near and far as local residents joined a demonstration organized by expatriates Friday, urging the left-wing government to resign and call an early election.
The expatriates supporting the event in Bucharest, some of whom drove across Europe to attend, said they were angry at how Romania is being governed. Critics say the country has lost ground in fighting corruption since the ruling Social Democratic Party assumed power in 2016.
An estimated 3 million Romanians live abroad, and some say they left because of corruption, low wages and a lack of opportunities.
"We don't want our country to be governed by thieves who line their own pockets," said Georgeta Anghel, 43, who has lived in Spain for 14 years. "If nothing changes here, what kind of future will our son have?"
Some participants scuffled with riot police when they tried to break through a police line guarding the government offices. Several people were detained, and police fired tear gas multiple times. Late Friday, officers fired water cannon.
The Bucharest-Ilfov Ambulance service said more than 200 people received medical treatment, both protesters and police officers. Some sustained head injuries, while others were overcome by the tear gas, the service said.
Romania's President Klaus Iohannis, a critic of the government, said he "firmly condemned the brutal intervention of riot police," which he called disproportionate reaction to a protest where most were peaceful.
Romania ranks as one of the most corrupt countries in the European Union and Brussels keeps its justice system under special monitoring.
Liviu Dragnea, the head of the Social Democrats, received a 3½-year prison sentence for abuse of power in office, a decision he is appealing. Dragnea was unable to be prime minister when his party won the December 2016 parliamentary election due to a vote-rigging conviction earlier that year.
"This government is crassly incompetent and corrupt," said Mircea Campeanu, a medical auditor living in the Netherlands who drove to Romania to attend the protest.
Hundreds of thousands of Romanians have signed a petition demanding a law that would ban people indicted for corruption and other offenses from political office, but it's unlikely to pass since the Social Democrats and their allies have a majority in Parliament.
The protesters in the capital on Friday waved Romanian, European Union, Spanish, Italian and other national flags, banged drums, yelled "Justice, not corruption!" and called the ruling party "the red plague." They projected the words: "Down with the government" on a government building.
Cristina Andrei arrived from Stockholm, Sweden, where she lives now with her two sons.
"I've come here for my children, who don't know how to read or write Romanian," the 42-year-old cashier said. "This country is rich and beautiful, but it's run by thieves."
Thousands protested in other Romanian cities.