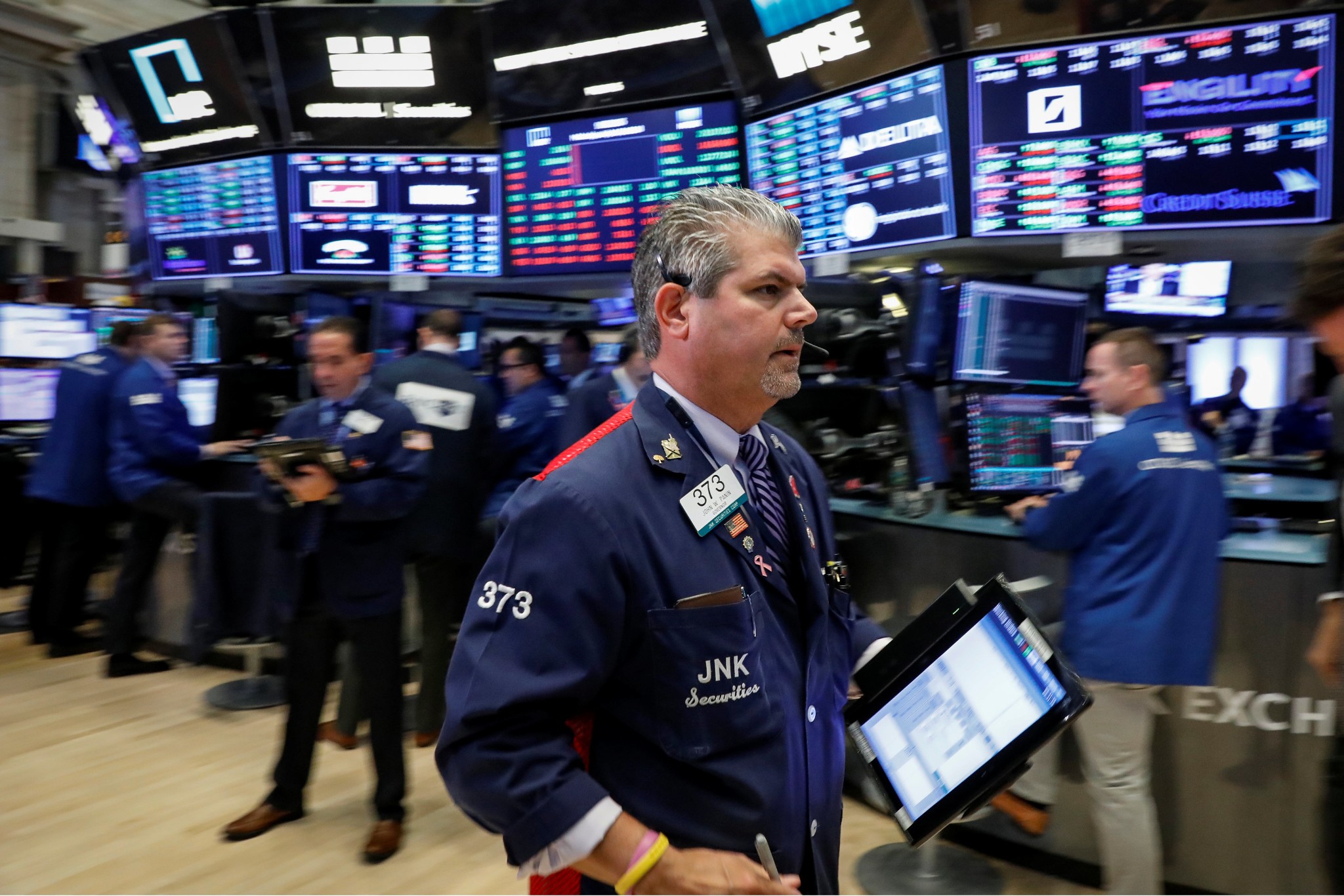 World stocks drifted lower on Friday as the latest exchange of trade threats between the United States and China dampened risk appetite, while Italian bonds and shares in the country's banks sold off on signs of renewed government tensions in Rome.
The MSCI All-Country World Index, which tracks shares in 47 countries, was down by 0.1 percent after the start of European trading, and set to break a four-week streak of gains.
While a tech-led rally on Wall Street overnight filtered through to Asian stock markets, gains were capped by the trade tensions. MSCI's broadest index of Asia-Pacific shares outside Japan was up 0.05 percent, though it was down over half a percent on the week.
The trade row between the world's top two economies intensified midweek after President Donald Trump raised pressure on China by proposing a higher 25 percent U.S. tariff on $200 billion worth of Chinese imports. Beijing vowed to retaliate.
Investors were also cautious before the July U.S. jobs report due later in the day. This will give a reading on the health of the world's largest economy, now in its second longest expansion on record. Economists polled by Reuters expect 190,000 jobs were created in July.
"The stock market trend continues to be characterized by a struggle between trade war distress, growth risks and strong corporate Q2 reports," SEB strategists wrote in a note to clients.
According to Bespoke Investment Group, mentions of tariffs in S&P 500 company earnings reports for the second quarter have more than doubled from the first quarter of this year.
Against a basket of currencies, the dollar hit its highest in over three weeks, extending sharp gains made the previous day, while the euro fell to its lowest level since the end of June. Investors said the greenback was benefiting from safe haven flows.
Italian two-year and five-year government bond yields rose about 22 to 25 basis points to 1.27 percent and 2.32 percent in early trade, hitting their highest levels since early June. Italian bank stocks fell 0.8 percent, set for their worst week since early June.
Economy Minister Giovanni Tria is under pressure from within the government to raise spending and challenge European Union budget rules.
The possibility that he might be forced to resign has investors worried that Italy could go on a spending binge, or even that fresh elections could follow. That in turn could strengthen the hand of the eurosceptic League party and its leader, Matteo Salvini.
The two- and five-year bonds have been most sensitive to concern over the chance of an Italian exit from the euro, which would increase default risk on debt coming due soon.
"Clearly, this is about the fear that Tria gets kicked out, which could lead to a collapse of the government, new elections, and the League gaining even further," said Commerzbank strategist Christoph Rieger.
"Or it may mean that they agree on a budget that's at odds with the EU," he said, adding that this would imply heavier borrowing and greater bond supply.
Yields on 10-year bonds also rose, by 9 basis points, to hit 3 percent for the first time since June 11, and the closely watched spread over Germany was at its widest since late June at 257 bps,. 
With the trade tensions encouraging demand for safe haven assets, the 10-year U.S. Treasury note yield pulled back to 2.9767 percent from a 10-week high above 3 percent brushed midweek. 
The 10-year Treasury yield had hit the peak partly due to a surge in Japanese government bond yields to 1-1/2-year highs this week as the market tested the Bank of Japan's rejigged policy framework, under which it now allows yields to fluctuate in a wider band.
Oil prices eased back slightly after the previous day's rally, which was driven by an industry report suggesting U.S. crude stockpiles would soon decline again after a surprise rise in the latest week.
Brent crude futures were down 0.4 percent at $73.17 a barrel after surging 1.5 percent on Thursday.
Copper on the London Metal Exchange slipped half a percent to $6,107 per tonne. With trade tensions hurting demand, the industrial metal was down 2.8 percent for the week.