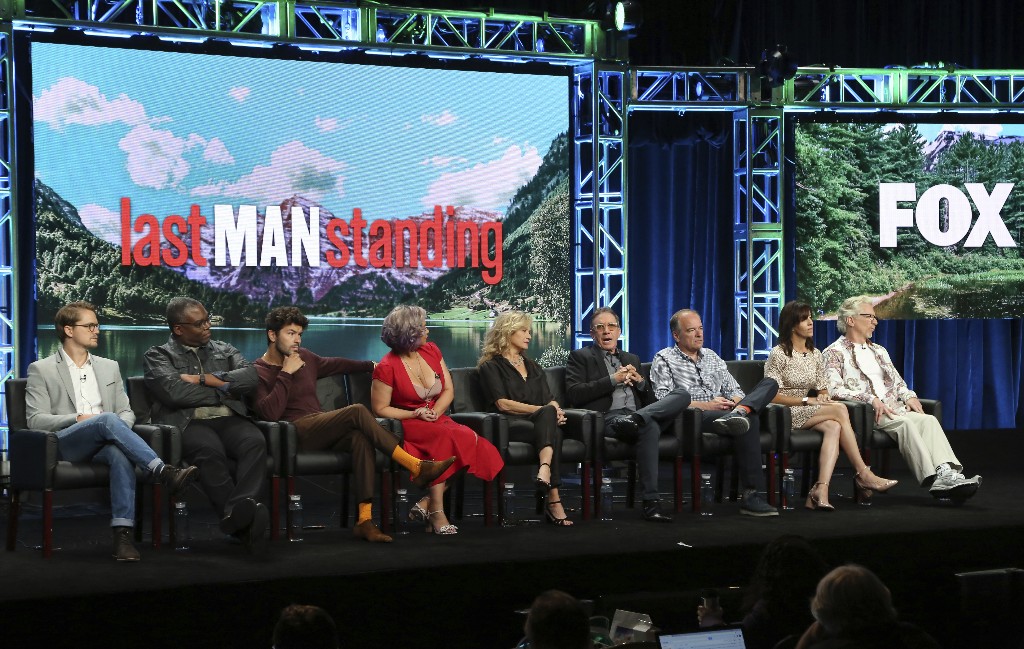 "Last Man Standing" isn't rushing to pick up the "Roseanne" pro-Trump mantle when it starts life at its new network this fall.
Tim Allen, star of the comedy that was axed by ABC and picked up by Fox, said his character is a centrist who would support Trump administration policies that help his business. But Mike Baxter probably isn't a vocal defender of President Donald Trump, Allen told TV critics Thursday.
Series executive producer Kevin Abbott described Allen's character as a conservative Republican, but he said it's unlikely the show will address Trump one way or the other.
Allen chimed in teasingly, saying, "Oh yes, we will."
A change of network won't change the show, which will remain familiar to fans of its ABC run, Abbott said: "The show was beloved by a large audience, and we want to keep that audience and we hope expand it a little bit."
His fellow executive producer, Matt Berry, said "Last Man Standing" and "Roseanne" can't really be compared.
"The only similarities with the 'Roseanne' show is we're a family sitcom and the central character has a more conservative view," Berry said. But the revived "Roseanne" was an "issue-of-the-week" comedy, and "we don't do issues of the week. We consider ourselves a family show with a traditional character at the center."
Barr's series, in which the star's support for Trump was mirrored by her character, was canceled by ABC after one hit season when Barr posted a racist tweet about former Obama adviser Valerie Jarrett. Barr has both apologized for and denied knowing it would be seen as bigoted.
A spin-off, "The Conners," will air this coming season on ABC with the "Roseanne" cast minus Barr.
Abbott and Allen said they were surprised by ABC's abrupt 2017 decision to cancel "Last Man Standing" after six seasons, which Allen said was "very poorly handled."
Allen said at the time that his personal politics — he attended Trump's inauguration — might have played a role, and on Thursday he said if there was a political motivation the network certainly wouldn't admit it. But he added that it was a "financial decision on ABC's part."
Allen also said that viewers shouldn't judge him by his TV character and that his stand-up comedy was more revealing of what he believes.
The final season of "Last Man Standing" averaged nearly 6 million weekly viewers, more than some other ABC series that were brought back, including "black-ish," "Shark Tank" and "The Goldbergs." Fans clamored for more, and Fox announced its decision last May to revive the show produced by sibling 20th Century Fox Television.
Some fans may be drawn to the family sitcom because of Allen's personal political views, but they "aren't really a big feature of the show," Fox Television Group executive Gary Newman said then. "We just think it's a really funny show" with general appeal.
Speaking to reporters Thursday, Newman echoed Allen's description of his character as a centrist and said that producers weren't planning on portraying him as a Trump supporter.