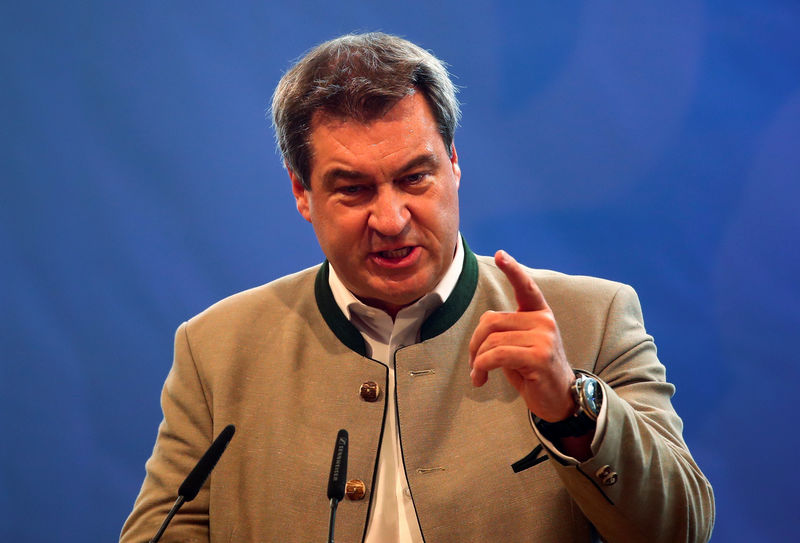 Bavarian premier Markus Soeder on Monday backed Manfred Weber to front the center-right in European elections next year, boosting the 46-year-old's bid to become European Commission head.
If other member parties were to back Weber, who leads the center-right European People's Party caucus in the European Union Parliament, the Bavarian conservative would be frontrunner to succeed Jean-Claude Juncker as the EU's day-to-day leader.
The EU is attempting to navigate a world in which a Donald Trump-led United States is seen as an unreliable partner, Russia and China are offering stiff competition and Britain's departure is forcing the bloc to reinvent itself.
"I really hope the (German conservatives) make our Manfred Weber the lead candidate for the European election," Soeder said in a beer tent speech in Abensberg, near Regensberg in Bavaria.
Weber and Soeder are both members of the Christian Social Union (CSU), Bavarian sister party to Chancellor Angela Merkel's Christian Democratic Union (CDU).
Several German newspapers reported last week that Merkel had given her backing to Weber's bid to front the center-right in the European Parliament elections in May.
As leader of the EU's most populous and wealthiest country, Merkel would have considerable influence over the EPP's choice of the center-right's "Spitzenkandidat", or candidate for president of the European Commission.
The EPP's member parties are in government in nine of the bloc's 28 members, and lead in polls across much of Europe.
It has been decades since a German has headed the Brussels-based Commission, whose 30,000 staff draft and enforce legislation and has been instrumental in driving the process of European integration since the bloc's beginnings in 1957.