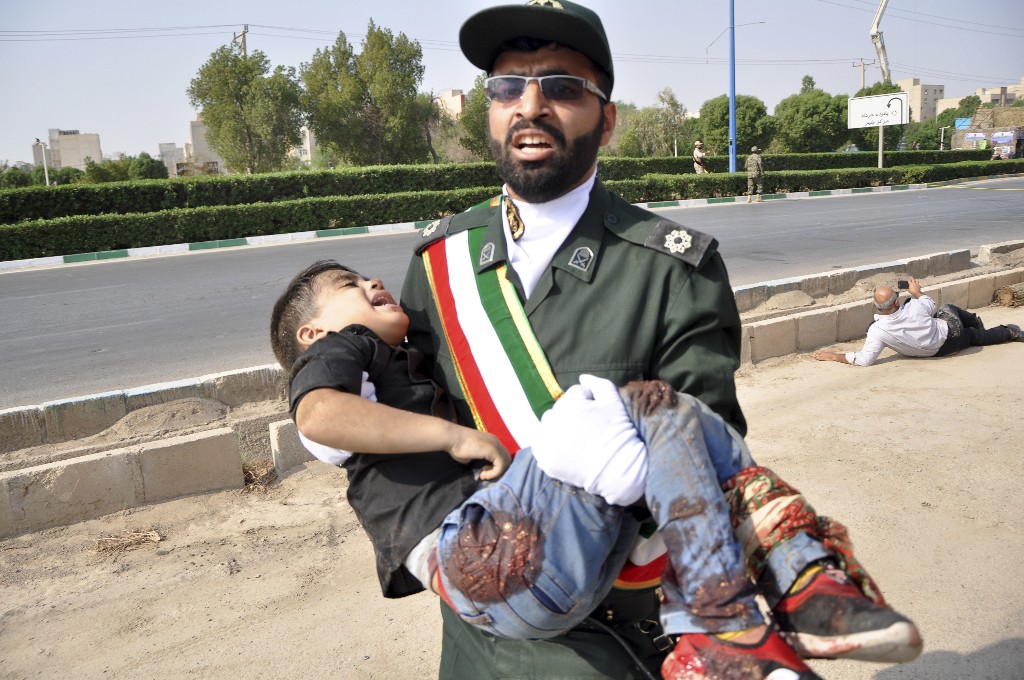 4-year-old boy who was wounded during Saturday's terror attack on a military parade in the city of Ahvaz has died at a hospital.
Sunday's report showed the deceased Mohammad Taha lying on his bed in an Ahvaz hospital. Beside him, a doctor next says: "He was wearing a black shirt when he was killed because he was at a mourning ceremony," referring to Ashoura, an annual commemoration mourning the 7th century death of Prophet Muhammad's grandson Hussein, one of Shiite Islam's most beloved saints.
A photo of wounded, motionless Mohammad Taha resting in a soldier's arms circulated on Saturday after the shooting. He died on Saturday.
Arab separatists claimed the attack, which killed at least 25 people and wounded about 60 others.
Iran said a U.S.-allied regional country supports the group.
Iran's Revolutionary Guard says that those behind an attack on a military parade will face "deadly and unforgiving revenge in the near future."
The Guard issued the statement Sunday, a day after an attack claimed by Arab separatists in Ahvaz killed at least 25 people and wounded over 60. It was the deadliest such attack in Iran in nearly a decade.
A news agency close to the Guard said at least eight of its members were killed in the attack.
The Guard said in its statement that it was willing to pursue the attackers "regionally and beyond."
Iran's leaders have blamed the attack on the United States, saying an unnamed U.S. ally in the Persian Gulf aided the militants.
The Guard in September launched a missile attack targeting Kurdish separatists meeting in Iran, killing at least 11 people and wounding 50.
Iran's President Hassan Rouhani claims an unnamed U.S.-allied country supports the group that attacked a military parade on Saturday.
Rouhani said Sunday that the U.S. supports small nations in the southern Persian Gulf that in turn back the militants behind the attack. He did not identify the attackers. Arab separatists claimed the assault, which killed at least 25 people and wounded more than 60, and Iranian officials appear to have accepted the claim.
Rouhani could have been referring to Saudi Arabia, the United Arab Emirates or Bahrain, all of which are close U.S. military allies. He says Iran will respond to the attack in a lawful way.
Saudi Arabia, Bahrain and the UAE view Iran as a regional menace and have long accused it of meddling in other countries' affairs. Iran backs militant groups across the region.
Iran has summoned diplomats from Britain, Denmark and the Netherlands over allegedly harboring "members of the terrorist group" that launched an attack on a military parade in the country's southwest.
A statement early Sunday from Iran's Foreign Ministry also quoted ministry spokesman Bahram Qasemi as saying Danish and Dutch diplomats were told Iran "already warned" their governments about this.
The statement also criticized Britain over a Saudi-linked, Farsi-language satellite channel immediately airing an interview with an Ahvazi separatist claiming the attack.
Saturday's attack in Ahvaz killed at least 25 people and wounded over 60.
Arab separatists in the region claimed the assault and Iranian officials believe they carried it out. The Islamic State group also claimed the attack, but initially offered incorrect information about it and provided no proof.