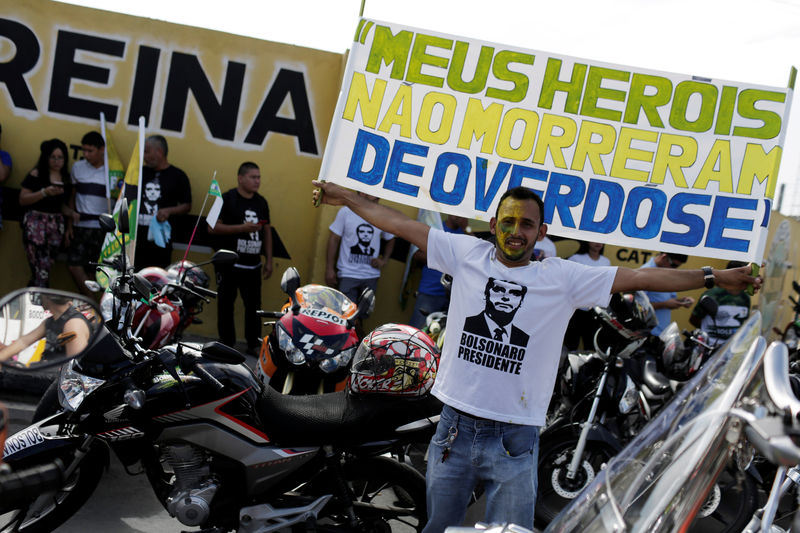 Brazilian far-right presidential candidate Jair Bolsonaro attacked the rival Workers Party (PT) and raised the prospect of voter fraud in an address on Sunday from his hospital bed in Sao Paulo, where he is recovering from an assassination attempt.
The front-runner for the first round of the election on Oct. 7 appeared weak and struggled at times to speak in a nearly 20-minute talk broadcast live on Facebook.
Bolsonaro alleged the PT was willing to win through fraud, attacking the party he would likely face in a second-round runoff scheduled to take place on Oct. 28 and casting doubt on the country's electronic voting system.
"In the second round, the major worry is not losing the vote, but losing to fraud," he said.
A spokesman for the PT declined to comment.
Brazil's most wide-open election in decades hit further complications when Bolsonaro was stabbed on Sept. 6 in an attack that he says nearly killed him and required two emergency surgeries.
His support has since edged up to 26 percent of voters' intentions in the first round, according to a recent opinion poll. He would lose to all rivals in a runoff, with the exception of PT candidate Fernando Haddad, with whom polls show him in a technical tie.
Last week, the electoral court that oversees the voting system barred former President Luiz Inacio Lula de Silva from running as the PT's presidential candidate because of a corruption conviction, with support for Haddad jumping after taking Lula's place on the top of the ticket.
Bolsonaro said he would likely return home in a week, although he said previously he would not be able to return to campaigning in time for the first round.